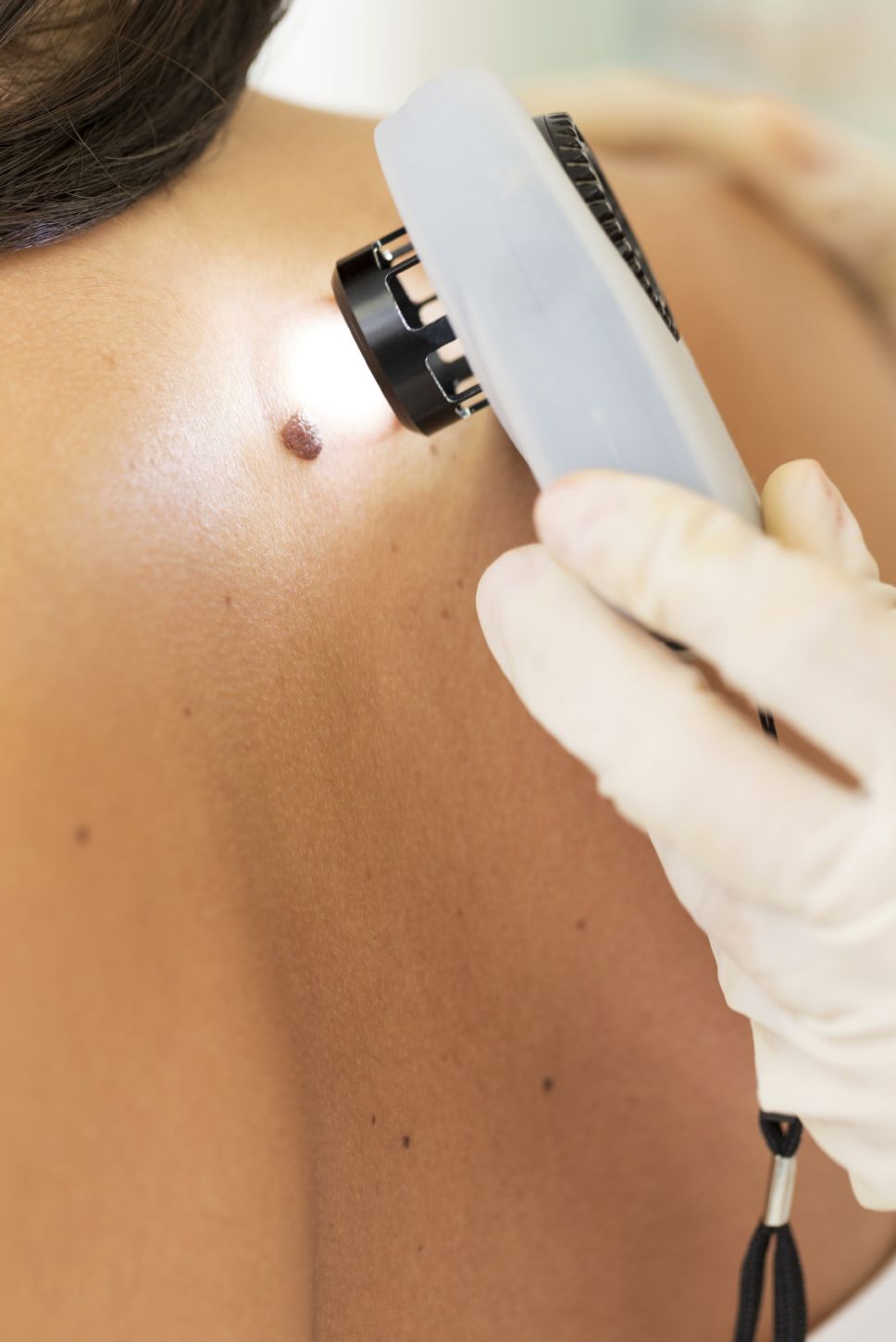 Skin cancers fall into two types – non-melanoma and melanoma. Skin cancers can be slow growing, and it can be a number of years before a cancer is noticed. Other skin cancers grow quickly – sometimes even within a few months.
Most skin cancers are caused by exposure to ultraviolet light, either from the sun or sunbeds, as the ultra violet (UV) rays damage the DNA in skin cells. This damage can happen years before a cancer develops.
Non-melanoma cancer
Non-melanoma skin cancers are the most common skin cancers. Non-melanoma is a group of cancers that develop in the upper layers of the skin. The most common types of these are basal cell and squamous cell skin cancers.
Basal cell and squamous cell skin cancers develop very slowly. As you get older and have become more and more exposed to the sun, the amount of sun damage to your skin can increase. You are more likely to get non-melanoma skin cancers at an older age, but they can develop in younger people too.
Melanoma cancer
Melanoma is less common than non-melanoma, although rates are rising. Melanoma can develop from skin cells or abnormal moles on the body, and is typically more common in older people.
How to spot a melanoma skin cancer
A mole may be developing into a melanoma if it is:
Getting bigger
Changing shape, particularly getting an irregular edges
Changing colour, getting darker, becoming patchy and multi-shaded
Loss of symmetry
Itching or painful
Bleeding or crustiness
Looking inflamed
The graphic below shows skin lesions which have been diagnosed as benign and cancerous.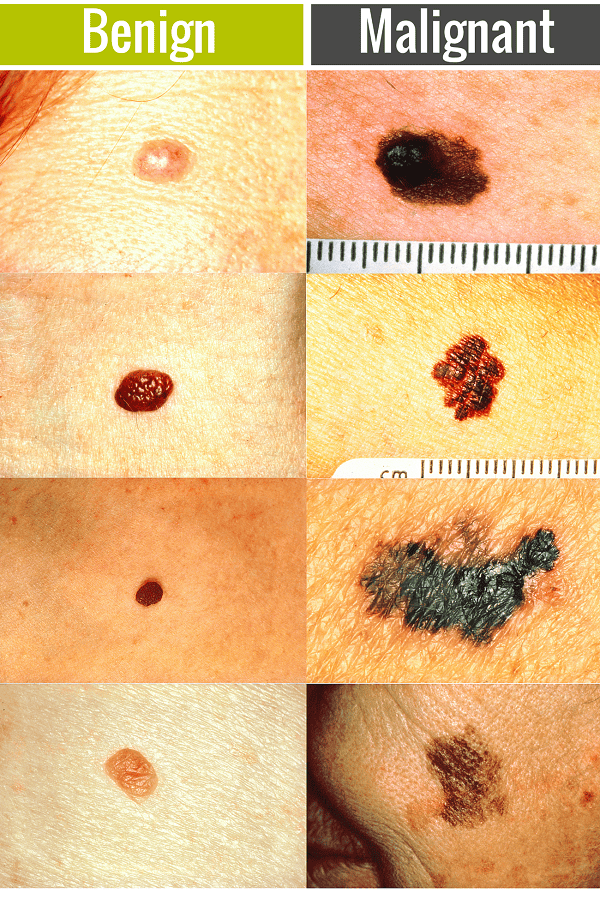 Image source: en.wikipedia.org/wiki/Melanoma
How to spot non-melanoma skin cancer
Non-melanoma may be developing if there is:
A spot or sore that doesn't heal within four weeks
An itchy spot or sore that hurts, is scabbed or crusty, or bleeds for more than four weeks
A broken down area of skin (an ulcer) that doesn't heal within four weeks
What your doctor should do next
If you have any of these symptoms, you should go and see your GP as soon as you can. When you see your GP about an abnormal mole or area of skin, they will examine it and ask you about it, and any recent changes that may have occurred in the affected area.
If your GP thinks that you may have skin cancer, they will refer you to a specialist such as a dermatologist. You may have to wait a little while before you see a specialist – understandably, this may be an anxious time for you.
If your GP is concerned that you may have melanoma, squamous skin cancer or a rare type of skin cancer they should arrange for an urgent referral for you to be seen within two weeks.
The specialist will closely examine the abnormal mole or area of skin. They may take a biopsy under local anaesthetic and send this away for testing. You will then need to wait for the results of the biopsy.
Skin cancer misdiagnosis
The earlier that skin cancer is diagnosed, the stronger the chance for a better outcome. It is therefore crucial that you are diagnosed and treated as early as possible. Delays can, unfortunately happen, for instance:
You have signs of skin cancer and your GP doesn't examine you or refer you to a specialist
A test is reported incorrectly
Your symptoms are misdiagnosed as something else
If you think you have experienced medical negligence, then we can provide specialist advice on making a compensation claim.
At Bolt Burdon Kemp we understand that where you have suffered a cancer misdiagnosis money can never fully compensate you. A late diagnosis may mean there are reduced options for treatment, resulting in a worse outcome. This knowledge alone can be exceedingly distressing.
As well as receiving compensation for the more advanced cancer caused by negligence, the cost of expenses such as private medical treatment fees and extra care (which may not have otherwise been required) can also be recovered. This money can bring peace of mind at such a difficult time.