What is The NHS Early Notification Scheme?
The Early Notification Scheme (ENS) was set up by NHS Resolution, the public body which assists the NHS to resolve legal disputes, in April 2017.  The Scheme requires NHS Trusts to notify NHS Resolution of all maternity care incidents in which a baby is born at term and is diagnosed with a potentially severe brain injury either at birth or within the first seven days of life.
Underpinning the Scheme is the principle that by investigating cases of child brain injury early, any shortcomings in maternity care are identified in good time and can be swiftly addressed, with compensation being offered to those affected at an early stage.
Where maternity care is found to have been negligent, the NHS Trust involved will be advised to issue an apology and implement preventative measures to ensure that the failings identified in the investigation are not repeated. The solicitors acting for NHS Resolution will also offer compensation to the injured child.
NHS Trusts must report incidents where a baby:
Is diagnosed with hypoxic ischaemic encephalopathy (Grade III;) or
Has been therapeutically cooled; or
Has decreased central tone, was comatose and experienced seizures.
How does the Scheme work?
An NHS Trust must report a maternity incident to NHS Resolution within 30 days.  The NHS Trust must risk assess the incident, evaluating the standard of care that was given to mother and baby.  Where the NHS Trust advises that the care was likely to have fallen below a reasonable standard, panel solicitors are appointed on behalf of NHS Resolution to investigate liability.
To assist with their investigations, medical experts in midwifery, obstetrics and neonatology are instructed to provide evidence on the care given to mother and baby.  These experts are sent up to five hundred pages of the medical records relating to the case.  They produce a brief summary of the case, commenting on the care that was given and whether it was of a reasonable standard.
A barrister is then instructed on behalf of NHS Resolution and a meeting known as a case conference is held with the barrister and the three medical experts, to discuss the expert evidence.  Often, multiple cases are discussed at these conferences.  Case specific discussions typically last between 60 and 90 minutes.  After the conference, NHS Resolution are updated on the experts' conclusions.
If the medical expert  opinions are that the care given to mother and baby fell below a reasonable standard, a formal admission of liability is made to the family of the injured baby.  If the evidence suggests that the care was reasonable, this is discussed with the family and NHS Resolution close the case.
Can I make a compensation claim on behalf of my child if we have been referred to the ENS?
The fact a case has been referred to and is then being investigated under the Scheme does not prevent parents from seeking independent legal advice from specialist child brain injury solicitors on the possibility of making a compensation claim for their child. Neither does it prevent parents from making such a claim on their child's behalf.
It is also worth noting that a refusal to admit fault through the ENS does not necessarily mean there is no claim. Parents would still be sensible to seek independent legal advice on the merits of any potential claim.
Why should I get independent advice?
Brain injuries are incredibly complex.  They evolve over time; they develop and they manifest in a variety of ways.  The true and lasting impact of some injuries caused at or after birth are often not apparent until months or even years later, often when a child starts to lag behind their peers at school and/or present challenging behaviours that are no longer age appropriate.  This means it can be very difficult to accurately assess the true nature and extent of a child's injury, how it will impact their life and consequently, what their needs will be.
Some examples of what a child's needs might be:
care
therapy
education
housing, and
equipment
Working out whether a child will be able to engage in any kind of gainful paid employment may not be possible until the child reaches adolescence or in some cases early adulthood.
Until the child reaches these stages, it is impossible to properly quantify how much compensation will be required to meet the child's needs for life.  Further, the quantification of a child's complex needs is a complicated and involved process, involving a number of experts and input from specialist solicitors and barristers.
Whilst it is encouraging that the Scheme aims to offer compensation at an early stage, it is really important to seek independent legal advice from specialist child brain injury solicitors to ensure the right level of compensation is ultimately achieved and the claim is not under-settled.
If a claim cannot be quantified for some years, then interim payments of compensation can be sought to meet the child's needs pending a final settlement.
Instructing specialist solicitors also places a child on an equal footing with NHS Resolution – as both parties, NHS Resolution and the child will have their own representatives, which ensure the child's position is properly protected. It is honourable that the NHS are trying to tackle the issues that are coming to light – with several maternity scandals uncovered in recent years – however, the conflict that exists in the NHS causing harm and then assessing whether they were responsible for causing avoidable harm, cannot be ignored.
We fight to secure justice for every one of our clients and their families, and to secure compensation that will give parents peace of mind that their child's lifelong needs will be properly met, with expert, robust, independent advice.
BBK launch free legal clinic for parents who have been referred to The Early Notification Scheme
Our specialist Child Brain Injury solicitors have launched a free legal clinic which aims to help and support parents who have been referred to The NHS Early Notification scheme.
To find out more about the services we offer read Caroline Klage's blog here or email ENS@boltburdonkemp.co.uk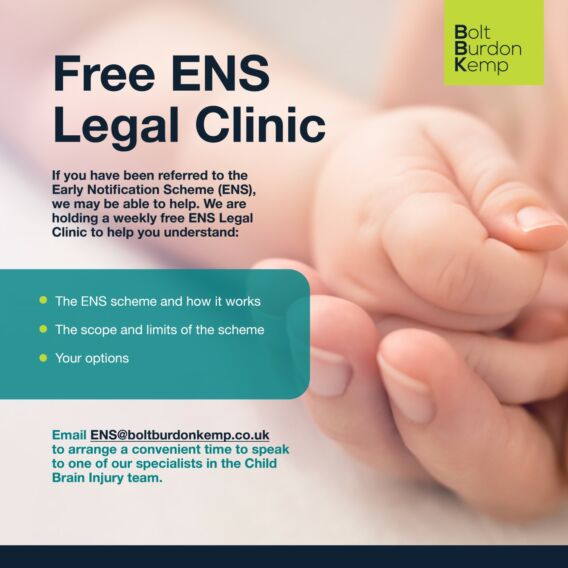 Further information on ENS
We have written extensively about the ENS scheme. More blogs can be found here:
Our specialist child brain injury solicitor, Jo Chapman, spoke to Elaine at Cerebra about the NHS Early Notification Scheme. You can read the article here or watch the video below for further information.