Design the Change Competition 2020
The Winner of the Design the Change Competition
It is with great excitement that Bolt Burdon Kemp is thrilled to announce that the winner is Thomas Salkeld, with his design of the "Smart Wheel".  Congratulations!
Thomas is a Product Design BSc student at Cardiff Metropolitan University.  The winning design is a motorised wheel which can be added to most wheelchairs and provides users with assistance on uneven ground, elevation and on long journeys.  The wheel can be controlled from the user's phone.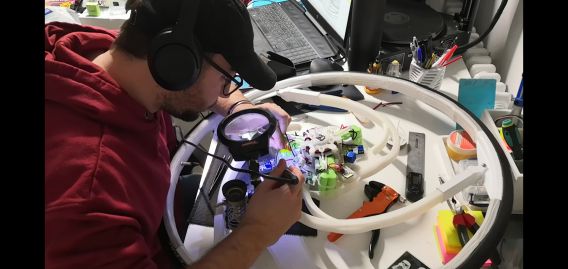 Thomas really impressed the judges by researching his design thoroughly and taking into account the challenges facing those with a spinal cord injury who use a wheelchair.  He bought a wheelchair himself and found travelling in it exhausting, especially uphill.  He spoke to spinal cord injury people and got feedback for his prototype from them.
The competition this year had some fantastic entries and so for the first time Bolt Burdon Kemp have also  awarded a commendation to Anna Lis, a Product Design Student at the University for the Creative Arts.  Anna designed the Superhuman Shoe and Ankle Foot Orthosis design provides support for people with drop foot, a common side-effect of a spinal cord injury.  The judging panel were impressed with Anna's detailed research and the fact her shoe celebrates the support it offers, rather than disguising its specialist features.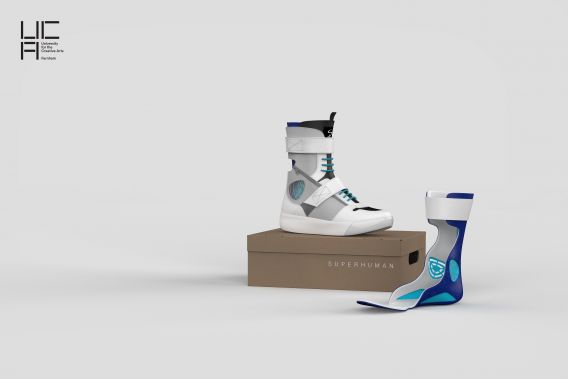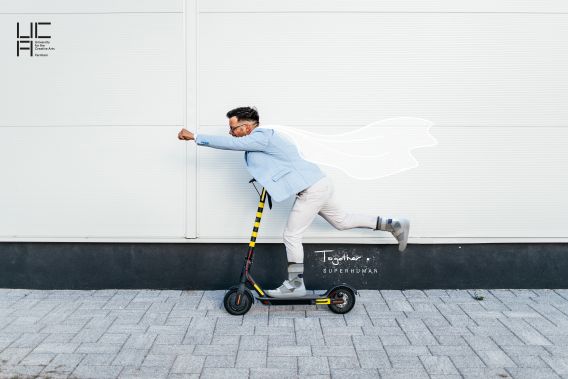 As a result of Anna's commendation, we are delighted to announce that she has been awarded a placement at the Cerebra Innovation Centre in Swansea.
Thank you to every who entered the competition and to the judges for their invaluable support and feedback.
Bolt Burdon Kemp are proud to announce the return of our proprietary Design the Change Competition (formerly "Getting Back on Track").  Starting in September 2020 and continuing into 2021, our student competition joins a global conversation about the need for improved accessibility in the world and the importance design plays in making this happen.
According to research carried out by the Spinal Injuries Association it is estimated that there are more than 50,000 people living with a spinal cord injury in the UK.  Every four hours, through accident or illness, someone is paralysed by a spinal cord injury. Adults, children, men, women; everyone is potentially at risk.
A spinal cord injury is a life changing event that makes even the most mundane of tasks time-consuming and a challenge. Whilst research on new methods of spinal injury repair continue in leaps and bounds (new research from the University of Aberdeen has found a new way to repair injured spinal nerves) and technological advancements are being made, the reality is that despite the increasing number of people living with a spinal cord injury in the UK, not enough is being done to make the world in which we all live accessible.
If we look at the field of housing; in June 2019, Habinteg Housing Association released their Insight Report: A Forecast for Accessible Homes.  The report revealed that less than half of Britain's planning authorities factor in accessibility standards into their guidelines.  Those disabled people in existing local authority accommodation face long waits for vital adaptations to make their homes more accessible.  A 2020 survey of 180 councils across England by charity Leonard Cheshire found that more than 2 in 3 councils (67%) have some disabled residents waiting longer than 12-months and almost a quarter of councils (23%) show some disabled people waiting for more than two years.
If we turn to the field of transport we can see that disabled people are still at a disadvantage.  Bolt Burdon Kemp's 'Going the Extra Mile' campaign highlighted that popular London commuter journeys taken via wheelchair took up to 1 hour and 35 minutes longer compared to the same journeys for an able-bodied person.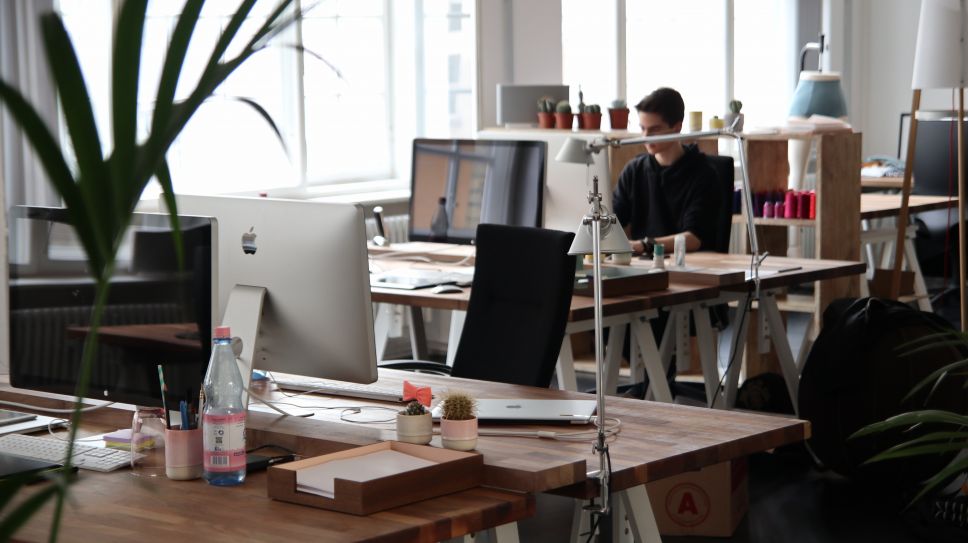 THE BRIEF
Once again, our spinal injury team invites design students from universities across the UK to think creatively, innovatively and empathetically to invent a product aimed at improving the lives of people with a spinal cord injury.
Victoria Oliver, head of the Spinal Injury team at Bolt Burdon Kemp, discusses the ideas behind the competition here.
For further inspiration, watch Ella Beaumont, a team member of the Stoke Mandeville Maulers Wheelchair Rugby Club, in her video, talking about her daily life and her wish list of things that would help her out.
Whether it's something simple – like a newer, easier way of accomplishing an everyday task – or something complex – like completely reimagining a common household appliance – we're looking for unique, practical ideas that truly consider the needs of people with this injury.
We'd like all entries to show three key steps:
The problem that you're looking to solve
The journey you went on to solve the problem, including your research and development process
The final design, including the name of your invention, a description of how it works, and how you believe it will help those with a spinal cord injury
THE PRIZE
The winning entry will receive £3,000, with an additional £2,000 being awarded to the winning team's university (In order for universities to qualify for their share of the prize, we ask the institution to actively promote the competition on their public websites/blogs/social media and include BBK's relevant social media handle in any such post. Universities who do not do so will not be eligible for their share of the prize money).
This competition is supported by our charity partner Cerebra based in Wales, a unique national charity that works to improve the lives of children with neurological conditions.  Part of the charity's work is to design bespoke equipment to meet families' needs at their innovation centre.  Cerebra is offering the winner, or a member of the winning team, a week's placement at their innovation centre in Wales.  The placement is to be taken during the Easter Break 2022.
KEY DATES
23 April 2021: Competition closed
THE JUDGING PROCESS
All entries will be judged by a panel of experts, including a representative from our charity partner Cerebra.  We'll look at whether entries:
Are original
Have considered the needs of people with a spinal cord injury
Solves a practical, day-to-day problem for people with spinal cord injury
Demonstrates commercial awareness and is viable
The judging panel includes:
Christa Dyson, trustee for the Spinal Injuries Association, mentor for the Back Up Trust and Patient Representative on the Scientific Advisory Board for Stoke Mandeville Spinal Research.  Christa is also partially paralysed from the mid-chest down.
Dr Ross Head, Product Design Manager for the Cerebra Innovation Centre and Senior Research Fellow for the University of Wales Trinity Saint David.
Ian Hoskings, club chairman, vice coach and player for Stoke Mandeville Wheelchair rugby club and running the Wheelchair Rugby Experience.  Ian was injured in 2004 and has no movement or sensation from the chest down.
Lady-Marie Dawson-Malcolm, Support Network Officer for the Spinal Injuries Association and a member of a number of Access Panels. Lady-Marie sustained a C5/6 complete spinal cord injury due to domestic violence in 1992.
Doug Neville, the Head of Mechanical Design at Williams F1.
RESEARCH AND INSIGHT
For a helpful starting point from which to learn more about the challenges faced by people with spinal cord injuries, watch our video below:
Follow the links below for more background information:
As you begin to investigate this field of design, you'll no doubt discover that research in spinal cord injury rehabilitation often intersects the medical and physiotherapy worlds as well as the design and manufacturing worlds.  This means, when we ask ourselves how design can better help people with spinal injuries, we'll need to keep several factors in mind:
The person's (or people's) medical needs
The person's (or people's) physical ability
The possibilities and limitations of design
The possibilities, limitations and availability of raw materials
When creating your entries, you'll need to make sure your ideas encompass everything above.  These four points were evident in our previous winner's entry.  Kristen Tapping from the London South Bank University designed an innovative wheelchair called the 'Moveo'.  We loved her research-backed and thoughtfully designed idea because it uses an ingenious method of propulsion that considered the specific needs of people with spinal cord injuries.
You can watch her entry below:
Terms and Conditions
Entrants must be students, either undergraduates or postgraduates, from any higher education institution, college or university in the United Kingdom
Only one entry per person or per team will be considered
If the entry is submitted by a team, all members of the team (four people maximum) should attend the same university but do not need to be reading the same subject
The entry must be the student's/team's own work
Late submissions will not be considered
In order for universities to qualify for their share of the prize, we ask the institution to actively promote the competition on their public websites/blogs/social media and include BBK's relevant social media handle in any such post. Universities who do not do so will not be eligible for their share of the prize money
Bolt Burdon Kemp claims no intellectual property rights (these remain with the entrant/entrants).  However, we reserve the right to retain designs to display on the Bolt Burdon Kemp website and use in relevant PR/promotional material.  Entrants should be aware that by displaying the design publicly it would most likely void any claim to ownership of the intellectual property and therefore they should seek to cover themselves should they so wish.
Winner(s) will be required to agree to the use of their name and photograph in promotional activity related to the competition and will co-operate with any other reasonable requests by Bolt Burdon Kemp relating to any competition publicity
Winner(s) will be notified by email. Return of this email as undeliverable or failure to reply within 7 days may result in disqualification and selection of an alternate winner(s)
Prizes are non-transferable.  Please note the work placement with Cerebra is only available to an individual – if a team wins the placement, the team members must nominate an individual to take the placement.
Work placement with Cerebra to be taken during the Easter vacation 2022 unless otherwise agreed with Cerebra
Work placement with Cerebra must be organised (and a date confirmed) within three months of being notified of having won the competition.  It is the winner's responsibility to contact Cerebra to organise the work placement.
Have a question? Email competition@boltburdonkemp.co.uk or send us a tweet @BoltBurdonKemp.