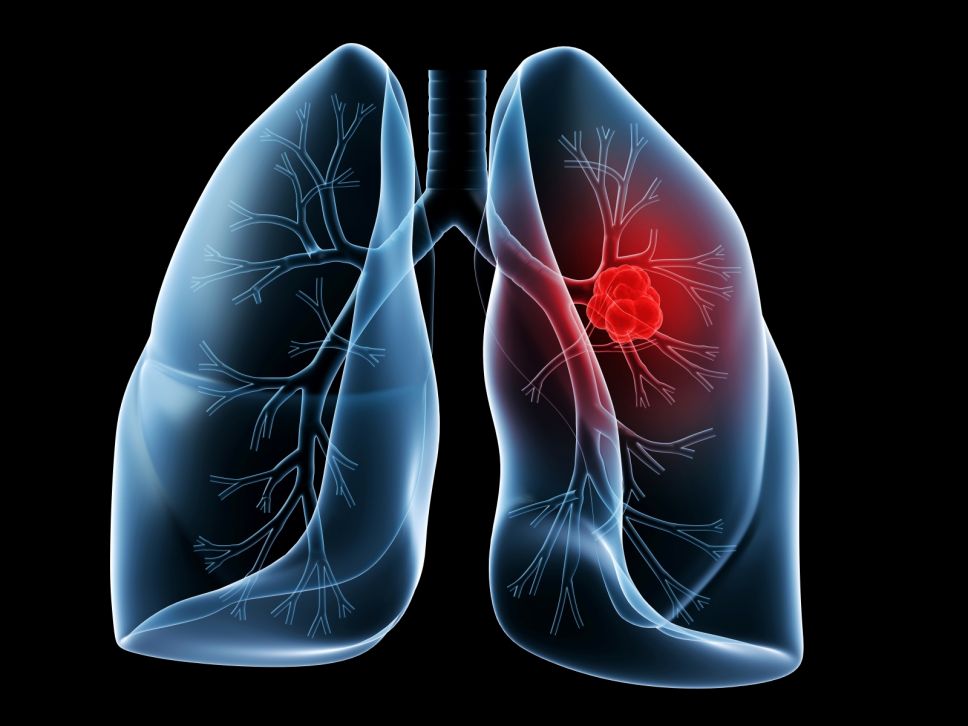 Lung cancer – the facts
The lungs bring oxygen into our body and pass it into the bloodstream so that it can travel to every cell. Unfortunately, lung cancer is a common cancer, and smoking causes the majority of cases.
There are several different types of lung cancer, and these are divided into two main groups, small cell lung cancer and non small cell lung cancer.
About one in 10 of lung cancers diagnosed are small cell lung cancers. This type of cancer spreads early on, and is usually treated by chemotherapy rather than surgery.
Other lung cancers are called non small cell lung cancers, and are actually made up of three types. They are squamous cell carcinoma, adenocarcinoma and large cell carcinoma. Squamous cell carcinoma is the most common type. It develops from the cells that line the airways, and is often found near the centre of the lung.
What causes lung cancer?
Lung cancer is most often caused by smoking, though there are other causes and risk factors, including exposure to certain substances, chemicals and pollutants. This means that people working in certain occupations and industries may be at increased risk of developing lung cancer.
According to NHS figures, smoking is responsible for over 70% of cases of lung cancer, with those who smoke over 25 cigarettes a day being 25 times more likely to get lung cancer than a non-smoker. If you're not a smoker but are regularly exposed to other people's tobacco smoke, you'll also be at increased risk.
Other harmful chemicals and substances linked to lung cancer include radon, which is a natural radioactive gas that can sometimes be found in buildings, as well as asbestos. Lung cancer has also been linked to the diesel and nitrogen oxide gases produced by road traffic. Unfortunately, a small portion of cases of lung cancer involve people with no known risk factors.
Symptoms of lung cancer
Lung cancer tends to occur in older people, who may have other health conditions. The likely outcome depends upon how advanced the cancer is when it is diagnosed, and the type. The symptoms of lung cancer include:
A persistent cough
Being short of breath
Coughing up phlegm with signs of blood in it
An ache or pain when coughing or breathing
Loss of appetite
Tiredness
Losing weight
Seeing your GP
When you go to see your GP with symptoms, they will ask about your general health and examine you. They may ask you to breathe into a small machine called a spirometer, which will measure your breathing. You will usually be referred to hospital for a chest x-ray, blood tests and may be asked to give samples of phlegm for testing.
In hospital, they are likely to arrange for you to have a CT scan and may carry out tests to look into your airways, such as a bronchoscopy, or an ultrasound.
A biopsy may be done during these tests, or in a separate procedure, to take a sample of abnormal tissue for testing. If a CT scan find abnormalities in the lymph nodes in your neck, your doctor may also need to take samples from the nodes.
If the results show you have lung cancer, then you will need further tests to see how far the cancer has spread, and what kind of cancer you have. These will also help the doctors to decide the best type of treatment for you.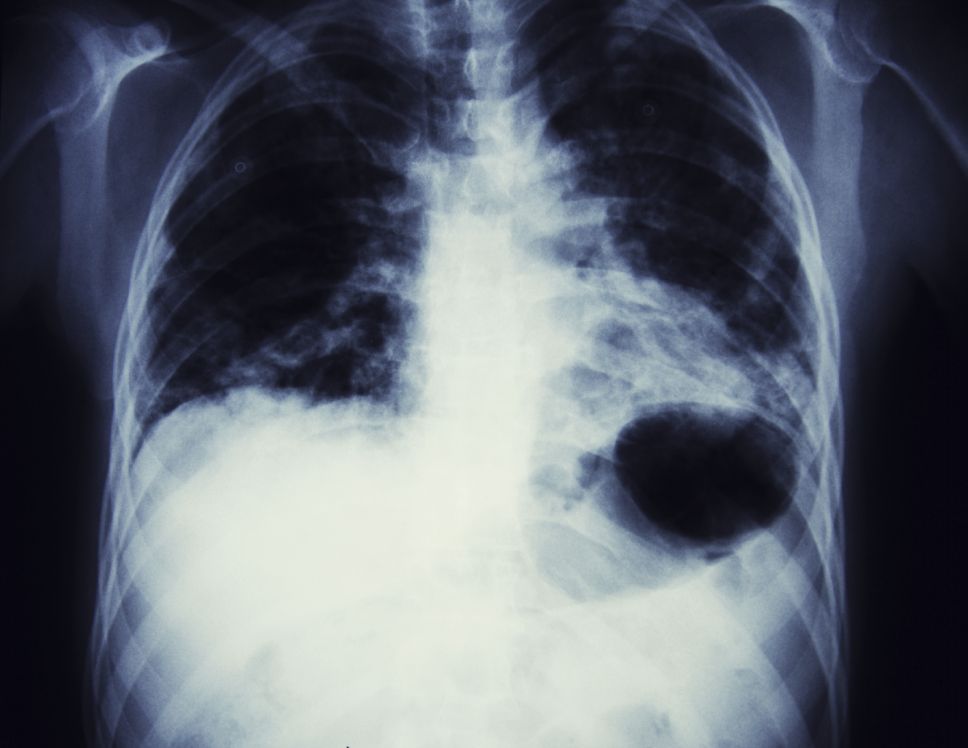 Is lung cancer curable?
Lung cancer is one of the most common and serious types of cancer. If it's caught early, before it has spread, it is possible to make a recovery. Unfortunately, you probably won't notice any symptoms until it has spread, which means the outlook might not be as positive as with some other cancers. According to NHS information on lung cancer, about 1 in 3 people with the condition live for at least 1 year after they're diagnosed and about 1 in 20 people live at least 10 years. Survival can depend on factors such as the type and stage of cancer, the individual's level of fitness and previous treatment they've received.
Lung cancer misdiagnosis
Given that the earlier that lung cancer is diagnosed, the better the outcome, it is vital that you are diagnosed and treated at the earliest possible point. Unfortunately, lung cancer is often diagnosed at a late stage.
Problems that can occur with diagnosis include:
A test is reported incorrectly
Where you have had symptoms, and your GP doesn't examine you or refer you to a specialist
An abnormal test result isn't followed up properly
Your symptoms are not diagnosed correctly
If you think any of these things have happened during your treatment, then Bolt Burdon Kemp can give you the advice you need, and as part of investigating a claim for compensation, will arrange for an independent medical opinion on the treatment you have received.
Money can never compensate you when you have suffered a cancer misdiagnosis, and the knowledge of a lost opportunity for earlier help can be devastating. However, receiving compensation can help you and your family to take your next steps.
Success stories
£250,000 for fatal delay in diagnosing lung cancer
We represented a male client who suffered a 10 month delay in diagnosing lung cancer. Our client had an x-ray which showed a tumour, but because of an administrative error at the hospital, he was not called back for treatment. Tragically, this meant that the cancer was too advanced to successfully treat it when he was finally diagnosed 10 months later. Our client died as a result of the negligence.
His family continued the claim and brought a financial dependency claim. This type of claim can be brought by family members who were financially reliant on someone who died as a result of negligence.
The Defendant admitted liability, but they denied a significant part of the dependency claim. We fought hard to obtain justice for the grieving family and successfully secured £250,000 for them.
39 year old father's delay in diagnosis of lung cancer lead to terminal diagnosis
We represented the family of a man who died following a delayed lung cancer diagnosis.  Mr B was just 39 years old when he was referred to hospital with a persistent cough which had failed to clear up despite repeated courses of antibiotics.
We obtained evidence from a radiologist confirming that scans of Mr B's chest should have raised concerns of the possibility of cancer sooner.  Instead, Mr B's diagnosis was not made for another 9 months because other, less sinister causes were suspected.  Tragically, by the time a diagnosis was reached, Mr B was no longer a candidate for surgery and his cancer was diagnosed as terminal.  He passed away just three months after his diagnosis was made.  We argued that had his cancer been diagnosed sooner he would have recovered or lived much longer.  In addition to the radiological expert evidence, this extremely medically complex case required further reports from oncologists, respiratory physicians and cardiothoracic surgery experts.
The case was fought robustly by solicitors acting for the NHS Trust who argued that the cancer was always likely to be terminal regardless of the alleged failings.  However, shortly before Trial the parties agreed to settle the claim.
The fatal accident claim was brought on behalf of Mr B's wife and their 5 children as his dependents and will allow them to rebuild their lives after losing a loving husband and father.