Understanding and appreciating the circumstances of a collision and the injuries and financial losses sustained, including damage to motorbikes, protective gear and equipment, requires a knowledgeable and specialist approach.
We have teams of dedicated and highly experienced, specialist solicitors who deal with motorcycle collision claims, including solicitors who themselves are avid motorcyclists, adding even more knowledge and inside perspective into the mix.
If you have been in a motorcycling collision, which you feel was either someone else's fault or only partially your fault, contact us for an informal chat with one of our solicitors for a free, no strings attached discussion.
It is important to bear in mind you may have a viable personal injury claim even if the Police did not blame anyone else involved in the collision, or suggested you were partially responsible for it.
We are recognised as one of the leading law firms in this area by the independent legal guides, Chambers and Partners and The Legal 500.
Our track record in dealing with motorcycle collision compensation claims means we can deal with your case efficiently and secure you the best possible result.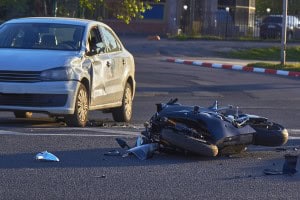 Motorcycling is unsurprisingly a very popular hobby and/or means of travel. In addition to its financial and time saving benefits, it can also be an enjoyable and exhilarating way to get around (especially in the spring and summertime!).
Unfortunately, however, motorcyclists are amongst the most vulnerable of all road users. When involved in road traffic collisions, motorcyclists have very little protection in comparison to car users and can often suffer severe long-term injuries.
Our specialist team of solicitors have extensive experience in helping injured motorcyclists who have suffered the most serious injuries including head and brain injuries, spinal injuries, amputations, multiple broken limbs and fatalities.
What are the causes of motorbike accidents?
At Bolt Burdon Kemp, we have acted for injured motorcyclists involving a variety of scenarios including:
vehicles failing to give way to motorcyclists when emerging from junctions;
vehicles pulling out of traffic queues or parking spaces while motorcyclists are  are filtering (passing), or themselves waiting to pull off;
vehicles turning right without looking whilst motorcyclists are overtaking;
rear-end collisions;
motorcyclists being hit by opening vehicle doors;
head-on collisions around bends;
defective / dangerous road surfaces; and
hit and run incidents.
If the person who caused (or contributed to) your accident cannot be traced, or was not insured, you may still be able to claim compensation from the Motor Insurers' Bureau (MIB). All motor insurance policies contribute to this government fund, which covers hit and run accidents and also collisions caused by uninsured drivers.
What to do if you have been involved in a motorcycle accident
If you are unfortunate enough to have been involved in a motorcycle collision, we would recommend that you take the following steps for the benefit of your personal rehabilitation and any potential claim for compensation:
Obtain the name, address, registration number and insurance details of the individual/s who caused (or contributed to) the accident;
Report the incident to the Police;
Take photographs of your injuries, the accident scene and your damaged belongings;
Obtain the names and contact details of any witnesses to the accident;
Attend your local hospital and/or your GP in relation to your injuries;
Do not dispose of your motorcycle, clothing or other damaged belongings; and
Keep a record of all expenses that you have incurred as a result of the accident as well as documentary evidence of these, in the form of receipts, invoices, tickets etc. We appreciate that where a catastrophic or serious injury has been suffered it won't have been possible for you to obtain details or take photos; do not worry, we can gather any available information for you when investigating your compensation claim.
Proving your claim
Once we have notified the other party's representatives of your claim, liability for the collision may subsequently be admitted, meaning the other party admits they were responsible for the collision. liability is disputed, we will gather as much evidence concerning your claim as possible.  This includes CCTV footage, the Police Collision Report and witness statement evidence in order to prove your case.
Things to bear in mind:
Motorcyclists are legally obliged to wear a crash helmet. Failure to do so may result in the motorcyclist being found to have contributed to the subsequent injury. This would generally mean an argument by the other party involved for a reduction in compensation. Compensation may also be reduced where it is established that the motorcyclist's helmet was incorrectly fastened.
Motorcycles have the ability to accelerate much faster than cars and they require a greater stopping distance. Therefore, partial fault may also be alleged where the collision occurred whilst the motorcyclist was travelling in excess of the speed limit, or too fast for the prevailing conditions. This may even be the case when the motorcyclist was travelling under the speed limit, but still too fast for the road conditions. For example, there may have been a sharp bend in the road, visibility may have been poor, or there may have been a lot of traffic on the road meaning travelling at the speed limit would be dangerous.
It may also be alleged that a motorcyclist contributed to a collision whilst overtaking stationary or slow lines of traffic. Whilst motorcyclists are legally permitted to filter through slow moving traffic, there are conditions attached to this and they must look out for vehicles changing lanes or emerging from side roads. Wherever possible, it is our job to counter any of these (or similar) arguments for you in order to maximise your compensation. In the event the other party says they were not at fault, or you were partially to blame for the collision (known as contributory negligence), we will advise you about this. We have frequently, and robustly, defended our clients against inappropriate allegations of contributory negligence with great success.
Types of compensation
There are various types of compensation that can be sought following a motorcycle collision.
The ultimate aim is to put you back into the position you would have been in, had the accident not occurred, as far as possible. Of course sometimes the harsh reality is the injuries sustained are too serious for this to be possible, in which case the aim is to get you as much compensation as possible to help you move forward with your life in a comfortable and supported manner.
Compensation is not a "win"; it is not like winning the lottery. It is money you are rightfully entitled to and in need of, following negligence.
We will instruct the appropriate medical experts to examine you and prepare medical evidence on the extent of your injuries, so that these can be valued. We will also work with you to calculate and gather together evidence of your financial losses.
We can assist you with claiming for a variety of types of compensation including:
the pain, suffering and loss of amenity suffered as a result of your physical and/or psychiatric injury;
motorcycle repairs or your the replacement value of your motorcycle;
damaged protective gear and other possessions;
lost earnings;
care and assistance;
travel expenses, including any increase travel costs due to being unable to travel by motorcycle; and
rehabilitation to assist you with your future recovery.
Should you require treatment in order to assist you in your recovery, our specialist team of solicitors are skilled in obtaining early interim payments (a partial compensation payment whilst the case is still ongoing) from the other side in order to fund this. We recognise the importance of early rehabilitation to help you recover from your injuries as soon as and as well as possible.
Check out our following blogs, helpful and relevant to bikers: