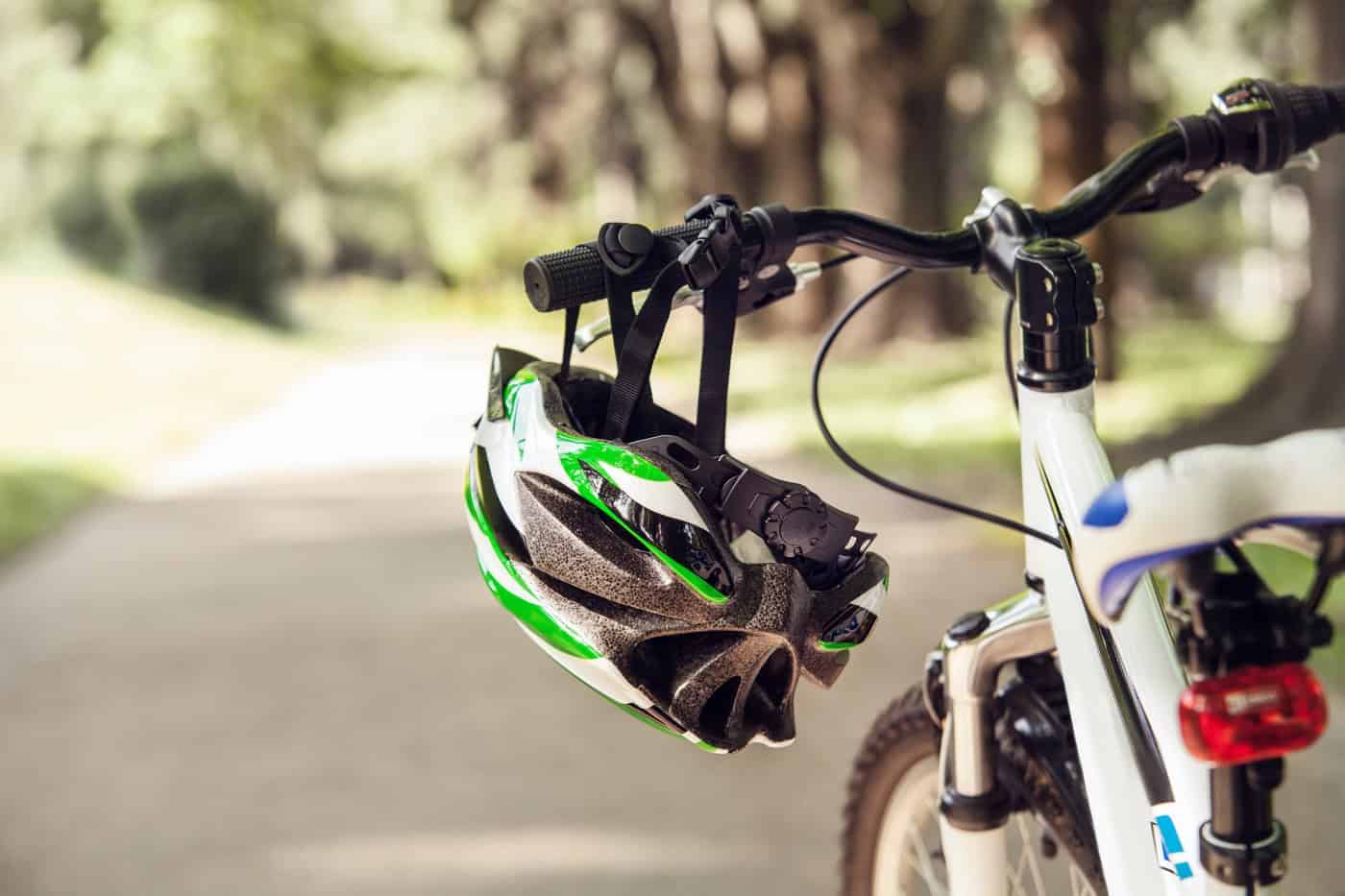 Mandatory use of cycle helmets for children
Does your child wear a helmet when cycling? Do you think children under 14 years should be made by law to wear a cycle helmet? Would wearing a helmet put your child off cycling?
The Liberal Democrat MP, Annette Brooke presented her private members bill "The Cycles (Protective Headgear for Children) Bill" in July 2011. The Bill sought to make it mandatory for children under 14 to wear cycle helmets when cycling on roads and in open spaces. The Bill failed to receive a second reading in Parliament – see my blog about this. .
At the time, Ms Brooke said the aim of the Bill was to protect children from head injuries and the devastating effects of brain injury.
Under the Bill, children cycling without helmets would  not be guilty of a criminal offence; instead they would  be required to produce proof of purchase of a helmet within 28 days to avoid a fine.
The Bill had the support of many organisations including the British Medical Association, Headway – the brain injury charity, the Bicycle Helmet Initiative Trust, the Child Brain Injury Trust, BRAKE – the road safety campaigning group, and the Child Accident Prevention Trust.
Lisa Turan, the CEO of The Child Brain Injury Trust said:
"Raising awareness regarding the devastating and lifelong impact acquired brain injury has on the whole family is something that the Child Brain Injury Trust supports wholeheartedly. Indeed we have supported this Bill from its initial inception as we believe strongly that wearing a cycle helmet helps prevent brain injury and saves lives.
The simple fact is children's developing brains are vulnerable and they need protecting to prevent injury. "
Since then, Peter Bone, the Conservative MP for Wellingborough, and the former Secretary of the All Party Road Traffic Group, introduced a new bill, (Child Safety (Cycle Helmets) Bill, in 2017 which would require children under 16 to wear a safety helmet when riding a bicycle on a public highway; and connected purposes.  The Bill had its first reading in February 2020 but like the Bill by Annette Brooke, it failed to complete it's second reading and will make no further progress.
Any attempt to make cycle helmets compulsory, face fierce opposition from cycling groups.
How big is the problem?
In 2019,  16,884  cyclists were injured in reported accidents, including 4,433 who were killed or seriously injured. Arounds 10 percent of cyclists killed or seriously injured in 2019 were children  Head injuries, ranging from fatal skull fractures and brain damage to minor concussion and cuts, are very common injuries to cyclists. Hospital data shows that over 40% of cyclists, and 45% of child cyclists, suffer head injuries. A study of 116 fatal cyclist accidents in London and rural areas found over 70% of the cyclist fatalities in London had moderate or serious head injuries in London, and over 80% of those killed in collisions on rural roads (https://www.rospa.com/media/documents/road-safety/cycling-accidents-factsheet.pdf_ )
These children who suffer brain injury may be left with a range of significant long term neurological impairments including psychological and neuro- behavioural issues, motor impairment, language and communication difficulties, memory problems and sensory impairments.
Types of head injury
Minor head injury
For most children, a head injury is usually minor and will not result in any permanent damage. The symptoms are usually mild and short lived.
A minor head injury may cause:
a bump or bruise on the head
nausea (feeling sick)
dizziness
Even a minor head injury can require treatment in hospital and the child should be monitored for 48 hours to check for any changes to their condition.
However it is possible for children who have suffered even a relatively minor head injury to develop 'post concussion syndrome', where they experience difficulties with concentration, memory and abstract thinking. They may feel lethargic, experience dizziness or their behaviour and sleep patterns may change. These problems can be difficult to deal with because they are often not immediately obvious and are hard to treat. The symptoms should resolve within two weeks however in some cases they can last much longer.
Moderate head injury
A moderate head injury is defined as loss of consciousness for between 15 minutes and 6 hours, or a period of post-traumatic amnesia of up to 24 hours. Children with moderate head injury are likely to suffer from a number of residual symptoms. The most commonly reported symptoms include tiredness, headaches and dizziness (physical effects) difficulties with thinking, attention, memory planning, organising, concentration and word-finding problems (cognitive effects) and irritability (an emotional and behavioural problem).
Severe head injury
A severe head injury can cause brain damage (a brain injury). Even though the brain is protected by the bone covering of the skull, the surface of the brain can tear or bruise as it bumps against the skull or as a result of a skull fracture which can damage brain tissue, blood vessels and nerves.
These injuries can cause bleeding, blood clots or a build-up of fluid, which puts pressure on the brain. This can sometimes lead to a brain injury, which can be either temporary or permanent. Brain injuries can have many different effects, including emotional, behavioural and physical effects.
If a child has suffered a severe brain injury there may be loss of consciousness, confusion, drowsiness, dizziness, headache, vomiting, blurred vision and loss of memory. Straw-coloured or bloodstained fluid may be seen leaking from the child's nose or ears. This is cerebrospinal fluid, which normally bathes the brain, and is a sign of skull fracture requiring urgent medical attention.
Why should it be compulsory for children to wear cycling helmets but not adults?
The statistics show that children represent a high proportion of cyclists killed or seriously injured each year.
There are also behavioural reasons, for example, children have a low awareness of danger and have a limited experience on the road compared to adults.
In addition, it appears that there are medical reasons. Rob Forsyth from the Institute of Neuroscience at Newcastle University said "A mistaken optimism persists that outcomes for childhood acquired brain injury (ABI) are in general superior to those for similar injuries in adults, a misconception based on naive concepts of greater 'plasticity' in the immature brain". It appears that an early injury may prevent the development of some intellectual capacities that an equally extensive injury, at maturity, would not have destroyed. Therefore an injury to the developing brain where key skills and functions have yet to be established creates additional complexities for treatment and uncertainties around the lifetime consequences of the injury.
Are cycle helmets effective in preventing brain injury ?
There has been much debate over the years about whether cycle helmets actually protect cyclists from brain injury and whether in fact they make it more likely that the cyclist will suffer a more serious injury.
Some commentators have argued that cycling helmets are only designed to protect the head from direct force, for example a child falling off a bike at a slow speed. There are some that argue that they are not designed to mitigate the more serious rotational acceleration injuries for example when the cyclist is hit by a car and the head is twisted. There has been concern that cycle helmets may make these more serious brain injuries more likely.
One of the world's most prominent helmet test experts has stated that most helmets are physically incapable of sustaining impacts of the type associated with serious crashes; helmets provide protection only in low impact crashes under favourable circumstances
However in 2009 the Department of Transport published a report reviewing the evidence as to whether cycle helmets were effective in preventing brain injury . The report concluded that assuming the helmet is a good fit and is worn correctly; it should be effective at reducing the risk of head injury, in particular cranium fracture, scalp injury and brain injury. They carried out a specialist biomechanical assessment of over 100 police forensic cyclist fatality reports and predicted that between 10 and 16% of fatalities could have been prevented if they had worn an appropriate cycle helmet.
Interestingly they found that cycle helmets were particularly effective for children because the European Standard (EN 1078) impact tests use a 1.5 m drop height test and given that younger children are shorter than older children and adults, their head height would be within the drop height used in impact tests so a greater proportion of single-vehicle accidents are likely to be covered by the standard for children.
They also concluded that there was no evidence for an increased risk of rotational head injury with a helmet compared to without a helmet.
Potential consequences of enforced cycle helmet use
Some commentators have argued that the number of cyclists who suffer head injuries is small relative to cycle use and also compared to other threats to health and life expectancy like obesity for example. There is a concern that if it becomes mandatory for children to wear cycle helmets that this will reduce the number of child cyclists and increase the levels of obesity.
Conclusion
It seems unlikely that it will be made mandatory for children to wear cycle helmets any time soon in view of the lack of progress made by the bills mentioned as well as . similar bills that have been presented in the past from Conservative and Labour MP's which have failed plus  the strong opposition to it from cycling groups.
In my view, the evidence suggests that cycle helmets will help protect children from suffering brain injury when they are involved in cycling accidents. However, I think mandatory cycle helmets for children is not the end of the matter. Other measures could also be used to improve safety, for example perhaps the mandatory provision of cycling proficiency training as part of the school curriculum to promote a greater understanding of road sense, or how about the compulsory wearing of reflective cycling gear, and the use of lights on bikes? More dedicated cycling lanes, and other traffic calming measures also of course have their part to play in reducing cycling accidents and serious brain injuries in child cyclists.
[1] Royal Society for the Prevention of Accidents 2010
[2] "Back to the future: rehabilitation of children after brain injury" Archives of the Disease of Childhood, Forsyth 2010
[3] "Heads Up". Walker B. Cycle, Jun/Jul 2005
[4] "The potential for cycle helmets to prevent injury – a review of the evidence" Department of Transport 2009