Dragon Boat Racing for The Silverlining
On 21st July 2019, my Bolt Burdon Kemp colleagues and I undertook the Dragon Boat Race at Kingston Rotary Club to fundraise for The Silverlining, a brain injury charity whose wonderful work we support wholeheartedly.  We raised a little under £2,000, including Gift Aid, and had the most fantastic day!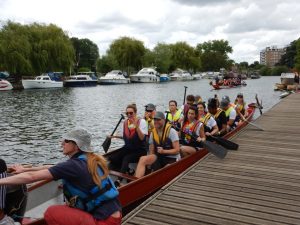 The BBK Brains ready to race!
We competed against many other teams, and whilst we didn't win… we didn't come in last, hurrah!  Importantly, it allowed us to spend some quality time with members of the Silverlining – who provided tough competition (and delicious baked goodies).  We had a chance to hear stories of their recovery from a brain injury, including what helped them to get their lives back on track.
There was a great turn out from the 'BBK Brains', which included brain injury specialists Kate O'Brien, Tom Lax, Victoria Moore, Heather Petrie, Hokman Wong, Evangeline Ashby and Katie Lovick-Norley, as well as Nicole James Julio and Deepti Patel who took turns as our drummer.  We also were lucky enough to have further help from other members of the firm and their spouses, including help from our spinal injury specialists Alex Dabek and Sean Palmer.  The day had a very relaxed vibe with lots of families in attendance to show their support and enjoy the lovely weather!  I was captain of the team this year, which was a lot of fun!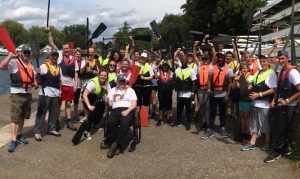 The Silverliners and BBK Brains ready to rOARing to go
Silverlining supports adults who have sustained a brain injury, their family members and their carers.  Their door is open to any adult who has a brain injury, regardless of how it happened.  They understand that a brain injury will also affect the individual's friends, family, colleagues and wider community – and cater their services to be inclusive of anyone who would benefit, including professionals and volunteers.  They organise activities and events which can be attended by anyone who has suffered a brain injury, no matter their limitations.  They definitely do not do things by halves – Silverlining members have previously attended trips to Namibia and skiing trips!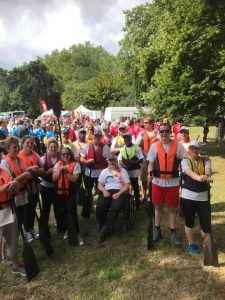 Silverliners ready to go!
They have a huge focus on giving members a safe space to be themselves, whilst also socialising with others who may be in similar situations.  Their aim is to "enable those affected by brain injury (Silverliners) to rediscover a sense of purpose, direction and meaning as well as educating the public to the plight of those affected.  Our conviction is that our objectives can be achieved through supporting purposeful projects, challenges and activities which benefit both the individual and the wider community."
Our firm has been working with Silverlining for years.  We host their monthly support meetings in our offices.  These are semi-formal meetings open to those with a brain injury, their friends, family and carers.  It allows people to come together to discuss what's been happening in their lives, advice they could offer others and just an opportunity to socialise, share and support one another.  Whilst there's always someone from every age and background, and no two injury is ever alike, there's great power in coming together to share mutual experiences and support one another.  Biscuits and tea are always on offer (this is non-negotiable), but other than that – members are encouraged to get involved as much, or as little, as they like – there is no pressure.  We usually top off the meeting with a spot of food – my personal favourite being a sloppy Giuseppe from Pizza Express.
These meetings are so crucial to so many members, who use it as an opportunity to promote their independence in a safe environment.  We often see many of the same faces returning every month, although the group is also very open to new members who want to drop in to see what it's all about.  I've met people from all backgrounds including those in the military, fashion and even former lawyers!  There's always something new to learn or talk about and did I mention we have great biscuits?
At Bolt Burdon Kemp, we specialise in representing those who have suffered a brain injury as a result of either medical negligence or accidents that were not their fault.  We understand the impact that a brain injury has on the individual involved and everyone around them.  We often hear our clients tell us that once they've received their initial medical treatment and been discharged from hospital, they often feel lost.  Things are different and they don't quite know where to turn to about adapting to their new life.  Charities like the Silverlining offer such vital access to education, rehabilitation, support and socialisation which is key to getting people back on their feet.
Ipek Tugcu is an associate solicitor at Bolt Burdon Kemp specialising in Adult Brain Injury claims.  If you feel you may have a claim or are enquiring on behalf of a loved one, contact Ipek free of charge and in confidence on 020 7288 4849 or at ipektugcu@boltburdonkemp.co.uk.  Alternatively, complete this form and one of the solicitors in the Adult Brain Injury team will contact you.  Find out more about the Adult Brain Injury team.