Bolt Burdon Kemp is delighted to say congratulations to Yorkshire's Encephalitis Society, named Charity of the Year!

A charity which helps people who have been affected by a devastating brain condition has won a prestigious national award for its life-saving work.
The Encephalitis Society, which is based in Malton, North Yorkshire, was crowned Charity of the Year with an income of less than £1 million in the Charity Times Awards at a glittering awards ceremony at the Park Plaza Hotel, London, on Wednesday evening (4 October).
Dr Ava Easton & Phillippa Chapman (Encephalitis Society)
The team, led by Chief Executive Dr Ava Easton, were joined at the ceremony by charity ambassador Rebecca Adlington OBE, the two-time Olympic gold medal swimmer, who was recently seen on BBC One's Celebrity Masterchef.
Dr Easton said:  "We are thrilled to have taken home this wonderful award from the Charity Times Awards which are truly the 'Oscars of the charity world.'
"Encephalitis is a devastating but little known condition that can ruin lives and destroy families.  We are proud to be the global encephalitis experts and this recognition by the Charity Times means the world to our passionate team who go the extra mile to help people affected every day.
"We are grateful for the backing of our supporters, especially our Ambassador Rebecca Adlington, who has championed our work for several years, and our friends at Bolt Burdon Kemp and Clarke Willmott whose generous donations enabled us to attend the ceremony itself."
Ipek Tugcu, Medical Negligence Solicitor at Bolt Burdon Kemp, said:  "We are thrilled that their hard work was recognised last night at the Charity Time Awards 2017, as winners in their category.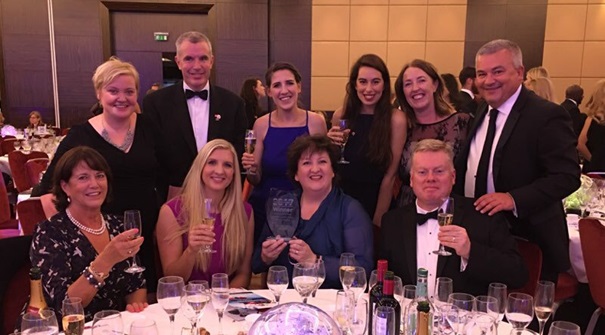 The people in this photo includes: Tiggy Sutton (longstanding supporter to The Encephalitis Society), Rebecca Adlington (ambassador to The Encephalitis Society), Dr Ava Easton, Lord Roy Kennedy of Southwark, Andy Roe, London Fire Commissioner, Phillippa Chapman (The Encephalitis Society), Ipek Tugcu, (senior associate at Bolt Burdon Kemp), Julia Clark (The Encephalitis Society)
"We know, first hand, how passionate and hard-working this amazing team are.  They are truly dedicated to their members and provide strong support to families affected by encephalitis and work tirelessly to raise standards.  Their award is well deserved and we are delighted to have been able to support them on the night."
The Charity Times Awards are the pre-eminent celebration of best practice in the UK Charity and not-for-profit sector.  Now in their 18th year, the awards are run by Charity Times Magazine, the leading title for UK non-profit professionals.
Rebecca Adlington, Ambassador with the Encephalitis Society, said:  "I am extremely proud to be an ambassador with the Encephalitis Society and to champion their work across the world.
"To have been there on such a fantastic night and to see them rewarded for their efforts over the past 12 months was extremely special for me and my family."
THE ENCEPHALITIS SOCIETY
The Encephalitis Society was founded in 1994 and is a registered charity and the only resource of its kind in the world providing direct support and information to people affected by encephalitis and to their family and friends.
The Encephalitis Society receives no Government funding and relies on income raised from individuals, businesses and grant-making organisations.
ENCEPHALITIS
Encephalitis (noun, /ɛnˌkɛfəˈlʌɪtɪs/) is inflammation of the brain and is caused either by an infection invading the brain (infectious); or through the immune system attacking the brain in error (post-infectious / autoimmune encephalitis).
The condition is indiscriminate, striking adults and children alike, showing no respect for age, gender, ethnic origin or culture.  Mortality rates are high and in those who survive many are left with an acquired brain injury, the degree and severity of which will vary.  Their difficulties may include cognitive, physical, emotional, behavioural or psychosocial consequences.
SYMPTOMS
The types of symptoms seen in encephalitis reflect the specific areas of the brain affected by the inflammation.  The range of symptoms and their rate of development vary widely and can make the diagnosis of encephalitis difficult.
Infectious encephalitis frequently begins with a 'flu-like illness or headache.  Typically more serious symptoms follow hours to days later.  The most serious finding is an alteration in level of consciousness.  This can range from mild confusion or drowsiness, to loss of consciousness, seizures and coma.  Other symptoms include a high temperature, seizures (fits), aversion to bright lights, inability to speak or control movement, sensory changes, neck stiffness or uncharacteristic behaviour.
In autoimmune types of encephalitis people can present with psychosis and hallucinations among other neurological presentations.  Sometimes these patients can be mistakenly thought to be developing psychiatric or mental health illnesses.
For a more detailed factfile on encephalitis please see:
https://www.encephalitis.info/Pages/Category/media
Ipek Tugcu is an associate solicitor at Bolt Burdon Kemp specialising in Adult Brain Injury claims.  If you feel you may have a claim or are enquiring on behalf of a loved one, contact Ipek free of charge and in confidence on 020 7288 4849 or at ipektugcu@boltburdonkemp.co.uk.  Alternatively, complete this form and one of the solicitors in the Adult Brain Injury team will contact you.  Find out more about the Adult Brain Injury team.