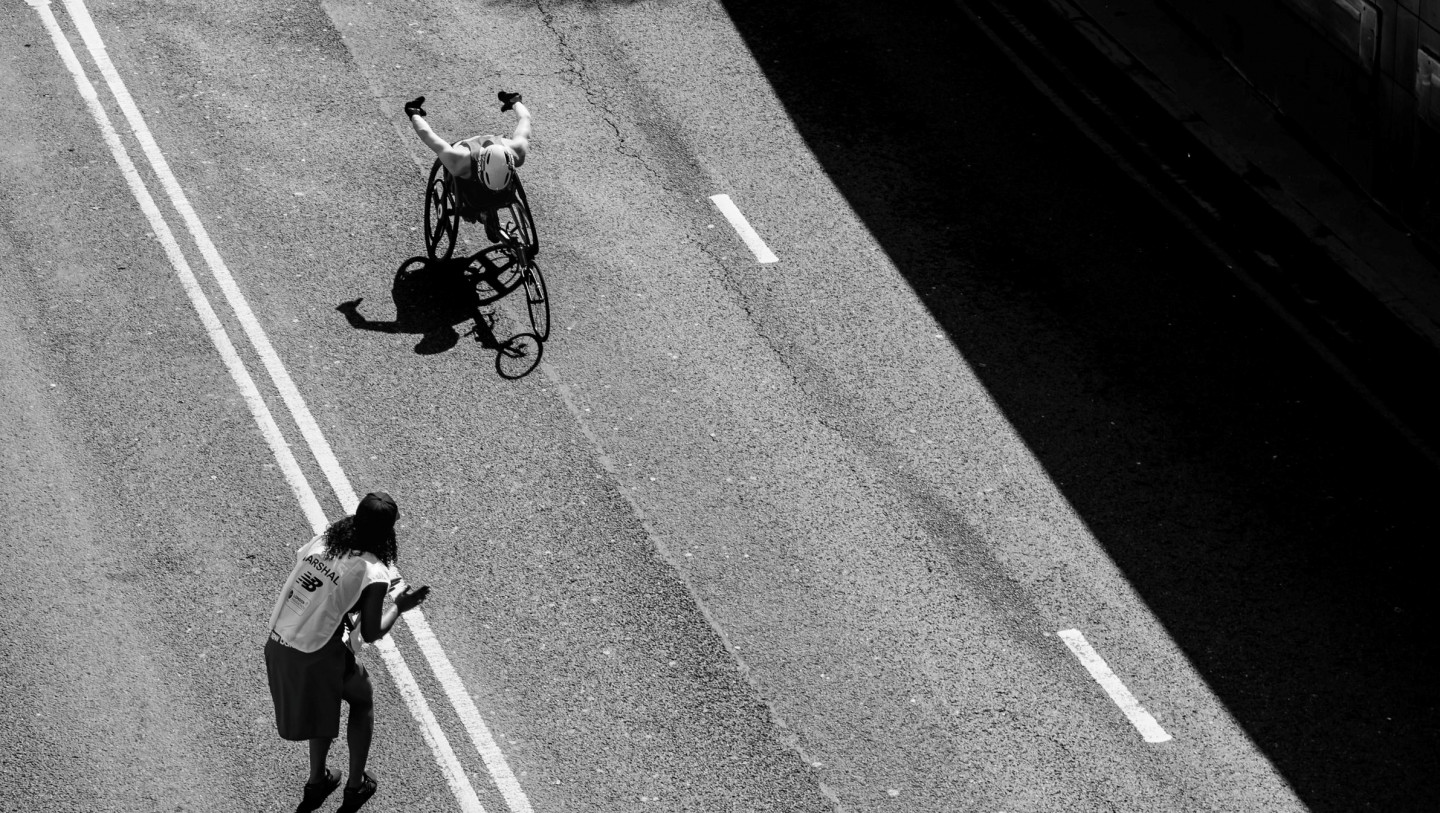 Wheelie Good Sports – Sports for the Spinally Injured
Those with a spinal cord injury (SCI) are among the most likely demographic to live a sedentary lifestyle.  Exercise, however, decreases the risk for many of the secondary conditions associated with an SCI, including urinary tract infections and pressure sores.
If you are a newly injured, you may have negative thoughts over the sports options available to you.  But fear not!  There are plenty of fun sports out there you can play.  Whilst assistance might be needed for some sports, the main thing is just to get out there, have fun and enjoy a work out whilst you do it!
Wheelchair rugby
Incepted in 1977 (in Canada) and introduced to the UK in mid 80's, wheelchair rugby's popularity has soared.  Also known as 'quad rugby' and 'murderball', wheelchair rugby is now one of the most popular sports for people with spinal cord injuries including those whose hand function has been affected.  Modelled, naturally, on the game of rugby, the game is played on a court and the action can be quite intense!  Perhaps not for the faint hearted as wheelchairs have been known to flip.
Whilst regular chairs may be suitable for beginners, those who are more advanced will use specialist, lightweight, sport wheelchairs that are easier to manoeuvre and are quicker around the court.  You will also need to use gloves which can give a 'sticky' feeling to help catch the ball and give you an added advantage.  The next important thing is knowledge of the rules and here are some basic rules and tips on how to play:
Overview: teams are made up of four players on the court at one time, although 12 players are allowed in a team overall.  Matches are played in four quarters, each last 8 minutes, with 2 to 5 minutes breaks in between.  Goals are scored when a player has firm control of the ball and crosses the goal line with both wheels.
In-game: there are time limits for how long a single player can hold the ball for.  If a player carries the ball for longer than 10 seconds without dribbling or passing it, the referee will give possession to the opposing team.  Once in possession, teams have 40 seconds to score a goal.  There are two key areas, which is a marked area around the goal.  The defending team cannot have more than three players in their key area whilst defending it.
Contact: whilst this is a key part of the game, there are certain penalties to keep in mind.  For instance, it is a foul to hit the opposing player's chair behind the rear wheels and cause it to rotate.  You'll also be pleased to know that there is a ban on direct physical contact with the opposing player!  Penalties can be in the form of a one-minute break or even disqualification.
Where to play?
If you are currently residing in the Buckinghamshire area, there are the much feared Stoke Mandeville Maulers.  Led by twice Paralympian, Bob O'Shea and Ian Hosking, the Maulers are based at the birthplace of the Paralympic movement and boast a 44 year long history.  If you are interested in joining the mighty Maulers, contact Ian Hosking via email on ianhosking@hotmail.co.uk.
Otherwise, follow the link to find your most convenient club and get playing today!
Basketball
Wheelchair basketball was first developed in about 1945 and used as a form of rehabilitation for injured WWII servicemen in the US.  In 1960, it was played at the Paralympic Games in Rome, Italy.  The game is perfect for anyone who loves the game but has an impairment that prevents them from playing basketball.  We have set out below some basic rules of this game:
So here are some of the basic rules:
Overview: the size of the court and the height of the basket is the same as for Olympic Basketball.  Don't let that put you off though – amateur games tend to use a lower basket height!  A wheelchair basketball team includes five players.  A match involves four quarters, each lasting 10 minutes.
In-game: once in possession, the team only has 24 seconds to make an attempt to score a basket.  When you move around the court, you must dribble the ball at the same time.  This is done by bouncing the ball and pushing your chair at the same time.  It can also be done by putting the ball in your lap and pushing your chair up to two times, bouncing the ball and then putting the ball back in your lap.
Penalties: 'travelling' occurs when a player does not either bounce or throw the ball for every two pushes and is the most common foul.  If a player commits more than five personal fouls, then they must leave the court and get replaced by another member of the team.  In terms of contact, the wheelchair is considered to be an extension of the player's body where charging and blocking are concerned.
Scoring: a differing amount of points are gained, dependent on the circumstances of the throw:
One point is gained from a free throw;
Two points from a goal from open play; and
Three points from a goal from behind the arc (three point line).
If the team exceeds the 24 second time limit, then the ball is given to the opposing side.
Want to get started?
Use the helpful link to locate a wheelchair basketball club near you.
The website also contains a lot more useful information, tips and advice for anyone considering taking up this thrilling sport.
Tennis
Tennis is a widely played game for those who have suffered a spinal cord injury.  What's more, it's fun and easy to play!  As a mixed-ability sport, almost anyone at any age can pick it up.  You play against the disabled and non-disabled alike – the rules are the same.  Here are a few tips for those wishing to start:
Tennis Chairs: as an amateur, you can use your own chair.  Although as you improve, there are specific tennis chairs that have a single wheel at the back.  This increases your speed and agility.
Holding the racket; the difficulty is learning how to push your chair whilst holding your racket.  The trick is to hold the racket against the wheel and below the rim.  If your hand is too small, try a smaller racket.  Rubber rims on your wheels will also make it easier to hold your racket.
Strap yourself in: You should always strap in before playing, including your feet, things and around your waist, with nylon straps.  Whilst this helps keep you safe, it also helps with mobility and agility around the court.
Mobility: Once strapped in securely, you will find you have better control of your chair as it'll move in unison with your body.  Whilst pushing your chair, two big strong pushes to start with is key to gliding around the court as short pushes won't be fast enough to get the ball.  Use your non-dominant hand to turn the chair while holding your racket in your dominant hand.
Want to get started?
If you are now interested in giving wheelchair tennis a go, then use the following link to locate somewhere convenient.
Or, if you would like to find out more information, use the following email address: disabilitytennis@lta.org.uk
There are multiple benefits in joining a local sports club and getting some exercise.  The obvious being that it is great for your health.  People with an SCI are more likely than the general populations to have health problems related to weight gain, changes in cholesterol and high blood sugar.  They are also at more risk of cardiovascular disease.  Generally, everyday activities are not sufficient to maintain your cardiovascular fitness; whereas regular exercise helps reduce the named health risks.
Sport is also a great way to meet new people and make new friends who have had similar experiences to yourself.  It is important to make such friends as they are people you can relate to and helps with your happiness and comfort levels.  Sport also introduces you to mentors, who can teach you many important tips and tricks, not only for the sport, but also how to deal with your condition in real life settings.  There are so many adapted sports available for those with a spinal cord injury that there is surely one that you will like!