Throwing myself into some seriously deep waters in aid of Horatio's Garden
Those who have read my earlier blogs will know that I am a very passionate supporter of Horatio's Garden.  This blog is about how I have turned my words of support into deeds… swimming the Serpentine in September!!!
Last year's fundraising challenge
Last year I signed up to take part in a 26-mile bicycle ride to raise funds for Horatio's Garden but the weather was against me and the bicycle ride was cancelled due to severe weather conditions.  I have had such an amazing response to my fundraising appeal that I decided to challenge myself further this year ….
My #SwimSerpentine #Challenge
So when someone mentioned the Swim Serpentine challenge, I did not think twice and immediately signed myself up to raise funds for Horatio's Garden.
Admittedly, I had no idea what I was getting myself into… As it turns out, the swim was a mile long which for a below average swimmer like myself (who as it turned out can't really swim front crawl!) is not a small challenge!
To make things even more exciting, I made up my mind about participating only a month before the event which did not leave me with much time to improve on my below average swimming skills (and that front crawl which I am sadly yet to master!).
My training
I was determined to succeed in my challenge and worked really hard; I became almost a daily visitor to my local swimming pool eventually being able to swim the 66 laps or so (one mile) without feeling like I might die of exhaustion or due to painful cramps.  My concern was no longer the distance but the temperature of the water… despite being born in Poland, I certainly do not share my countrymen's attitude to cold weather and the idea of having to brave the Serpentine at the end of September was keeping me awake at night!  I knew I had to do at least one practice open-water swim before the event but I kept delaying it.  When I finally felt mentally prepared for it, my body refused to cooperate and I developed a nasty throat infection just a few days before the event.  But I was also totally determined to still take part no matter what, and I did it!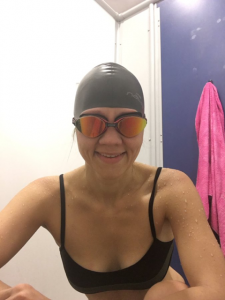 After one of Alex's training sessions
The day of the challenge
It was not easy and I was close to quitting in the first 10 minutes of the swim but managed to talk myself out of it.  We were truly blessed with the weather and the temperature of the water was at a comfortable 15°C which did not stop me from wearing a wetsuit.  Unfortunately, I lost my tracker during the swim (apparently it is not uncommon!) but I reckon it took me about 55 minutes to complete the swim which can't be a bad result for an inexperienced swimmer like myself!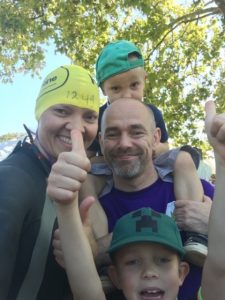 Alex just before the Swim Serpentine Challenge
Reflecting on this challenge, it was one of the most rewarding things I have done this year!  I have had the most amazing response to my fundraising appeal and have well exceeded my fundraising target.  I also had lots of support from colleagues at work, my lovely friends at Horatio's Garden and my Twitter followers.  There is one tweet that I wanted to mention here because it sums up why I wanted to challenge myself to raise funds for Horatio's Garden.  When I was at my lowest, fighting infection and worried I may not make it to the finishing line, someone wished me luck and told me to focus on those who can't get out of bed due to spinal injury… it is that thought that kept me going.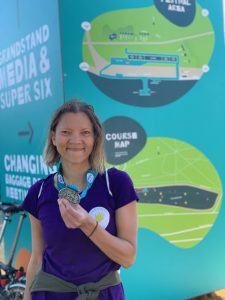 Alex having completed the Swim Serpentine Challenge