Horatio's Garden: Time really flies when you are in good company!
In the blog I wrote at the beginning of this year, I was discussing our budding relationship with a very special charity, Horatio's Garden  and was looking forward to what 2019 had in store for us.  And before I knew it, we are half way through the year already!
And oh my, what an amazing and inspiring time it has been continuing to support Horatio's Garden.  And busy too!  A quick look at my tweets will give you some idea of what a whirlwind of events and activities it has been.
However, to give you some more flavour of the great time and all the fantastic events we have supported Horatio's Garden with, here is a photographic run-down of all the recent events!
Hog roast and live music in Salisbury
At the Duke of Cornwall Spinal Treatment Centre, we helped the spinal injuries patients enjoy the Early May Bank Holiday by tucking into some mouth-watering hog roast and listening to truly heart warming music within the tranquil surroundings of Horatio's Garden.  The timing of this event was particularly special this year as it coincided with the announcement that Princess Eugenie has become Royal Patron of Horatio's Garden so there was much to talk about!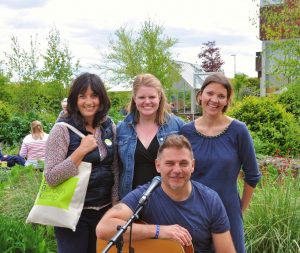 Olivia Chapple, the founder of Horatio's Garden, with Bolt Burdon Kemp lawyers Alex Dabek and Victoria Oliver, and local musician Jim at Horatio's Garden, Salisbury
Royal Chelsea Flower show and more…
A few weeks later we were invited to visit Horatio's Garden stand at the Chelsea Flower Show.
We admired their stand (beautifully designed by James Alexander-Sinclair) and we got to meet some lovely volunteers.  Their enthusiasm and hard work is hugely inspirational.
We were delighted to find out a few days later that the volunteers working in the garden in Salisbury have been given the Queen's Award for Voluntary Service, the highest award given to UK volunteer groups.  Having met and worked with many of these lovely volunteers, I can confidently say that they are the most dedicated, kindest and most hard working people I know and we could not be happier for them to receive this fantastic recognition.
One of the former patients commented "They are all so kind and generous, giving all the patients a warm welcome and, when the need is there, a listening ear to bend."  And I think it sums up their approach really well.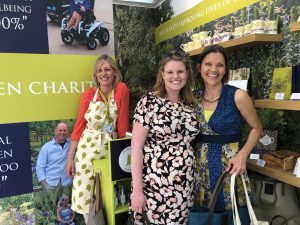 Alex Dabek and Victoria Oliver in the company of Horatio's Garden volunteers at their stand during Royal Chelsea Flower Show
Secret Art Sale
Later that same day, (as if the visit to the Chelsea Flower Show was not enough to blow our socks off!) we attended a fundraising event for Horatio's Garden at the National Army Museum.  I really liked the format of the Secret Art Sale where the only thing that influenced you was your own taste as one had no idea who the artist was until you bought your piece.  As a result, you could have ended up with a piece by a very well known artist or by an amateur painter who may have taken up painting following a spinal cord injury as part of their rehabilitation.  I was very lucky to acquire the latter!
During the event we heard from Olivia Chapple, the founder of the charity, about the exciting progress with the new gardens being created in Oswestry and Cardiff and a further one being planned for Stanmore.
 Tea amongst the Green
We were so excited when we heard about Horatio's Garden launching a Fabulous Summer Tea Party Week that we decided to throw an afternoon tea party at our office in honour of Horatio's Garden.  With a good selection of cakes to suit everyone's taste buds, it was a great opportunity to spread the word about the charity's inspirational work and have a well deserved break from our computer screens…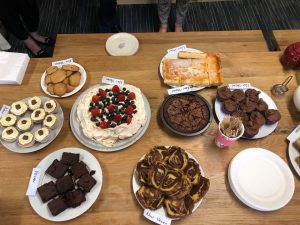 Tea amongst the Green" event organised by Spinal Injuries team at Bolt Burdon Kemp's office in honour of Horatio's Garden
Summer drinks party – Salisbury
We were honoured to sponsor this event for the second year.  It was also such a great opportunity for everyone, including supporters, volunteers and patients, to come together and share their stories.  We heard from Jack, a former patient, about how important it was to have somewhere outside the hospital walls to see his friends and do the things that teenagers do.  For him, the garden was "the antithesis of the hospital" and to have that space allowed him to work through his emotions, kept him motivated and really helped with his rehabilitation.  It was inspirational to hear that since leaving hospital, he has applied for a Masters in Military History  and is in the process of joining a wheelchair rugby team.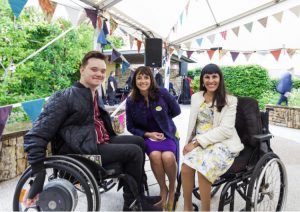 Olivia Chapple, the founder of Horatio's Garden, Raquel Siganporia and a former patient Jack, in Salisbury
Credit: @jhumpsphoto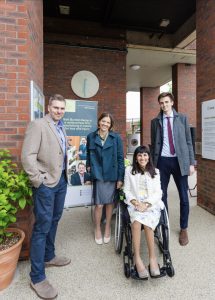 Alex Dabek from Bolt Burdon Kemp in the company of Edward Baker of Neurokinex at Horatio's Garden, Salisbury and Raquel Siganporia
Credit: @jhumpsphoto 
Afternoon tea anyone?
With two afternoon teas in one week, we may have broken the record of the amount of tea and cake consumed in support of Horatio's Garden but it was so worth it!
The event was very well attended and it was fantastic to see many of the former patients returning to the garden to support the charity which helped them when they really needed it.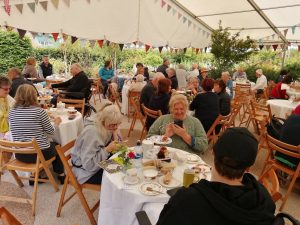 Afternoon tea enjoyed at Horatio's Garden in Salisbury in support of the charity
Credit: @jhumpsphoto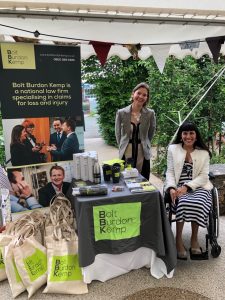 Alex Dabek supporting Horatio's Garden at their Afternoon Tea party, Salisbury
Summer drinks party – Stoke Mandeville
Last but certainly not least, we also supported Horatio's Garden with the very first summer drinks party at the garden in Stoke Mandeville hospital.
We met Head Gardener Jacqui Martin-Lof and her amazing team of volunteers.  Raquel, who heads our Spinal Injury team, shared her experience of spending time in the London Spinal Cord Injury Centre at Stanmore as a child, and illustrated how having a Horatio's Garden would have helped her and her family during that difficult time.
We also heard from an award-winning garden designer, Joe Swift, who designed the garden in Stoke Mandeville, about the challenges faced in the process of building it and how it transformed the space and is starting to transform the lives of the patients there.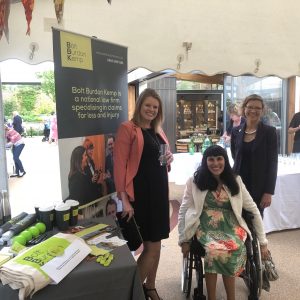 Bolt Burdon Kemp lawyers Victoria Oliver and Alex Dabek at a fundraising summer party for Horatio's Garden, Stoke Mandeville
What's next?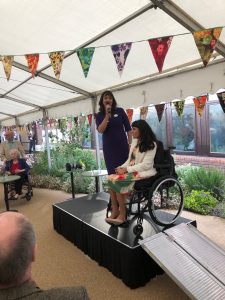 Welcome speeches at a fundraising summer party delivered by Olivia Chapple, founder of Horatio's Garden and Raquel Siganporia
The last 6 months or so have been a wonderful whirlwind of events supporting Horatio's Garden and I am excited about all the forthcoming events including my favourite Christmas Fair and other fundraising initiatives to ensure that Horatio's Garden can continue to offer much needed solace (and more) to those recovering in hospital following a spinal cord injury.
Through our work with those affected by spinal cord injuries, we recognise how crucial this is to one's rehabilitation and long-term recovery.