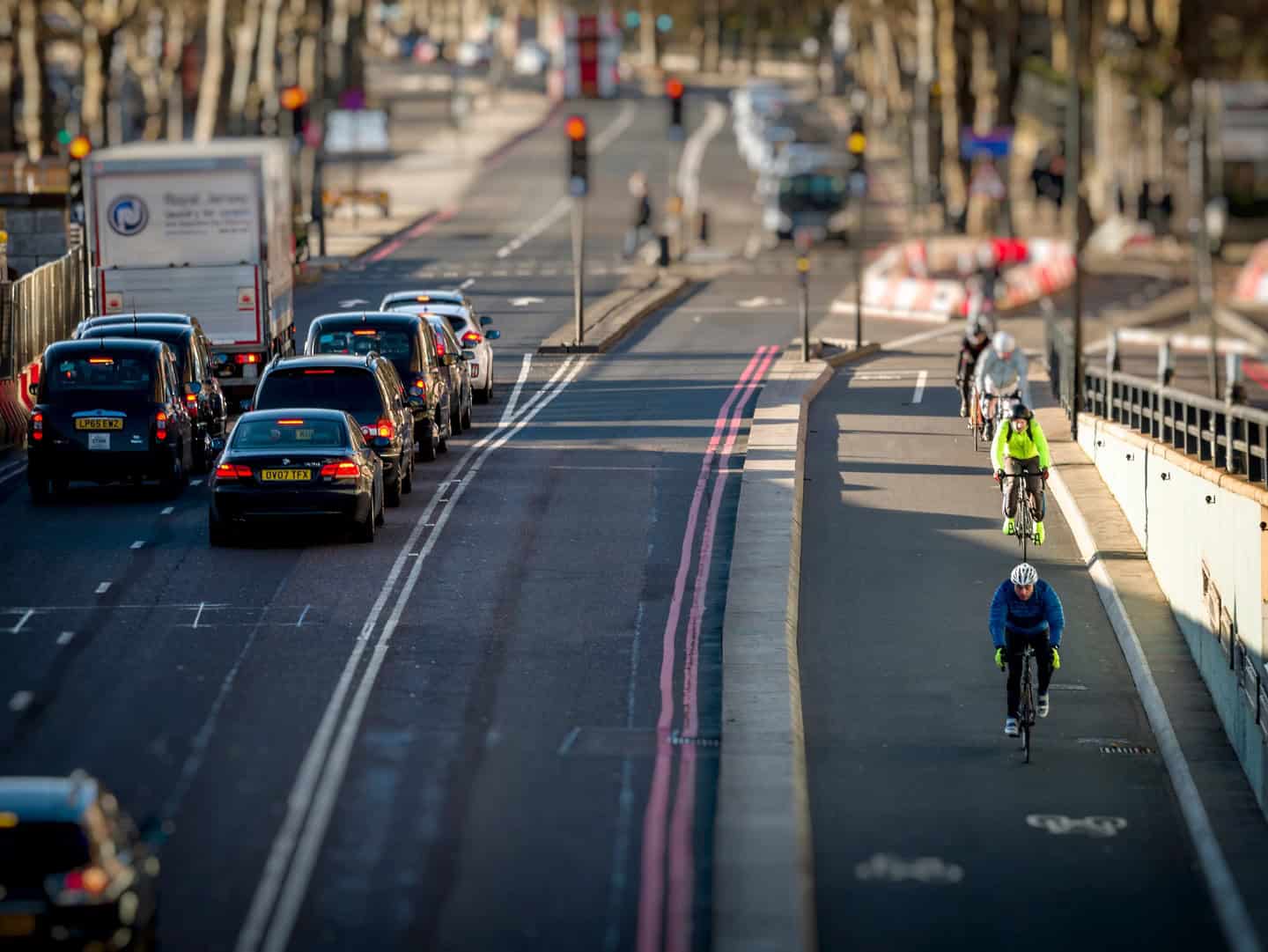 Courts and Contributory Negligence of Cyclists
The law is supposed to reflect the values and beliefs of society.  In recent years there has been a shift to sustainable and active modes of travel.  More and more people are taking to their bicycles and walking.  In support of this the Highway Code was updated in September 2021 to include the hierarchy of road users.
The hierarchy of road users places greater responsibility on road users who can do the greatest harm to reduce the danger or threat they may pose to other road users.  At the top of the hierarchy are pedestrians followed by cyclists.
Whilst the hierarchy of road users may be a new concept for everyday road users, the courts for a long time have been applying something very similar to apportioning blame in road traffic collisions where both parties are at fault.  In such cases the party with the greater potential to cause harm has a greater degree of responsibility.
With cycling more popular than ever in recent times it is fascinating to take a look at how civil courts wrestle with apportioning blame in collisions where a motorist is found to be liable, but the cyclist was also to blame (known as contributory negligence).  Has the court properly reflected the values and beliefs of our society?  I delve into this question below by looking at decisions in real life cases.  Where a person has been found to be contributorily negligent, their compensation is reduced by an amount equivalent to their level of blame.
1) Bad positioning going round a bend
In Sinclair v Joyner [2005] the cyclist (C) was coming round a bend on a country road just on her own side and near the middle of the road.  The driver (D) coming the other way, saw C and slowed, but did not stop.  C clipped D and came off her bike and sustained serious life changing head injuries.  The judge found D was liable for the collision for failing to stop when a prudent driver should have, but C through bad road positioning was 25% to blame.
In Lamoon v Fry [2004], C was an 18 year cyclist who cut a corner and was on the wrong side of the road.  D was driving at around 40mph, which was found by the judge to be too fast.  D was liable for the accident, but C was held to be 60% to blame for the collision.  This decision was appealed.  The Court of Appeal declined to interfere with the judgment and commented the finding appeared to have been generous for C.
2) Failing to keep a proper lookout
In Clensahw v Turner [2002], C was cycling on a cycle lane and travelling at 15-20mph, which was slightly faster than traffic.  D was in a lorry indicating and turning left into a petrol station ahead of C, who had their head down in a "racing position" and did not see D. C was "left hooked" by D.  The judge found D ought to have seen C in their mirror and stopped and was therefore liable for the accident; however, C was 50% to blame for failing to see D and failing to stop.
A more recent case involving a "left hook" is McGeer v Macintosh [2017], which resulted in a more favourable apportionment of blame for C.  Here, D (HGV) was stationary at traffic lights and indicating to make a left turn, but straddling 2 lanes due to a tight turn.  C came from behind D in the left lane on a downhill stretch and collided with D turning left.  D was held to be primarily liable, if they had checked their nearside rear view mirrors they would have seen C.
C was held to be also responsible for the collision because D would have been clearly visible for nearly 4.5 seconds before moving off.  C could not reasonably realise or safely assume D was going straight.  C was travelling at 16.5mph down the slope and with no ability to stop if D made an unexpected manoeuvre.  In the circumstances C should not have undertaken D.  In apportioning blame the judge found D 70% and C 30%, to blame.
3) Running a red light
In Malasi v Attmed [2011], there was a collision at a traffic light controlled junction.  Lights were green for D who was travelling 41-50mph in a 30mph zone.  C emerged from a side road against a red light.  D was held liable for the collision, but C was criticised for failing to comply with the red light and failure to apply brakes in time to avoid the collision.  The balance of fault lay very heavily with C and they were found to be 80% to blame.
4) Riding in the dark without a lamp or high visibility clothing
In certain circumstances judges have found cyclists partly to blame for a collision in the dark, for failing to ride with a lamp or high visibility clothing.  This stems from the Highway Code:
Rule 59 cyclists should wear 'light-coloured or fluorescent clothing which helps other road users to see you in daylight and poor light'; and
Rule 60 states 'At night a bicycle MUST have a white front and red rear lights lit.  It MUST also be fitted with a red rear reflector (and amber pedal reflectors, if manufactured after 1/10/85).
Rule 60 is a legal requirement under The Road Vehicles Lighting Regulations 1989.
In Callier v Deacon [2009], on 28 June 2004, C was cycling home at 11pm on the A361 south of Lechlade in Wiltshire.  C stopped in the road to text his mother. D was driving from the opposite direction and overtook a slower moving vehicle.  D did not see C and hit him.  C sustained serious injuries, including a below knee amputation.  D was found to be liable for the collision.  C who was in dark clothing and did not have a lamp was found to be 55% to blame.
In Elson v Stilgoe [2017], at 8am on 11 January 2011, on C was cycling on a rural road without street lighting and overtaking a line of stationary traffic.  To avoid a flooded area C suddenly veered into the opposite lane and was hit by D.  The judge found D was not liable for the collision because they had been driving appropriately.  The judge further commented that if D had been found liable for the accident, C would have been 35%-40% to blame for failing to wear appropriate clothing/cycling gear and failing to have a lamp on, given the state of the light at the time.
The future of cyclists' contributory negligence
Cycling and active travel is being encouraged.  Recent changes to the Highway Code were made specifically to improve safety for cyclists and pedestrians, by initiating a positive shift in behaviour of road users.  Public policy considerations are in judges' minds when making decisions.  I recently heard a QC say they thought it now be unlikely judges would now make a finding of contributory negligence for a cyclist failing to wear a helmet, because of the negative effect it would have on government backed public bike hire schemes.
In the current zeitgeist, perhaps the most controversial application of contributory negligence from the above examples is cycling in the dark without high vis clothing.  A counter argument is pedestrians are not found to be contributorily negligent in the same way for not wearing high vis clothing when out for a walk.  In a time when cycling and active travel are being encouraged, would road safety be better served by removing decisions which could be interpreted as victim blaming?
My view is wearing high visibility clothing when out in the dark should be encouraged.  Road users ought to help one and other.  The tribal division between motorists and cyclists and pedestrians stops cooperation and increases road danger.  The flip side of finding cyclists contributorily negligent for not wearing high visibility clothing is it creates victim blaming and removes responsibility from the driver, who should bear all responsibility for keeping a proper look out.  If it is dark and you can't see, slow down.  In our society there is an unconscious bias towards motorists, which needs to be addressed to improve road safety.  A great example of changing this unconscious bias is the media reporting guidelines for road collisions.
Contributory negligence for cyclists failing to wear high vis clothing is controversial, but it remains good law.  This is an area of law which arguably does not reflect the hierarchy of road users and the values and beliefs we want our society to have.