A flagship policy ambition in 2017[1] saw the government promising to get an extra one million disabled people into work over the next ten years. Their pledge followed the release of data from the Office of National Statistics (ONS) suggesting that less than half of people with disabilities (49.2%) were in employment in June 2017.
Two years on and progress is slow but steady. According to the latest ONS data[2], just over half of people with disabilities (51.7%) are currently in employment. If this continues at a similar pace over ten years, it should see approximately 5.8 million* disabled people in total in work by 2027.
So, how can we make sure this happens? Governmental policies and action plans can only go so far. Businesses need to do more to make it easier for people with disabilities to return to – and remain in – work. Yet, Bolt Burdon Kemp's recent survey of 500 SME (small-to-medium enterprises) owners found many don't understand how to cater for disabled employees. Here are our main findings:
95% of SMEs don't know all the legal rights of their disabled employees
The Equality Act 2010 was created to reduce socio-economic inequalities, reduce discrimination and harassment based on personal characteristics (like race, gender, sexuality or disability), and improve protections for workers[3]. Employers need to comply with the Act in order to provide fair and just treatment to their workers.
In a multiple-choice, 'tick any that apply' question, we asked SMEs to identify the protections that the Act gives to disabled workers. The possible answers included three of the key protections granted to disabled workers as well as two incorrect options. Only 5% of SMEs were able to correctly identify all three of the protections without picking an incorrect answer:
9% of SMEs were able to identify two correct answers without picking an incorrect answer
13% of SMEs were able to identify one correct answer without picking an incorrect answer
41% of SMEs were able to identify at least one correct answer, although they did also pick at least one incorrect answer
9% of SMEs failed to identify one correct answer or answered that none of the rights we provided were the correct ones.
The following graphic is the same question broken out by sector, based on those who could accurately identify all three correct answers: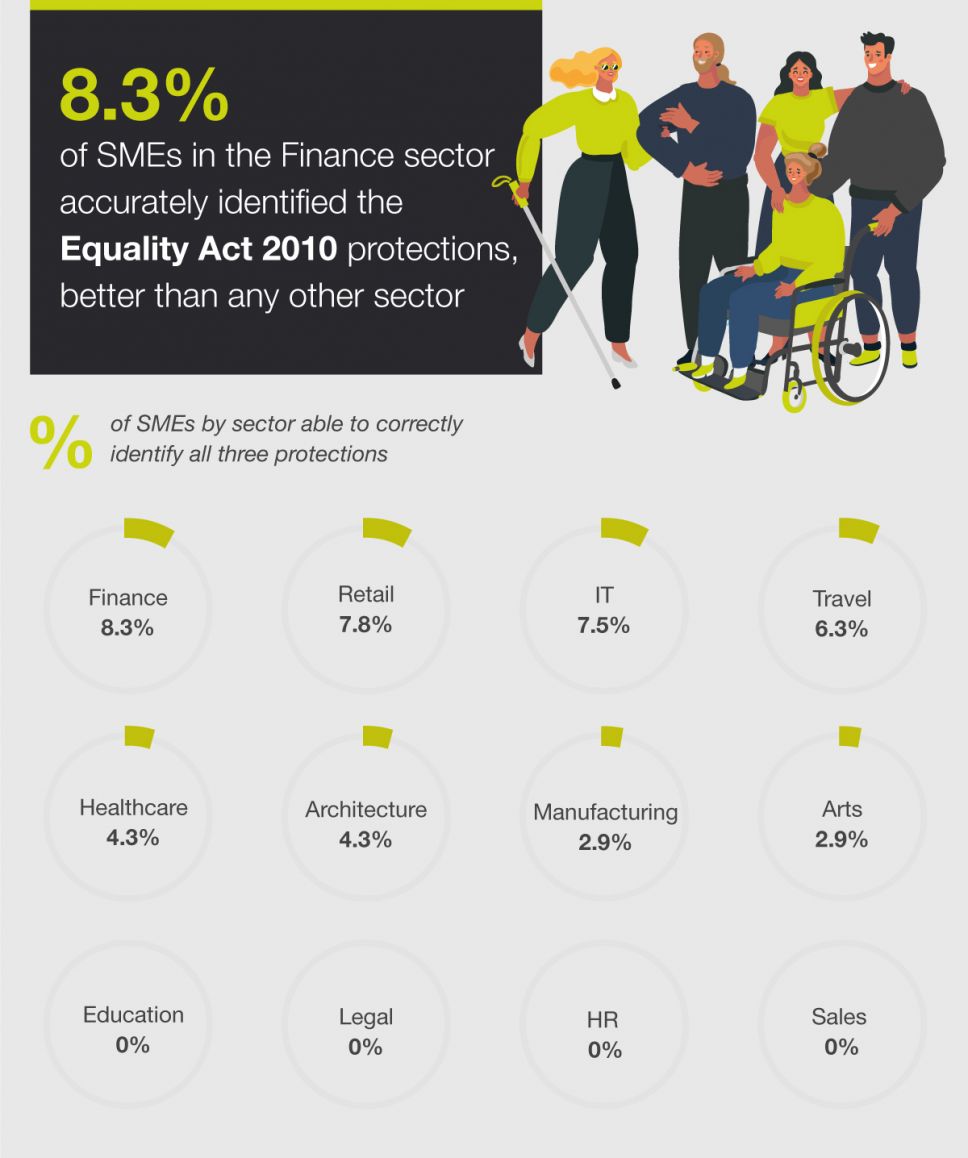 93% of SMEs want more information about disability employment law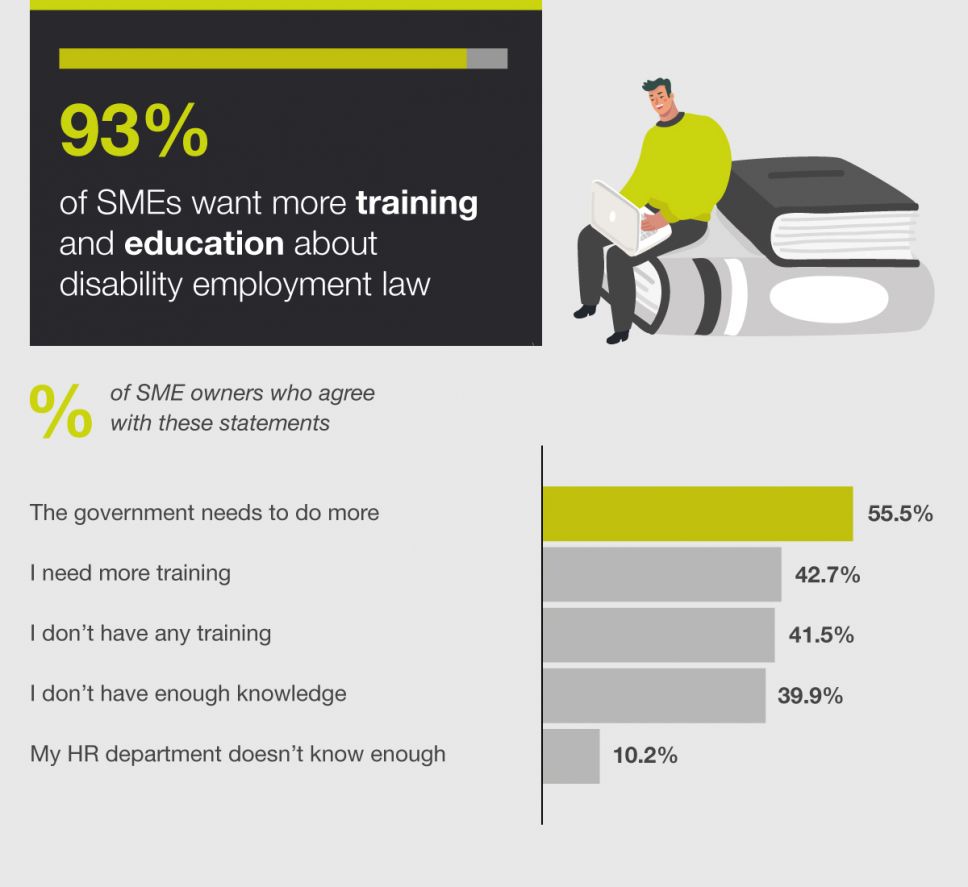 Considering their poor performance in identifying the key protections provided to their disabled employees, it's no wonder that SMEs overwhelmingly want to see more training and education in place when it comes to disability employment law.
Over half of SMEs (56%) say the government needs to do more to educate employers about disability employment law. Unfortunately, in March 2019, the National Audit Office (NAO)[4] found that the Department for Work and Pensions lacks the knowledge and strategy needed to help more disabled people into work, and that progress towards the government's 'one million disabled people in work' goal was woefully inadequate.
Lack of knowledge was a common theme in our survey findings as well:
Just over 2 in 5 SMEs (43%) admit that they need more training about disability employment law, with every SME owner in the HR sector stating so.
A similar percentage (42%) say they have no training in disability employment law.
2 in 5 SMEs (40%) state that they don't have enough knowledge of disability employment law, with 1 in 5 (20%) SMEs with less than 10 employees saying so.
Encouragingly, only one in ten SMEs believe their HR department isn't conversant enough in disability employment law, although this figure rises to two in ten (20%) when narrowed down to SMEs with 10-49 employees.
Only 4% of SMEs employ someone with a brain injury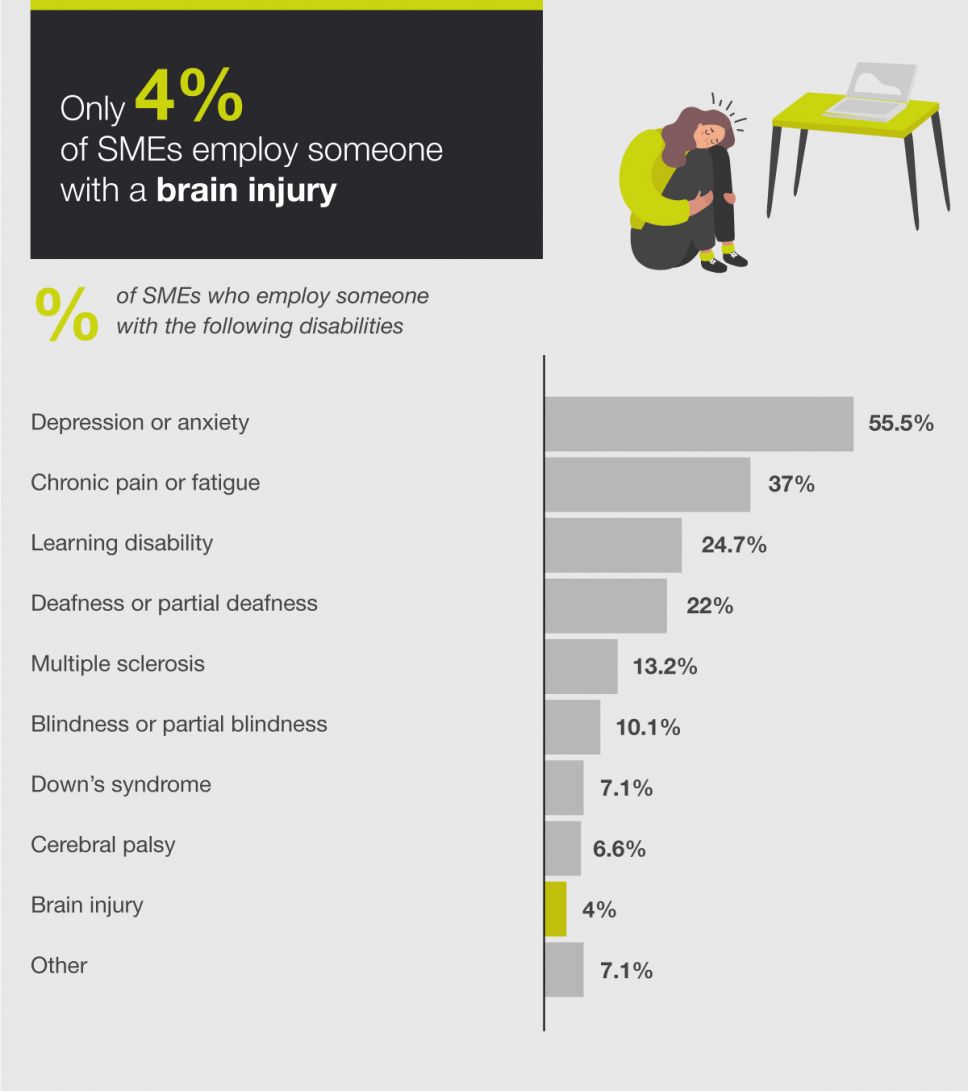 While 45% of SMEs surveyed say they employ someone with a substantial or long-term disability, only 4% of SMEs employ someone with a brain injury. This breaks down into 10.5% of companies in the arts and culture industry, 9% of companies in IT & Telecoms and 6% of companies in Architecture, Engineering and Building.
And, with the government's Access to Work scheme (introduced back in 1994) thus far not specifying[5] brain injuries as an individual disability (although brain injuries like cerebral palsy and epilepsy are specified), it's difficult to say how many people with brain injuries currently make up the disability workforce.
What is encouraging, however, is what happens at the interview stage. While nearly half of disabled people have worried about sharing information about their impairment or condition with their employer[6], the majority of SMEs we surveyed stated that they would only ask candidates about their mental or physical disability if it were relevant to the role. Half of SMEs say they would not ask about disabilities at all, suggesting equal opportunity regardless of disability.
So, how can we do more for our current (and any prospective) employees with disabilities? Our employer guide to brain injury can help. It covers everything from the adjustments you can make to accommodate the needs of your employee, how to help them progress in their career, and how to provide the emotional support they may need.
—
*based on a 5% year-on-year increase from a quoted 3,780,000 in July-September 2018.
This research was conducted in partnership with Censuswide between 31.05.2019 – 06.06.2019, asking 501 SME owners in the UK about their approach to disability employment. Censuswide abide by and employ members of the Market Research Society which is based on the ESOMAR principles.
[1] https://www.bbc.co.uk/news/uk-42170801
[2] https://www.ons.gov.uk/employmentandlabourmarket/peopleinwork/employmentandemployeetypes/datasets/labourmarketstatusofdisabledpeoplea08
[3] https://www.legislation.gov.uk/ukpga/2010/15/introduction
[4] https://www.nao.org.uk/report/supporting-disabled-people-to-work/
[5] https://assets.publishing.service.gov.uk/government/uploads/system/uploads/attachment_data/file/752188/access-to-work-statistics-background-information-and-methodology.pdf