Sunflower Lanyards: helping people with invisible disabilities
A few weeks ago I read that when sunflowers can't face the sun, they face each other.  Isn't that a lovely idea?
I basked in the glow of this warming 'fact' for about 5 minutes before researching the logic behind it.  I quickly found myself knee deep in studies about the circadian rhythms of sunflowers.  In short it seems that the truth of this idea is looking very questionable indeed.  I was led down a sunflower-lined garden path! How disappointing.
Just a few days later however sunflowers made their way back into my life during a conversation with a member of Contact, a charity we in the Child Brain Injury team at Bolt Burdon Kemp work closely with.
She told me about sunflower lanyards, also known as 'hidden disability lanyards'.  I had never heard of them and knowing now what I do, I am keen to spread my new found knowledge!
Suddenly I am feeling positive about sunflowers again.
What are Sunflower Lanyards?
People with hidden disabilities and their families can choose to wear a lanyard decorated with sunflowers.  This is to discreetly indicate to staff in various places that they may need additional help, support or understanding.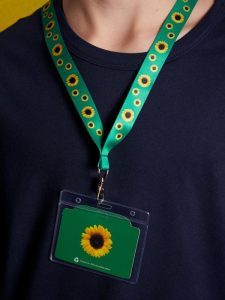 The Hidden disabilities Sunflower Lanyard
Where can people wear the Sunflower Lanyard?
People with hidden disabilities can wear the sunflower lanyard when and where they wish.  The key to the scheme's effectiveness however is of course maximising awareness of it on a national level.
The sunflower scheme started in airports and it now operates in a number of big airports across the UK, including Gatwick and Heathrow.  Manchester airport has a sunflower room to allow passengers with disabilities to escape the busy, loud departure lounge.
The support that staff will offer to people with a sunflower lanyard varies and is specific to the individual's needs.  For example, in an airport wearing the lanyard may mean the person with a hidden disability has more time to check in, can access assistance when reading signs and departure boards, or that they can be supported or fast-tracked during the security process
But it is not just airports.  A number of the big supermarkets including Sainbury's and M & S have recently supported the scheme and Tesco are trialling it in a small number of stores too.
Several NHS Trusts recognise it, including Guy's and St Thomas' and it has been embraced by some railway companies such as LNER.
Where do you get sunflower lanyards?
Sunflower lanyards should be available at assistance desks in the airports, supermarkets and railway stations mentioned above.
They may also be available at reception of hospitals and visitor centres.
People can purchase their own lanyard from the Hidden Disabilities store.
Does everyone agree this is a positive thing?
My immediate my response was that sunflower lanyards are an excellent way to support people with invisible disabilities access the support they need in a society which is not nearly well enough set up to meet the needs of disabled people.
I can think of a number of my clients, young children and teenagers with subtle brain injuries, who would benefit greatly from this scheme in a wide range of situations stretching beyond airports and supermarkets.  I know the scheme would also benefit a number of our clients in other departments such as the adult brain injury team, the military claims team and our medical negligence team.
It isn't always easy to ask for help, and explaining disabilities that aren't visible can be additionally challenging for some people.  Sunflower lanyards encourage awareness of invisible disabilities and big companies and brands getting behind inclusion can surely only be a good thing?
I do note however that there is some concern that asking people to display their disability is devaluing and wrongly puts a burden on the disabled person to highlight their 'difference'.  There is also view that big companies and airports treat the sunflower lanyard as an inclusivity "tick box" and that for true inclusion bigger steps need to be taken.
I completely agree with this final point, but I don't think anyone is suggesting that sunflower lanyards are a panacea to the inclusion and accessibility challenges people with disabilities in our society face.  There is undoubtedly much work to be done, but my view is, let us welcome the positive steps.
Creating a voluntary option to wear a lanyard which indicates that you have an invisible disability, and may need some assistance is in my opinion a development to be welcomed and I will certainly be talking about it as an option to my clients and their parents.
The sunflower scheme is not going to solve all the problems facing people with invisible disabilities, but if we focus our energies on raising awareness and encouraging other big supermarkets, airports, hospitals, railways, attractions and beyond to get on board with it there will be movement in the right direction and it could help a large number of people whose disabilities have previously gone unnoticed.
We in the Child Brain Injury team at Bolt Burdon Kemp have taken this approach and are supporting Contact in raising awareness of the scheme.  My view is that like the sunflower, we too should whenever possible face the sun, and welcome all positive steps in the right direction to recognise and support those in our society who need it most.