South East Cancer Help Centre goes virtual
These are truly testing times for all of us, unprecedented, nothing like we have experienced before.  Now imagine being diagnosed or suffering with cancer during this time.  Imagine you have a very close friend or family member with cancer and you are unable to see them, support them, hold their hand and lend a shoulder to cry on.
Some are getting impatient wanting their hairdresser or local pub to open, yes it's hard, but imagine being told you have to wait longer for assessment or treatment of cancer.  Imagine having to hide away from a virus that you are extremely vulnerable too.  Even popping to the shop once a week cannot be done and you suddenly lose all of your daily face to face contact, something that everybody needs in the best of times, let alone the dark ones.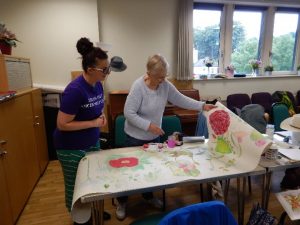 Art Classes at South East Cancer Help Centre
Anxiety and stress caused by cancer doesn't go away during a pandemic, in fact it is magnified.
South East Cancer Help Centre (SECHC) under government guidance had to close their doors to members at the start of the lockdown.  Due to the significant health risk to its members, it is likely to stay closed to visitors for the foreseeable.
The lifeline of attending the Centre one, twice, three times a week or more by its members has suddenly gone.  But that hasn't stopped the Centre who has worked very hard in ensuring that its members can still access as many of their services remotely as possible.
This could however still be difficult, if a member hasn't got a computer, smart phone or even internet but there is always somebody at the end of the phone and it is so very important that those in a similar situation know that an ear is always there.
The new 'normal' of services offered
The Centre can help people cope in this horrible situation with their online services, for groups and one to one services.
See details of their online services here
Examples of current weekly groups include:
Telephone or Video Counselling
Online Mindfulness drop in classes
Online Tai Chi
Online guided relaxation
Online Pilates
Telephone or Video Nutritional Therapy Consultation
Distance Reiki
Virtual self-help Reflexology one to one sessions
Online Paracise classes
Online yoga classes
Counselling services are available on the telephone and online via zoom.  The impact on mental health has been the greatest concern for the Centre's members.
The Centre is going out of their way to contact members and offering assistance where they can.  Anyone who has been affected by cancer even in the last three years can become a member.
South East Cancer Centre do not want anyone suffering from cancer or their loved ones to feel anxious or isolated, when they can offer them support and they are there to help.  That includes you, if your boyfriend, mum, daughter, wife, best friend has been diagnosed.  They know it is not just the person diagnosed that needs help coping.
By continuing as many services as possible virtually, SECHC's members feel supported and not alone during the pandemic.  One member commented "SECHC has helped me to feel really supported at a really difficult and lonely time in my life.  They have made me feel I am not alone whilst living with cancer".
The Huge Impact on the Centre
South East Cancer Help Centre can only help its members with donations from fundraising.  They do not get any government help or funds from anywhere other than the good of the general public.
By now, the Centre would have already started to hold a number of fundraising events, both big and small to raise vital funds to keep the Centre going and improving for their members.
In our current pandemic, the Centre is not going to be able to run any events for the rest of the year.  That will have a devastating impact on the fundraising capabilities of the Centre.  Their Fashion Shows, Race Nights, Freddie Mercury Tribute Evenings to name a few, would usually raise thousands but have had to be cancelled.
Requests for telephone and video counselling have risen exponentially as so many Members with cancer are classed under the 12 week isolation rule… and many are having chemotherapy and treatment delayed for weeks on end – which is frightening and impacts mental and physical health.
This new increase in demand for talking therapies, along with loss of income from multiple income streams means they need your continued support, now more than ever.  So that they can help people cope with cancer, at home.
SECHC needs your help
It costs the Centre £600 for a new Member to join for a year, they currently have nearly 700 Members, with no Government or NHS funding.  They would like to be able to offer virtual services to anyone who has been affected by cancer and requests it, but they need financial assistance from their supporters to do that.
How you can help
2.6 Challenge
No need to be a marathon runner to take part – this is a challenge for all ages and abilities.  Just get thinking of an activity based around the numbers 26 or 2.6.  It could be running 2.6 miles, 26 minutes of yoga, or juggling for 26 minutes – or on second thoughts, maybe just 2.6 minutes!  Or even knitting 26 items in 26 days!
SECHC amazing supporter Paul ran around his block 26 times!
And don't worry if you're not able to get out of your house or flat for now.
They are not looking for superheroes – they are looking for Home Heroes.
There are no rules (apart from the Government guidelines on how to exercise safely).  Whatever you can do, you can be part of it – the main thing is getting active, having fun and donating whatever you can to help support SECHC. 
Sign up to the 2.6 challenge today here.
If you would like to help but cannot help financially, please share the Centre's appeal with friends and family, help us by spreading awareness of their campaign.
Urgent Corona Virus Appeal
If you would like to donate but do not wish to take part in the 2.6 Challenge you can make a donation to SECHC Urgent Corona Virus Appeal here.
For more info email: fundraising@sechc.org.uk
www.sechc.org.uk Donate today www.virginmoneygiving.com/fund/c19appeal