Meet Graham Anderson, Peer Support Officer for the Spinal Injuries Association
The impact of a spinal cord injury is life changing but it is the ethos of the national charity the Spinal Injuries Association (SIA) that with the right support, spinal cord injured people can rebuild their lives.
This is something that Bolt Burdon Kemp also feels very strongly about.  We were therefore very excited when we learnt that the SIA were looking for sponsors for their Peer Support Officer (PSO) in the South West and even more excited when we were selected to fund this role.
The Role of a Peer Support Officer
The SIA offers lifetime support for spinal cord injured people and their families from the time they sustain their injury. This support exists regardless or how a spinal cord injury is sustained; whether through trauma or illness.  Part of the SIA's support includes the peer support service, where someone with a spinal cord injury is supported by another person who has personal experience of a spinal cord injury.  The peer support service begins when a person is newly injured and often continues following discharge from the hospital to help them settle into their home and local environment.  People often require support for several months after their injury, with some seeking support for twenty years after their injury, especially if there has been a change in their circumstances.
Our Sponsorship of Graham Anderson
Earlier this month, I travelled to SIA Headquarters to meet with the Peer Support Officer for South West England, Graham Anderson, to hear about the work he does which Bolt Burdon Kemp is now sponsoring. Meeting Graham was inspirational and I was blown away.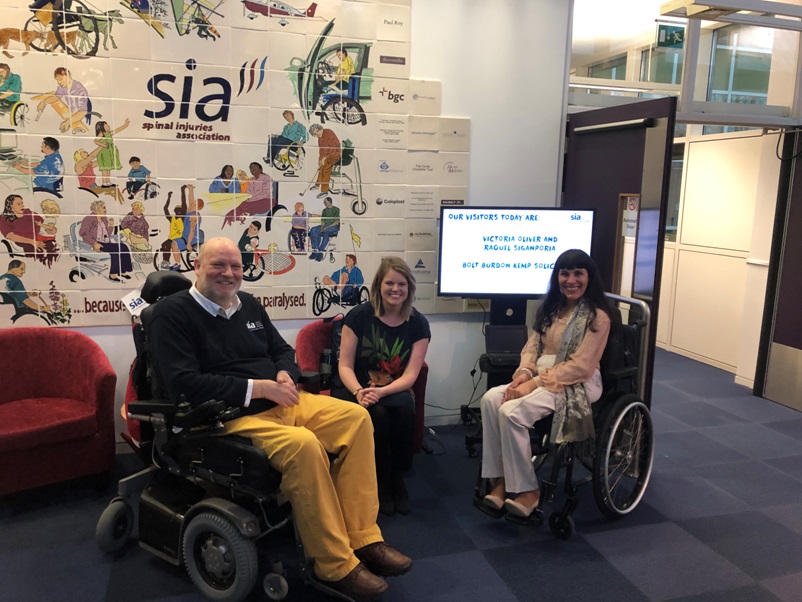 Graham's work is varied but includes the following:
i) Liaising with local NHS Trusts to improve the quality of patient care;
ii) Meeting those who are newly injured;
iii) Providing specialist spinal injury training;
iv) Meeting with patient support groups;
v) Providing support at Occupational health meetings;
vi) Helping challenge Community Healthcare (CHC) funding decisions
It was clear from speaking with Graham that he has a lot of passion and enthusiasm for the work that he is doing and that there is a very real demand for this type of support in the South West.  It was also clear that Graham is working in a very difficult environment with years of government austerity impacting upon those people he helps and creating more and more work for him.
All of us in the Spinal Injury Team at Bolt Burdon Kemp are very much looking forward to working with Graham going forward and doing all that we can to help support those with spinal injuries rebuild their lives.