Headway Brain Injury Identity Card – Supporting daily life
Headway, a UK-wide charity for people who have suffered a brain injury, has created the Headway Brain Injury ID Card. Here, we look at what the Card does, and how it may help.
What is it?
The Headway ID card is a form of identification for individuals with a brain injury, showing the face of the individual, their name and information relating to their brain injury.  It can include detailed information about the effect the brain injury has on the individual.
Why have they created it?
Brain injuries are complex, affecting people in so many different ways, some of which are not obvious to people who don't know the individual well.  This can cause a lot of difficult social situations and misunderstandings, for instance when talking to members of the public, police officers or members of staff.  Presenting the ID card is a very simple and quick way to show that the individual may act unusually and why, giving a detailed account of what to expect.  Headway hopes to tackle a very common problem with a very simple solution and provide brain injury survivors with confidence in social situations.
How can you apply for one?
If you or anyone you know might benefit from using a Headway ID Card, you can apply on the Headway website.  You will need to provide a passport style photo of yourself, verification of your brain injury and information about some of the ways your brain injury affects you.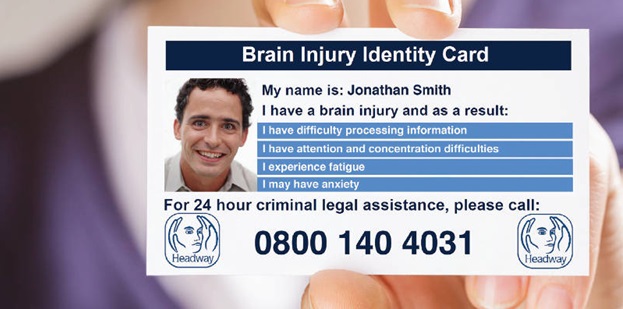 Reference: https://www.headway.org.uk/supporting-you/brain-injury-identity-card/
Positive impact
At Bolt Burdon Kemp, we specialise in representing those who have suffered a brain injury.  We understand how difficult it can be for those with a brain injury to feel comfortable and confident in social scenarios.  Unfortunately, these individuals may feel they are being misunderstood because there is often no visible indication of their injury.  This can lead to feelings of isolation and a fear of interacting with new people.
We hope that the Headway ID card will have a positive impact on many lives by providing them with reassurance.
Do you have a potential medical negligence claim?
We have a dedicated team of lawyers who represent those who have suffered a brain injury, in cases for compensation.  We represent clients all over the UK and have experience in assisting clients who have suffered from conditions including encephalitis, strokes and meningitis.
Sadly, we often see conditions that have not been diagnosed quickly or correctly, or where appropriate treatment hasn't been provided.
If you have received medical treatment which you believe caused you to suffer an injury, you may have a claim for medical negligence.  The impact of negligence on the person's life is astonishing.  In many cases, the injury presents not only physical or mental injuries, but also financial hardship.  If the injury resulting from the negligence has taken away your ability to work or if your home is no longer suitable for your needs, there may be significant financial implications which can be impossible to bear.
The main purpose of a medical negligence claim is to obtain compensation.  At Bolt Burdon Kemp, our role is to obtain compensation on your behalf that can help improve your quality of life.
As part of our cases, we typically seek to recover compensation for the following losses:
Loss of earnings – if, because of the negligence, you have been out of work or can no longer work
Costs of past and future medication/treatment – if, because of the negligence, you have had to pay for medication or treatment that you wouldn't have needed otherwise
Costs of any adaptations to your home – if your home is no longer suitable, because of the injury resulting from the negligence
Adaptations to your home or the cost of moving to a new home – if your home is unsuitable as a result of the negligence
Costs of any past, ongoing, or future care required because of the negligence – this relates to paid carers or friends or family
Whilst money will never make up for the injury and loss suffered after negligence, compensation will help to get you back on your feet.