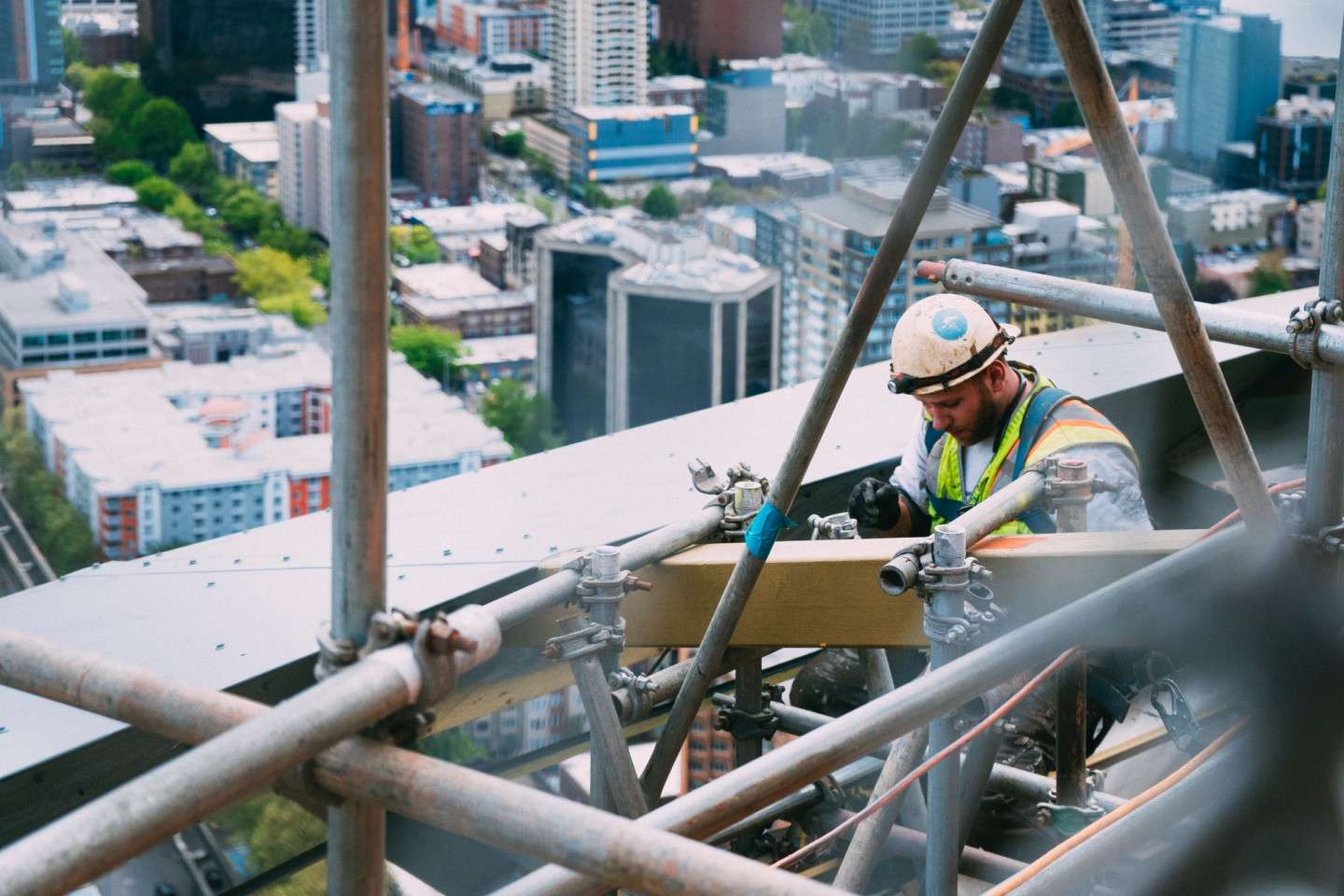 Don't Look Down! How to stay safe when working at height
This is my second blog about workplace safety, having considered the importance of hard hats on construction sites a month or two ago.  Writing the hard hat blog got me thinking about other ways in which we have seen people suffer brain injuries at work.
Falls from height are one of the biggest causes of workplace injuries, and you don't need a wild imagination to join the dots between how a fall from height can result in a permanently-disabling brain injury.  Incidentally, you don't have to fall far to be hurt – a number of deaths and many major injuries each year are from a fall from below head height.
We recently settled a claim for a client who suffered a traumatic brain injury after falling from a ladder at work.  In this case, the ladder was unsuitable, as were the employer's risk assessments and our client received a settlement of £800,000.
The majority of fall from height injuries are entirely preventable when taking the correct precautions; in this blog I will explore some ways that fall from height injuries can be avoided.
What is working at height?
Work at height means work in any place where, if there were no precautions in place, a person could fall a distance liable to cause personal injury.  Working at height therefore includes:
Working on a ladder
Working on a flat roof
Working on a fragile surface that could break causing you to fall
Working on scaffolding
Working near a hole in the ground or another opening that you could fall into
The Work at Height Regulations 2005 also require steps to be taken to prevent people being injured by falling objects.
The Regulations apply to all industries – not just the obvious ones like construction.  Many fall from height injuries occur in other industries, such as manufacturing where there are around 80 serious injuries in food & drink manufacturing alone every year and storage & warehousing where there are thousands of reportable injuries and a significant number of fall from height injuries every year.
Many of these injuries could have been prevented if sensible measures had been taken.
What needs to be considered when a job at height needs completing?
The first question that needs to be asked is 'Can you AVOID working at height in the first place?  Some jobs will be capable of being completed from ground level and where this is possible, the work should be completed from the ground.  For example extendable tools may be available to remove the need for climbing a ladder.
If it is not possible to complete the work from ground level, the second question is, 'Can you PREVENT a fall from occurring?'  Examples of prevention strategies may include using a flat roof with a guard rail, a scissor lift or scaffold.  In situations where a risk of falling cannot be protected against through equipment in the environment, personal protective equipment such as restraints/harnesses might need to be used.
If the risk of a fall remains, the next question is, 'How can the distance and/or consequences of a fall be MINIMISED?  Practical examples of this include safety nets and soft landing systems installed close to the level of the work, or safety ropes.
Some recent examples
Despite the potential catastrophic consequences, falls from height at work remain worryingly common.  They cause more workplace fatalities than any other accident type, with 29 fatalities following a fall from height at work reported by the Health and Safety Executive (HSE) in 2019/20.  In addition to these fatalities, significant numbers of workers suffer brain-injuries following falls from height, every year.
Here are a few examples of reported cases within the past 5 years:
A 64 year old man tragically lost his life after falling from a church building in Birmingham whilst carrying out restoration work, just a few days ago, on 13th November 2020
Mark Smith, a 36 year old man, fell through an opening that did not have edge protection, sustaining multiple injuries, including head injury.  The company he was working for was fined £260,000 for health and safety breaches.
24 year old Luke Crocher fell from the roof of a house he was working on, onto a rear patio, sustaining serious head injuries that sadly cost him his life.  The company he was working for has recently been fined £160,000 for safety breaches.
John Niven, a contractor, fell 15 feet from a temporary platform, sustaining multiple fractures and a brain injury.  The building firm he was providing services to were fined for breaching the work at height regulations.
A warehouse manager, who, in December 2015, fell 4½ metres while using a forklift truck to access a storage rack.  He suffered brain injuries and the company he worked for was fined of £240,000 for health and safety failures.
Some final thoughts
What I find most frustrating about this is how so many of the injuries and deaths were completely avoidable.  Corner-cutting and shoddy risk-assessing results in life-changing injury for far too many people and in my opinion, the risks of failing to follow the safety guidance far outweighs the time and cost of following the correct procedures.
At the very least, my hope is that the rather large fines imposed on some companies by the HSE serve as a sufficient deterrent across all industries that the rate of injury due to a fall from height at work starts to come down.
What we really need, however, is for organisations to take the approach of Alcoa, a US aluminium producer, whose fortunes were completely reversed in the late 1980's when their CEO made it their aim to bring injury rates down to zero.  They devoted their efforts to creating a habit of safety excellence and within a year their injury rates had plummeted and their profits had hit a record high, with their increasing success continuing longer term.
Workers who survive falls from height are commonly left living with life-changing injuries.  They may not be able to return to work, and they might require care and other support for the rest of their lives.  This can be devastating not only for the individual and their families, but also for the companies they worked for and society as a whole.
Surely everyone would benefit if the health and safety of people working at height was afforded the level of care and consideration it rightly deserves.