Barbara Omoruyi's Career Journey
Tell us about your career journey so far to date at BBK?
I started my career at BBK in 2016 as a receptionist in the Support team and was then promoted to Senior Support Clerk assisting the manager in the day to day running of the team. In 2019 I was promoted to Marketing Executive and then again to Marketing and Social Media Executive in 2021.
Why did you specialise in the area of work you do?
I studied Public Relations at university and marketing was a major part of my degree. I enjoy cultivating brand identity and everything that goes into promoting the brand. I am a people person and love to work with others to see a project through. This is why I specialised in marketing- I get to do all of these things on a daily basis.
What do you enjoy most about your current role?  
I enjoy the creativity that goes into content creation and seeing the end result coming together. It's great to pull from the experiences of our solicitors and putting that together in a creative way.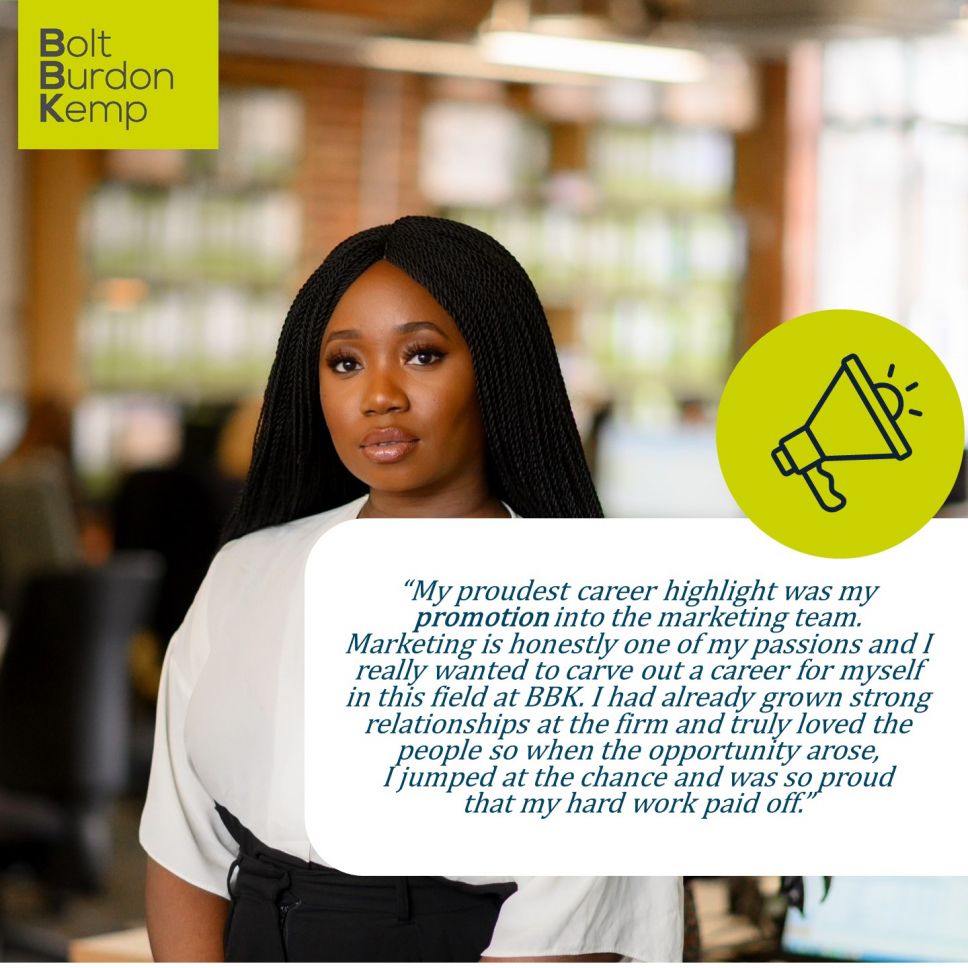 What support and training do you receive in your role?
I have been to APIL training, where I learned about the basics of Personal Injury and Medical Negligence law as well as PR and campaigning/lobbying in the field of law. I have been empowered to take time to research and learn about how to use social media and apply the tools available to the firm.
What do you enjoy the most working at BBK?
I honestly enjoy the people, we are a great bunch at BBK. Everyone is friendly and supportive, you truly get a sense of teamwork. As an individual, I have felt supported and understand that wellbeing is really put at the forefront.
What is your proudest career highlight at BBK?
My proudest career highlight was my promotion into the marketing team. Marketing is honestly one of my passions and I really wanted to carve out a career for myself in this field at BBK. I had already grown strong relationships at the firm and truly loved the people so when the opportunity arose, I jumped at the chance and was so proud that my hard work paid off.
What advice would you give to someone looking to join BBK?
Don't be afraid to speak to people. There's no shortage of wise people at BBK, if you have questions ask!