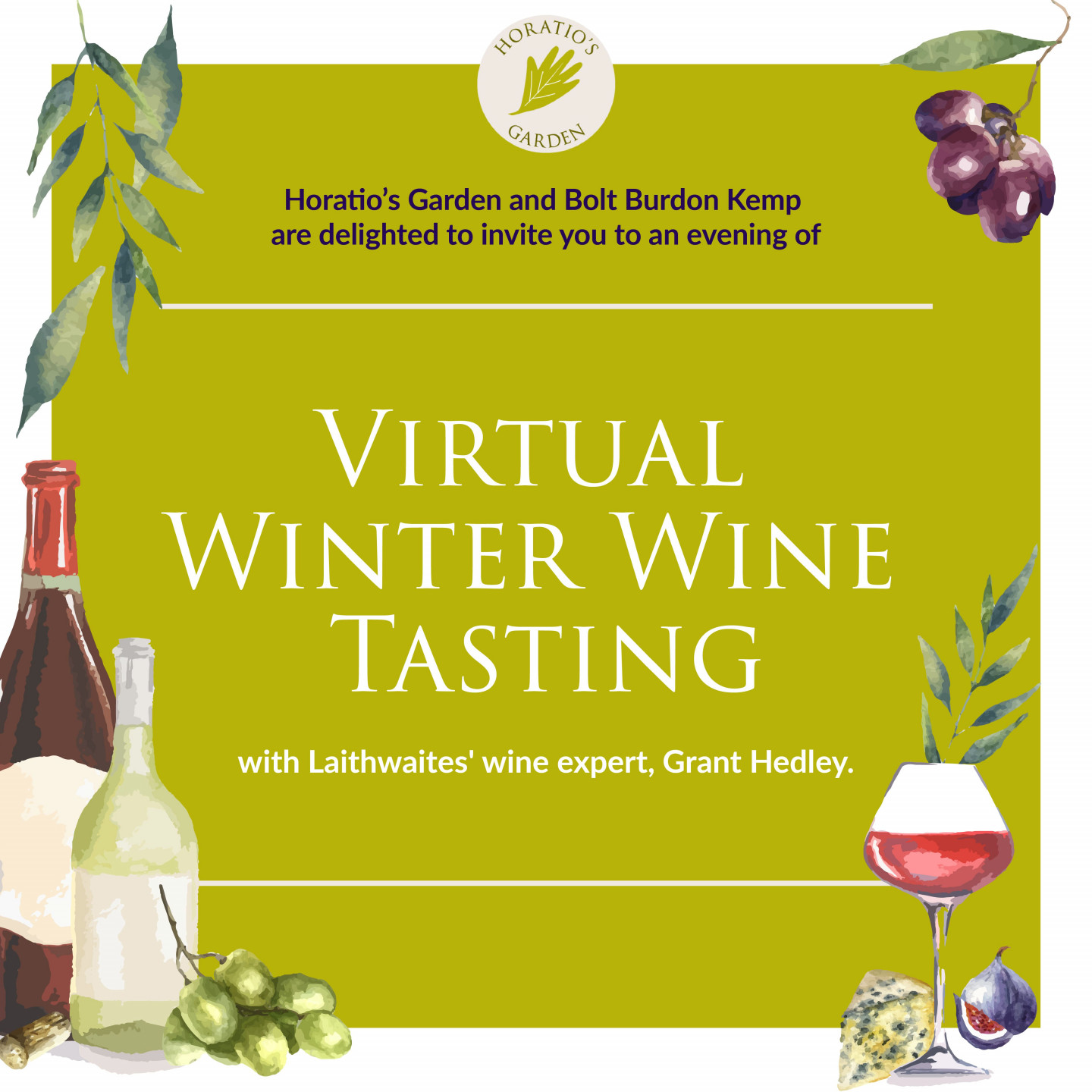 Join us at the Horatio's Garden wine tasting event, 25 February 2021
The Spinal Injury team at Bolt Burdon Kemp are delighted to be holding a virtual wine and food tasting event in support of Horatio's Garden.
Horatio's Garden is a wonderful charity and we have been supporting them for many years now; the charity's cause is very close to our hearts.
About Horatio's Garden
This is what Horatio's Garden say about their work on their website:
"Horatio's Garden is a national charity creating and nurturing beautiful gardens in NHS spinal injury centres to support everyone affected by spinal injury. We grow thriving communities to support patients, their families and friends facing long stays in NHS hospitals. 
Leading landscape designers create these stunning sanctuaries, working in collaboration with prominent architects to design garden rooms ensuring the space can be used all year round. The gardens become an integral part of people's lives throughout their time in hospital. 
The charity is named after Horatio Chapple, a volunteer who had the original idea of creating a garden away from the wards for patients and their families. Spinal cord injuries are traumatic, life-changing events. Patients often have little or no access to the outside world during their hospital stay. However, research shows that being in contact with a natural environment contributes to an improved sense of wellbeing, which can have a positive impact on patient rehabilitation. 
In each project the charity funds a Head Gardener who leads a team of volunteers, caring for the garden and offering creative and therapeutic activities. These include gardening, art, live music, seasonal events and artists' residencies, as well as endless tea and homemade cake. All our volunteers share an enjoyment of being in the garden and contribute to the happy, uplifting atmosphere which permeates each Horatio's Garden; some are former patients and some are young 'Volunteens' seeking life experiences. 
To date we have opened five gardens in Salisbury, Glasgow, Stoke Mandeville, Oswestry and London. We are currently working on a new project in Cardiff and aim to bring Horatio's Garden to all the 11 spinal injury centres in the UK."
Fundraising for Horatio's Garden during Lockdown
These gardens so beautifully created and maintained by Horatio's Garden, have been particularly important for spinal injury patients now given the added challenges due to COVID-19 restrictions, meaning that patients are often unable to be close to their loved ones; these gardens are their only place of solace in otherwise difficult and daunting clinical environment.
COVID-19 continues to have a significant impact on the charity sector.
Many of the fundraising events that we would normally organise or attend in support of Horatio's Garden and their beneficiaries had to be cancelled.  It was therefore very important for us to hold an event that would allow us all to come together and raise much needed funds for this charity.
We hope that this event will not only help to brighten up your Lockdown evening but will provide much needed funds to allow Horatio's Garden to continue their great work supporting those with spinal injuries.
About the event
The virtual wine tasting event will be held on Thursday 25th February 2021 via Zoom from 6.30 pm to 8 pm.
Whether you are a wine connoisseur or just enjoy a tipple, this evening will be a delightful way to learn a bit more about wines and the food they pair best with, while supporting Horatio's Garden and enjoying some fun surprises along the way!
The event will be hosted by Laithwaites' wine expert, Grant Hedley.  Here's what BBC Good Food Show says about our virtual wine tasting host:
Grant Hedley is the resident event expert for Laithwaites. Like anyone at Laithwaites, Grant believes that wine is personal and no two people's tastes are exactly the same. Grant has spent over 20 years helping customers get the most from their glass – guiding them to the best wines that best suit their tastes. Grant has hosted hundreds of events for thousands of guests from 'The Palate MOT' and 'Tasting in the Dark' to wowing the editors of the Sunday Times with an Irish wine – and even appearing on QVC shopping channel. His favourite source for recipes just happens to be BBC Good Food.
Grant has also very kindly put together some lovely food recommendations (including some vegetarian and vegan options) to go with the wines expertly selected by him for this special occasion.
The list of wines we will be tasting and recommended food can be found below:
Wines: Southridge Cuvee Merret and Albariñio,
General food pairing: light and fresh foods, sea food, fresh, young cheeses.
Simple options for the event: Chargrilled peppers, mozzarella and sun blush tomatoes, goat's cheese, grilled squid rings, grilled, marinated anchovies or white bait, grilled artichokes, grilled peppers, green olives, garlic and herb prawns.
Wine: Poggio al Lago, Rippasso
General food pairing: aged cheese and cured meat, lamb, beef, Portobello mushroom burger
Simple options for the event: Manchego or another aged sheep cheese, Kalamata olives, aged cured meats such as jamon or salami, pizza, patatas bravas, baba ganoush, mushroom paté, duck pat.
The evening will include lots of expert advice on how to taste wine and pair it with some great food!  There will also be a quiz and the lucky winner will receive a lovely bottle of wine kindly donated by Laithwaites!
Ticket price: £54.50 (inclusive of Eventbrite's booking fee) includes 3 good quality bottles of wine, the evening's entertainment and advice on snacks to buy to pair with your wines.
You can have as many people join in and share the three bottles of wine as you wish.  If you would like more than 3 bottles of wine, then please purchase multiple tickets.
To sign up for this virtual wine tasting evening and purchase your ticket, please click on the link below.
Please sign up by no later than 5pm Monday 15th February to ensure delivery of your wine before the event. You will be sent a Zoom link in advance of the evening.
All proceeds from ticket sales will go to Horatio's Garden to support people living with spinal injuries.