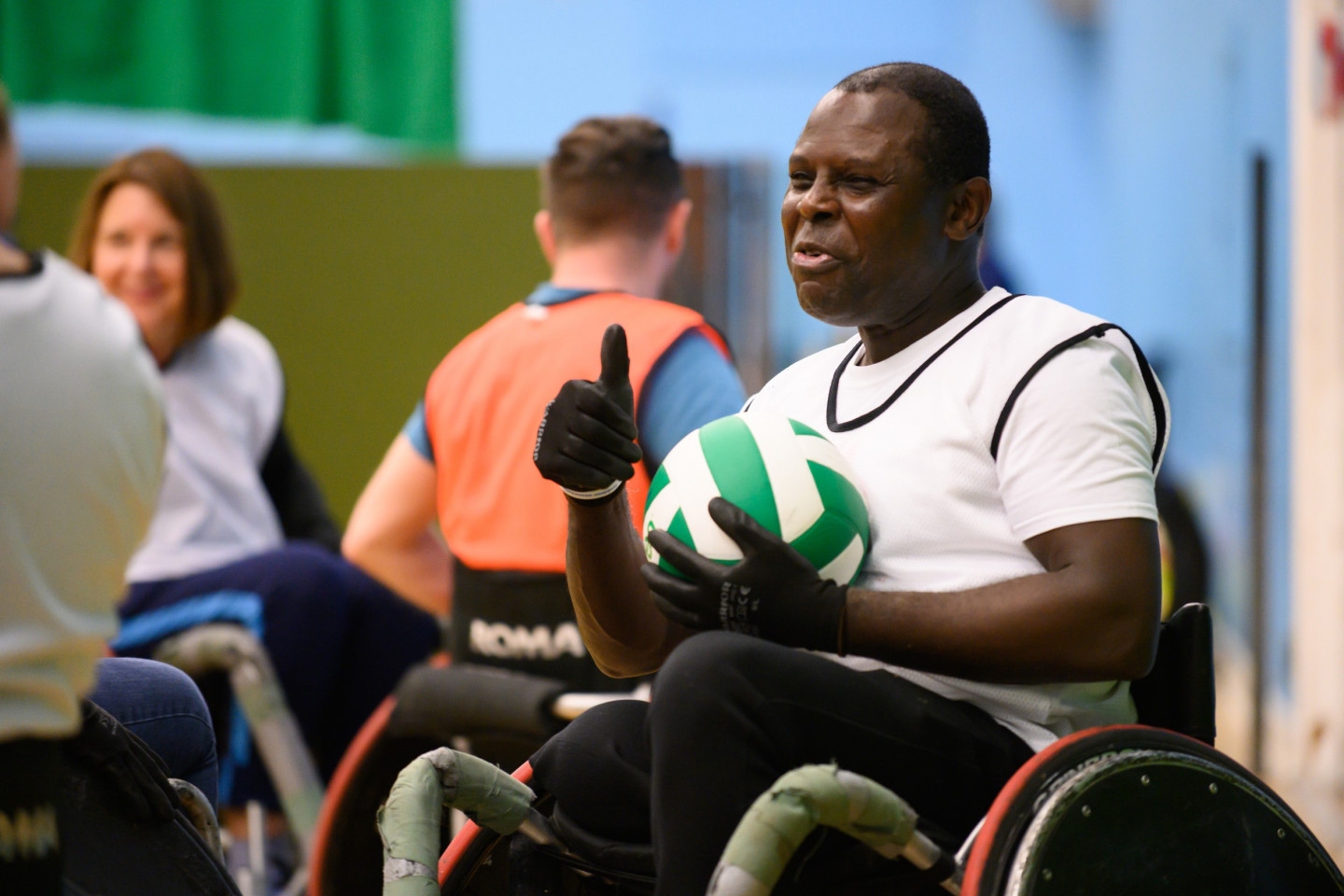 BBK does Wheelchair Rugby and Sitting Volleyball!
On 20th November 2019, we hosted our wheelchair rugby and sitting volleyball event with the wonderful Wheelchair Rugby Experience (WRE).  The event was jam packed with activity, excitement and most importantly fun! We started the day getting to know our team mates who came to spend the day with us.  After the initial niceties and greetings were over, we quickly began sizing our opponents up and strategising our win.  A bit of friendly competition never hurt anybody!
Bob O'Shea from WRE gave us the all-important health and safety talk and showed us how to turn our wheelchairs, stop, speed up and slow down.  We were then taught the rules of both games and went into the practice rounds.  After an amazing lunch, the games began and we went straight to the mini tournament.  We quickly became familiar with how to play both wheelchair rugby and sitting volleyball but also quickly became familiar with the high level of upper body strength needed to participate and be effective in game play!  I personally realised that I do little to no work on my arms in my day to day life and through wheelchair rugby I have now discovered muscles I never knew existed!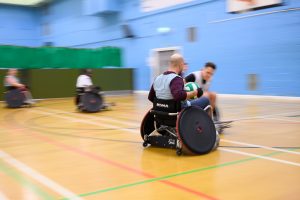 Military team member Ahmed Al-Nahhas and Complex Injury team member Ben Pepper quickly getting the hang of wheelchair rugby. Wow, the speed!
Sitting Volleyball
I found that the trick with this game was to space out our team so that our opponents couldn't use tactics like serving the ball into an empty space.  Another trick was to serve the ball fast and in a downward motion so that the other team had no time to react.  Although we knew these tricks, it was easier said than done when putting them into motion.  I would see the ball coming towards my direction but because I couldn't get up to use my legs, I found myself just watching the ball fall into the abyss of the court lines! After losing very badly at first my team, (filled with some of our best solicitors David, Rebecca and Jessica) decided that enough was enough and we needed to leave the court with at least one win.  We got into the swing of things once we changed our mind set and we ended up winning three games!  Go team!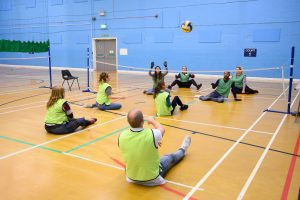 Team Green and Lime Green enjoying their sitting volleyball game!
Wheelchair rugby
The goal is to move the ball up and down the court, using spatial awareness, passing techniques and speed to get both wheels over the goal line to score a point for your team.  The initial difficulty with this was of course, not using my legs.
I found that to be successful, you had to be creative and quite skilled to go from catching and protecting the ball, to then spinning your wheels to get yourself to the goal or free enough to pass and receive the ball.  The competition was fierce!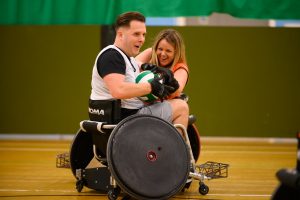 Ben Pepper from our Complex Injury team and Jess Standley from our Abuse team getting very competitive!
My team quickly realised that none of us were as fit as we maybe should be and lost quite a few games at first.  So after a defeated emergency huddle, we pepped ourselves up and came up with a plan.  Instead of frantically trying to get to the goal line in a dazed and confused panic ultimately leading to us turning the ball over, we decided to remain calm, slow the pace down and strategically place ourselves across the court meaning less cardio and more passing.  We ended up going from winning no games to winning three games! Hurrah!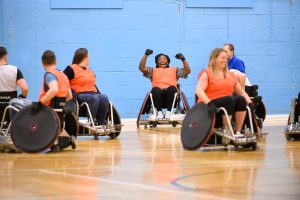 Marketing Executive, Barbara, chuffed about scoring a point for the Orange Zesters!
Winners announced!
The work that WRE do is admirable, they let us into their world by teaching disabled and able-bodied people about sport through their eyes.  Bob O'Shea from WRE told me that even big, strong able bodied rugby players struggle to play both games and often get very tired.  This is because relying solely on your on upper body strength requires a lot of conditioning and willpower.  Great respect is given to people who play this sport professionally!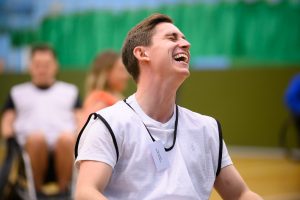 Joshua Hughes from our Complex Injury team.  In pain, pure joy or both?  Who knows?
Although my team, the Orange Zesters (we weren't actually called this, I made this up in my head ????) did not win, I think we did very well to come in joint third place!  Apart from learning about wheelchair rugby and sitting volleyball, I learnt a valuable lesson to never give up even if your arms are about to fall off from skipping arm day in the gym.  I also learnt that changing your mind set at any time to a positive one, can result in a win!  The formidable White team came in first place but I believe all of the teams were winners just for taking part!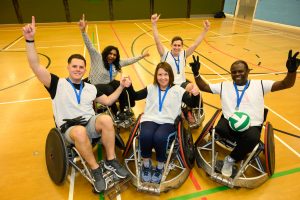 The winners: the members of The White Team in their victory pose.
In the end our arms and surprisingly our abdominals were fatigued but our hearts were full of pride and team spirit!  We achingly walked to the canal for well-deserved drinks and nibbles and chatted up a storm swapping hilarious stories of the day with our team mates.  It was such a great way to network with everyone and we are looking forward to doing it again next time, but bigger and better! Major thanks to all the charities and companies that took part: Ellie Steward and Nerys Pearce from The Silverlining, Abbi Wilkins from Blesma, Adam Fletcher from Bush and Co, Debbie Bent and Clifton Henry from Limbless Association, Ross Head from Cerebra, Mark Davies from Contact, Paul Adams and Phil Desmondez Old Square Chambers, Amelia Jones and Liz Carter from Kysen and Jola Piesakowska from Salt and Pepper Productions.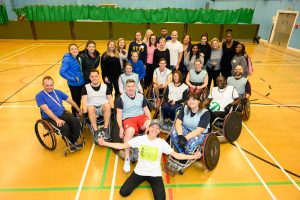 All of the wheelchair rugby and sitting volleyball participants
The official results on the day were as follows:
1st place – The White team
2nd place – The Blue team
3rd place (joint) – The Orange team (aka The Orange Zesters) and The Red team
4th place – The Lime team
5th place – The Green team