SIA supported by The October Club
On Wednesday evening, Bolt Burdon Kemp's Rhiannon Daniel, Ruby Lake and Harry Yeoward volunteered for the Spinal Injuries Association at a dinner held at the Savoy Hotel, London.  The dinner was held by the October Club and the SIA were the October Club charity of the year.
The reason for the fundraising was to raise vital funds for the SIA's Spinal Cord Injury Nurse Specialist project.  This offers an immediate response to people with spinal cord injuries.  Currently the SIA have two nurses on this project and the money raised from the generous attendees of the October Club will be used to upscale this project and build an evidence base to create lasting change in both policy and practice.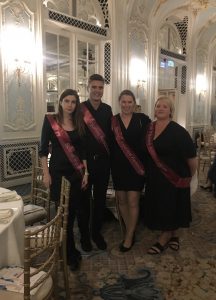 Ruby Lake, Harry Yeoward and Rhiannon Daniel from BBK, and Alison Finlayson from the SIA.
Carol Adcock who is one of the SCI Nurse specialists made a moving speech about the project and how important access to the right care was for spinal patients.  Carol's commitment to this project and her patients was truly inspiring and ensured that all attendees knew why the SIA is such a special organisation and the ground breaking work it is doing for people with spinal cord injuries.  Carol said that through their input they had already saved 300 people this year.  Truly amazing stuff, and her speech was given an upstanding response.
Those present also heard from Martin Hibbert who had experience of the SIA and the amazing work that they do, following him sustaining a spinal cord injury on 22 May 2017.  Martin's story and courage received a standing ovation from the attendees.
Rhiannon Daniel, Associate solicitor at BBK said "We know how vital SIA's work is and are so pleased that the money raised will have an impact on more people throughout the country, in an area where there is a lack of support.  The speakers were a true inspiration and it is an amazing achievement for the Charity".
To find out more about the Spinal Injuries Association please visit their website.  Bolt Burdon Kemp sponsor the SIA's peer support officer in the South West, Graham Anderson.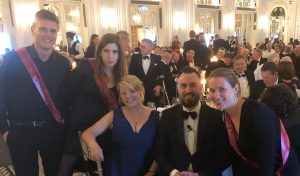 The October Club 2019 in full swing with Harry Yeoward, Ruby Lake, Carol Adcock, Martin Hibbert and Rhiannon Daniel in the foreground.