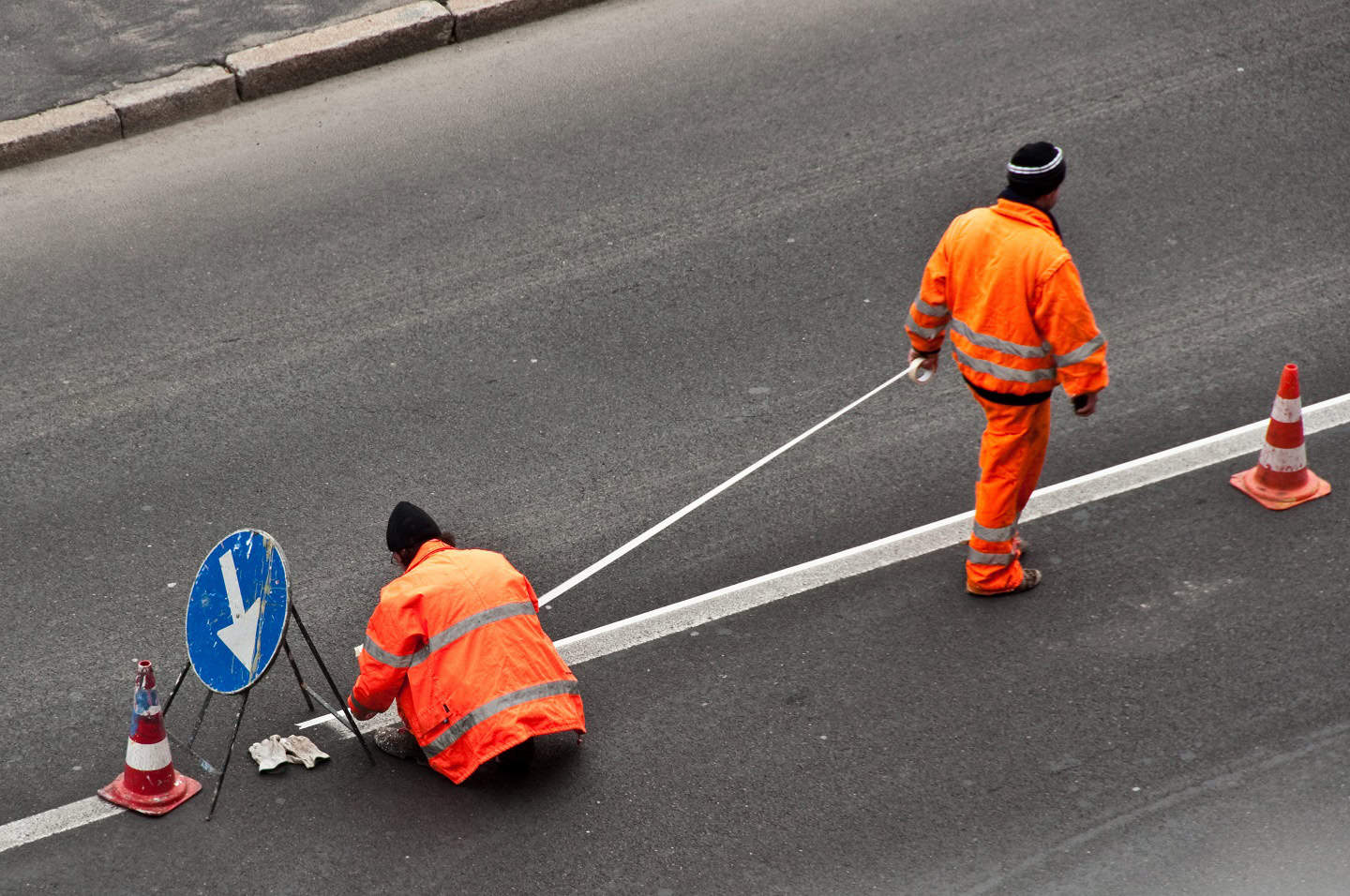 Road Traffic Collisions at Work – What your employer should be doing for you
In March 2000 the Government, in its Road Safety Strategy Tomorrow's Roads: safer for everyone, set out ten-year targets for the reduction of road deaths and injuries.  An independent "Work-Related Road Safety Task Group" was set up in May of that year.  This was a joint initiative of the Government and the Health and Safety Commission.  Its remit was to recommend measures to reduce at-work road traffic incidents.
The Task Group recognised that many different types of vehicles are used for work purposes on our roads, including:
lorries
vans
taxis
coaches
buses
emergency services and utilities vehicles
company cars
construction and agricultural machinery
motorcycles, mopeds and bicycles
Additionally many individuals work on, or near, the road, for example maintenance workers, refuse collectors, postal workers, vehicle breakdown employees and those employed in the emergency services.
The Task Group estimated that up to a third of all road traffic accidents involve someone who is working at the time.  This may account for over 20 fatalities and 250 serious injuries every week.
Statistically, driving is the most dangerous work activity that people undertake.  The European Transport Safety Council estimate that business-drivers account for 40% of road deaths across Europe.  Compared to all other work activities, it contributes to far more work-related accidental deaths and serious injuries.  Occupational road risk is the term used to describe the dangers associated with driving as part of a job.
A 2019 survey commissioned by Brake, the road safety charity, found that a third of adults had been in a collision or near miss on the road in the preceding year.  Using data from the Department for Transport (DfT), it is estimated that more than a quarter of all road traffic accidents may involve someone who is driving for work at the time.
What is your employer legally bound to do to keep you safe on the road?
The Health and Safety at Work Act etc. 1974 states that employers must ensure, so far as reasonably practicable, the health and safety of all employees whilst at work.  They must also ensure that others are not put at risk by their employees' performing their job, which includes driving responsibilities.  Those who are self-employed have similar responsibilities.
Health and safety legislation confers an obligation on all employers to ensure that employees are not put at risk due to driving activities which form part of their employment.  To identify the relevant risks, a competent person must complete a risk assessment for driving prior to commencing employment.
It is imperative that organisations have policies and procedures in place (e.g. a Driving at Work Policy) to effectively manage work-related road safety.  These ought to include elements such as driver training, vehicle maintenance and journey planning.
Employers have a tendency to view the world commercially and employees are the most valuable asset for any business, so it's important that employers protect them, not least to avoid reputational damage.  Before allowing employees on the road, employers need to establish if they're competent and capable drivers and if they've been properly trained in the specific make and model of vehicle they will be driving.  It's also important for employers to know that drivers are sufficiently healthy to drive safely without putting themselves and other road users at risk.  Any individuals with pre-existing health issues may require additional training, examination or permission to drive a particular vehicle (such as an HGV) and for further advice employers should seek specific guidance from the DVLA.
It's important that any skills-based training is accompanied by education to raise awareness of the main risks drivers face in the course of their employment and indeed the risks they themselves pose to the public.  These sessions should stress the importance of prioritising safety.
Employers should encourage drivers to report any health concerns immediately.  They should also be aware of the side effects of any medication they're taking that might impair their judgement or cause fatigue.
Take into account the risks of tiredness and fatigue
According to 2018 Department for Transport statistics, around 300 people are killed each year as a result of drivers falling asleep at the wheel.  Similarly, about 4 in 10 fatigue-related crashes involve someone driving for work.  It's possible for drivers that are tired to experience a similar level of impairment as someone at or beyond the legal limit for alcohol.
Long-distance drivers and shift workers are at a particularly high risk of developing fatigue.  When planning journeys, employers should factor in the risks of fatigue and ensure that sufficient time is factored in to schedules to enable drivers to take rest breaks every two hours.  There ought to be clear guidance on the appropriate locations to stop to rest and the driver should be made aware of these locations on their designated route.
Drivers need to be educated in the importance of taking regular breaks from being behind the wheel, and of responding immediately to signs of fatigue by pulling over when it's safe to do so.
Tacho (machines) can indicate to employers when an employee has failed to take a rest break and where this contravenes the law, poor practice should be swiftly sanctioned and not overlooked.  An employer aware of drivers in their fleet failing to take rest breaks will be vicariously liable for any accidents caused as a result of this illegality.
Ensure vehicle safety
Employers have a responsibility to ensure that all vehicles (regardless of whether they're owned by the company or the individual) used for work:
conform to road traffic law
are safe and properly maintained
are fit for purpose
do not put the driver's health and safety at risk
All drivers should know how to complete a basic vehicle safety check and to whom to report any faults or maintenance issues.  A routine safety check includes lights, tyres and wheel fixings being examined to ensure the vehicle's basic functions are in good working order.
Every vehicle needs to be properly taxed, have a valid MOT (if over three years old) and be serviced regularly.  This is relatively simple to ensure when you're dealing with company owned or leased vehicles.
It can get more complicated when staff use their own vehicle for work because organisations have the same legal duty to ensure the vehicle is safe and legal as they would if supplying their own vehicle.  In addition, they must also check the employee's motor insurance includes business use cover.
Plan your journey factoring in contingencies
The final area of occupational road risk is the journey itself.  Although the risks from work-related driving activities cannot be completely removed they can be minimised by carefully planning the route and organising a realistic schedule.  Road safety is also affected by adverse weather conditions, such as snow and heavy rain, which need to be taken into consideration.  In order to drive safely in these conditions, the journey will take longer and the route may need to be adjusted.
Drivers need to understand the risks associated with the particular vehicle they are driving.  For example, high-sided vehicles are required to take extra care when driving in strong winds.
Before allowing vehicles on the road in poor weather conditions, employers should ensure that they are properly equipped with features such as anti-lock brakes and winter tyres, if necessary.
It is an employer's responsibility to monitor their mobile workers' (including drivers) working time and ensure they don't go over the limit.
A risk assessment for any work-related driving activity should follow the same principles as for any other work activity.  The risk assessment should identify the hazards, decide who might be harmed and how and evaluate the risks.
What if you have an accident when driving for work?
If you have been involved in an accident involving a company owned vehicle when driving for work purposes you should contact your employer right away to report the accident.
Often, damages for the accident may be covered by your employer's insurance regardless of who caused the accident.  But if you're at fault, the concept of vicarious liability will kick in.
Vicarious liability simply means that your employer will be held responsible for your actions while driving the company vehicle, especially if you're on duty when the accident happened.  As long as the motor vehicle was "off-premises" while you were at the wheel, the employer may be held liable.
What happens if you have an accident when you're off duty?
Your employer won't be deemed liable if you were off-duty at the time of the accident, even if you were using a company-owned vehicle.  This applies if you were heading home when the accident happened, or if you were going somewhere that's not part of your work duties, such as going to a restaurant or supermarket.  In situations such as these, if you are involved in an accident, you'll be personally responsible for any role you played in the accident.  That means you'll have to use your personal car insurance cover to pay for any damage caused.
In either scenario, if you do not think that you are solely at fault, and you have also suffered an injury in any collision, then you may want to consider making a personal injury claim against the other driver.  A personal injury claim will aim to put you back in the same financial position you would be in but for the accident so far as is possible and compensate you for any injuries that you have sustained.  As part of your personal injury claim you may be able to access interim funding and/or privately funded rehabilitation to help you with any financial pressure and allow you to recover as quickly as possible.