College of Policing and Operation Hydrant update advice to Senior Investigating Officers dealing with allegations of non-recent child sexual abuse
The College of Policing and Operation Hydrant have published an updated version of its advice to Senior Investigating Officers (SIO's) examining allegations of non-recent institutional or high profile cases of child sexual abuse.
Operation Hydrant is the national policing operation established to manage and coordinate the increasing demand on police forces to respond to, investigate and manage non-recent child sexual abuse in institutional settings or abuse alleged to have been perpetrated by persons of public prominence.
The updated advice addresses the challenges SIO's may encounter investigating and managing non-recent child sexual abuse cases.  The advice draws on the experience SIO's who have led investigations of this type and experts who specialise in this area of investigation.
The publication provides guidance on the following key stages in the investigating process:
1. Making and receiving a report
This section focuses on influences on reporting and the reasons why victims may delay reporting the offence (fear of impact on their family, a degree of grooming, shame or fear that they may not be believed)
Importantly the advice stresses that delayed reporting does not suggest a false allegation.  In many cases, victims who came forward during other investigations reported that their allegations were triggered by becoming aware that the abuser was being investigated on a similar matter.
The below summarises the actions a Senior Investigating Officer (SIO) should take at this stage of the investigation: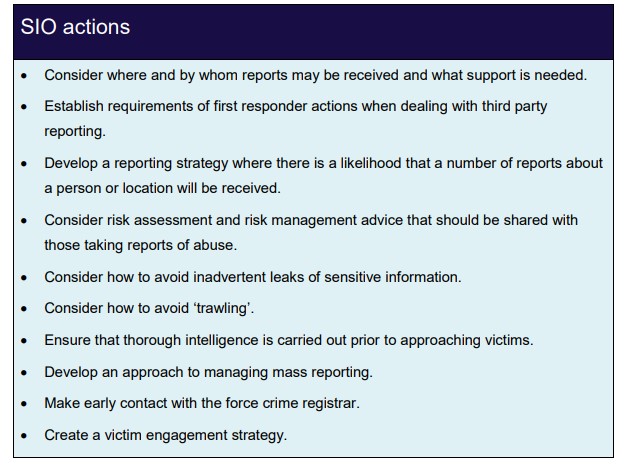 2. Victims and witnesses
This section emphasises the need to provide continued support for victims and witnesses throughout the investigation and criminal justice process.  The 'victim and witness strategy' seeks to ensure that victims are fully supported during the investigation so they can give their account, identify and address any ongoing risks to other potential victims.
It is also recommended that when they are devising a victim and witness strategy, they should consider whether a social worker should join the investigation team, to ensure victims are safeguarded, while also acting as an alternative point of contact.
3. Investigation management
Investigation management looks at what matters a SIO should consider when deciding whether to undertake an investigation into non-recent events.  The primary consideration, as advised, will be public safety.  A senior person will need to consider whether there are continuing safeguarding concerns for a victim or potential victims.
A further relevant issue for non-recent cases of child sexual abuse is the "the power and influence of the suspect(s).  In reaching a decision about whether or not to investigate, the decision-maker will need to consider the extent to which power and influence was a factor in facilitating the alleged behaviour".
David Tucker, College of Policing crime and criminal justice lead, said:
"I am pleased to be able to publish our updated advice.  Allegations of child sexual abuse are sometimes difficult to investigate, particularly when incidents happened some time ago and when there is additional public interest given the high public profile of the investigation.  I hope that the advice provides assistance and support to senior investigating officers in the difficult task that faces them".
Richard Fewkes, Operation Hydrant National Coordinator, comments:
"The policing approach to investigating allegations of non-recent child sexual abuse has evolved considerably since the first surge of allegations following the death of Jimmy Savile, almost a decade ago.
"These investigations are some of the most complex and challenging that policing undertakes, and can span decades, cross geographical borders, and involve multiple victims and suspects, sometimes on a massive scale.
The advice is careful in striking the balance between the need to support victims and witnesses to give their evidence and ensuring that an impartial investigation takes place.
Read the full advice document here.