Claims for PTSD under the Armed Forces Compensation Scheme
I have assisted many service personnel and veterans in their claims for compensation under the Armed Forces Compensation Scheme (AFCS).  Although the scheme was designed to be easy to use, making an application and understanding what you are entitled to can be confusing and daunting.  This is often the case for my clients who suffer with Post Traumatic Stress Disorder (PTSD).  So I thought it would help to provide some answers below to some frequently asked questions. 
What is the AFCS?
The AFCS provides compensation for any injury, illness or death that was caused by military service.  You can also submit a claim for any injury or illness which occurred while you were participating in a service related event, such as sports.
It is a 'no fault' scheme which means you do not need to prove that your injury was caused by someone else.
You can apply for an award if you are a current or former member of any of the UK Armed Forces, including if you are a Reservist.
The scheme is run by Veterans UK which is part of the Ministry of Defence.  Their website can be found here.
How do I submit a claim?
You normally have seven years from the date of your injury to submit a claim.  There may be exceptions to this deadline in some limited circumstances, such as:
'late-onset' illness – where you are not aware of the significance of your injury until much later;
where you suffered an injury that was made worse by service;
To submit an AFCS claim you will need to complete a claim form, which can be accessed online here.
You will be asked to provide some basic information, including:
what your condition, injury and/or illness is;
why you think that your injury or illness was caused by your service; and
what medical treatment you have received
If you have been helped by any charities that have provided intervention or treatment related to your condition then you should include this information as well.
Veterans UK will write to anyone who has treated you, including your Medical Officer and/or GP, to request copies of your medical records.
Tables and tariffs – what do they all mean?
The AFCS is governed by The Armed Forces and Reserve Forces (Compensation Scheme) Order 2011.  These regulations set out a number of tables for awards according to the type of injury or illness you may have suffered.
Tables are organised by body zones, for example "head and neck"
Descriptors, are the description of an injury which are in tables 1 to 9
A tariff relates to the amount of compensation you could receive for your injury. Each tariff has a level from 1 to 15.  The most severe injury would be placed at level 1 and would attract the highest tariff.
The awards vary depending on how serious or disabling your injury or illness is.  The table below shows the awards currently available for PTSD.
The column level relates to the tariff amount.  So, if your injury fits a certain description, then you can use the 'column level' to estimate the type of award you might receive.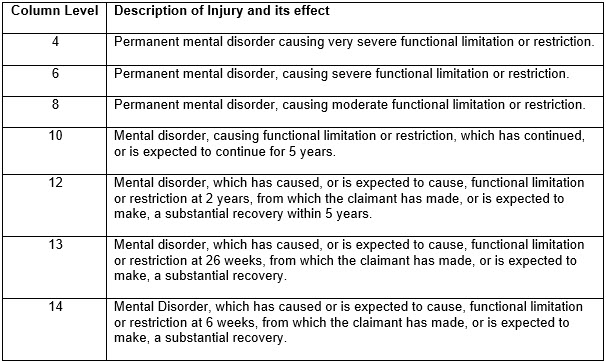 What award will I receive for my PTSD?
If you are claiming for PTSD it must be diagnosed by a clinical psychologist or a psychiatrist who is at consultant grade.
Awards can be made as a lump sum payment, which are designed to be a full and final amount which takes into consideration how the expected effects of your injury will affect you over your lifetime.
If your PTSD is very severe you may also receive a Guaranteed Income Payment (GIP).  This is a tax free monthly payment and payable only for injuries which are within tariffs 1 to 11.  You are entitled to only one GIP regardless of the number of injuries sustained.
The lowest level of award for a mental disorders is around £3,000 and the highest level of award can be in the hundreds of thousands of pounds.
What is functional limitation?
One of the ways Veterans UK will assess a claim for PTSD is by considering how the illness affects your life i.e. the 'functional limitations' you have, including:
whether you are able to undertake work which is appropriate to your experience, qualifications and skills; and
whether you can work regularly in a less demanding job (or only in a less demanding job)
how long your functional limitation is expected to last and whether you are expected to make a recovery
These functional limitations will be graded using terms like 'moderate' or 'severe'.  The highest awards for claims related to PTSD and other mental disorders are for injuries which are classified as 'permanent'.
My award has been made on an 'interim basis' – what does this mean?
An award is made on an interim basis where the outcome for your injury is uncertain.  In these circumstances, Veterans UK will make a decision based on the available evidence and set a review date which will be no more than two years from the date of that decision.  Before they finalise your award, they will seek an updated from you as to whether you have had any further medical treatment or improvement.
Can I challenge the decision made by Veterans UK?
Many clients comes to us because they are unhappy with the decision made by Veterans UK.
You can ask for the decision to be looked at again, which is called an application for reconsideration.  This will involve a review of your claim by a different file handler.  You will have 12 months to apply for a reconsideration from the date of the decision letter.
You will need to write to Veterans UK with the date and decision you want to appeal against and why you disagree with the decision.  There is no application form to apply for an application for a reconsideration, but you must set out your reasoning and be signed either by yourself or on your behalf.
Once your file has been reconsidered, Veterans UK may change your award or leave it as it is.  At this stage you can ask for another reconsideration or appeal to an Independent Tribunal.
An appeal to an Independent Tribunal is a significantly more challenging process but in my experience often necessary.  There may be many reasons why you want to appeal a decision.  For example, this could be because you believe that your functional limitation is 'severe' rather than 'moderate', or because you believe that your PTSD is 'permanent'.  If you can prove this, then this should increase the value of your award substantially.
Before you challenge any decision you should make sure that you have evidence to support your arguments.  You may need to refer to your medical records or get a report form a medical expert.  It is often at this stage service personnel will seek legal advice.
Can I also bring a civil claim for my PTSD?
Yes, you can bring a claim in the civil courts alongside an AFCS award.  The difference between a civil claim and an AFCS claim can be found in my colleague's blog here.
In a civil claim you would have to show that someone has been at fault in order to be successful.  For example, this might be because you believe your diagnosis of PTSD was made late or you were not supported by your chain of command.
If you are eligible to bring a civil claim it is very likely that any damages you receive will be far greater than any AFCS award for the same injury, especially if you can prove that you have suffered loss of career, benefits and/or pension.
However, you cannot be compensated twice for the same injury so you may have to give credit for part or all of any AFCS award that you have received.
The time limit to bring a civil claim is normally three years from the date of injury.  This is much shorter than the seven year period for AFCS awards, so it is important that you get legal advice as quickly as possible.