Cervical Cancer Awareness Week To Fear the Smear
Cervical Cancer Prevention Awareness Week is 20th to 26th January 2020, and aims to raise awareness of cervical cancer, a truly devastating disease.  This year, Jo's Trust are striving to remove the stigma surrounding the HPV Virus.  This virus affects the skin.  It is passed through skin to skin contact and through sexual contact.  It is very common and is nothing to be ashamed of.  More and more people are talking about cancers and learning the warning signs.  This is great news, particularly for cervical cancer, because it has the potential to be a preventable disease.
The reason why it can be prevented is because of Cervical Screening or "Smear Tests".  This remarkable test can pick up on the HPV virus and early cell changes and this gives the opportunity to treat those cells, often before cancer has started to develop.  For the majority, any changes found during a smear test are found early, which means that the treatment is relatively simple without any long term effects.
Smear tests aren't something most women look forward to.  They are not graceful, and it can be embarrassing.  However, early detection of cervical cancer must be worth a few uncomfortable minutes.
Some people aren't able to have smear tests for very good reasons and some are too young to be invited to their first smear test.  Sometimes this means that the cell changes are not picked up. For some people, the cancer will develop very quickly between smear tests.  There is also the possibility that the smear test may miss the changing cells, the smear test may give a false negative or, very rarely, the sample may be reported wrongly.
For these reasons it is so important that the signs and symptoms of cervical cancer are known.  These commonly include bleeding in between periods or after sex and pain during sex.  If you have any of these symptoms, then whether or not your last smear was clear, you should speak to your doctor.
The medical care provided in this country is some of the best in the world.  For most people, the experience they have when they use the NHS is very positive.  However, there are times when mistakes are made, like in any other profession.
I represent women who have suffered a delay in diagnosis of cancer because of mistakes made in their medical care.  Unfortunately, in medicine, a mistake leading to a delay in diagnosing cancer could have very severe consequences.  Generally the earlier cancer is diagnosed and treated, the better.  A delay may mean that the treatment needed to tackle the cancer has to be more invasive or the medication needs to be stronger or be given over a longer period of time.  This may have a big impact on a patient's life.
Cervical cancer has a number of treatments and because of where the cervix is, some of the treatments can impact on a women's ability to have children.  Some treatments may affect fertility temporarily, but some treatments may mean that a woman is not able to have a baby.  Compensation through a medical negligence claim can include the cost of private fertility treatment such as IVF or surrogacy, but no amount of money will be able to compensate women who have lost their fertility as a result of mistakes.
It is so important that awareness continues to be raised around HPV and the signs and symptoms of cervical cancer so that this disease can be picked up and treated as early as possible.
Jo's Cervical Cancer Trust is a fantastic charity offering support and information for anyone going through any cervical cancer.  They provide help both online and face-to-face and can be contacted 24 hours a day.  Find out more about their #smearforsmear campaign and get involved.
Here we are at Bolt Burdon Kemp with our #smearforsmear for Cervical Cancer Prevention Awareness Week 2020!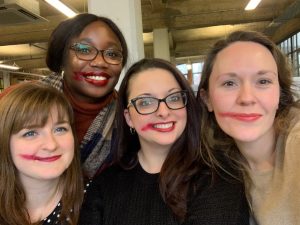 Felicity Cottle, Barbara Omoruyi, Hannah Travis and Olivia Boschat #smearforsmear in support of Jo's Trust's 2020 Cervical Cancer Awareness Week 2020