Be Part of the Story – Do you have a legal idol, tell us who is it?
#BeBKPartOfTheStory, is a mini competition launched by us at Bolt Burdon Kemp and is currently running on Instagram.
We would like you to tell us who your favorite lawyer or legal personality is, real or fictional, and tell us why you have chosen them.  Simply post a picture or video on our BBK Instagram account.
It's not an easy choice.  The legal world is full of inspirational people; those upholding the rule of law, fighting for justice, campaigning for change, providing a voice and defending those who need it most.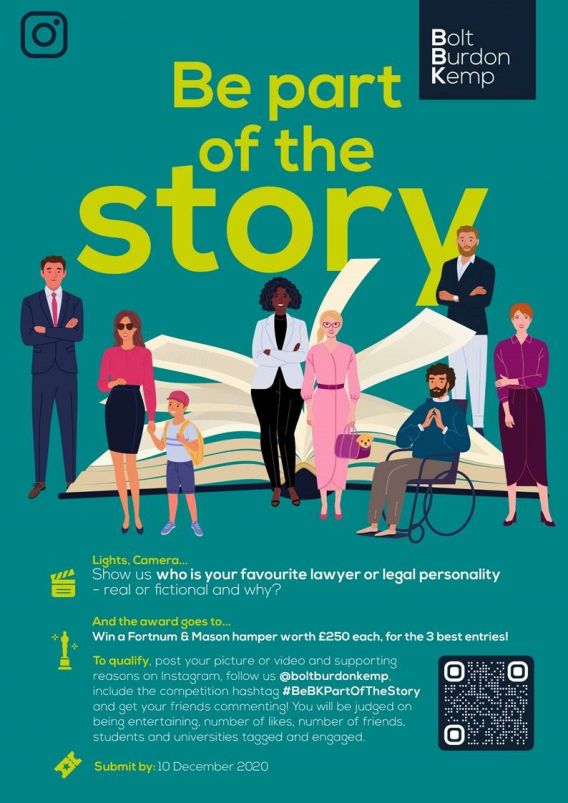 Many lawyers have left an indelible mark in the annals of global history; through their fortitude in the pursuit of justice, they changed society for the better.  Countless others within legal circles are held in high esteem, admired for their perseverance in pushing boundaries, changing case law, breaking ceilings and helping the ordinary attain access to justice.
The world of fiction has powerful legal protagonists too.  The fascination with the world of law and courtroom dramas have inspired many a book, drama, film and television programme.  My own personal favorite is Erin Brockovich, a feisty single mother who becomes a legal assistant and leads a successful lawsuit against Pacific Gas and Electric concerning their liability for the Hinkley groundwater contamination.  Julia Roberts plays the lead role of Erin in the film which is based on a true story.
We at Bolt Burdon Kemp would like to hear who your legal champions are, real or fictional, to continue to inspire our next generation of lawyers.
To participate: 
The 3 most inspiring entries will receive a Fortnum and Mason hamper worth £250 each.  If you scan the QR code on the poster it will take you straight to the competition on Instagram.
We've already received some nominations, to include:
Amal Clooney – international law and human rights lawyer;
Daniel Turnbull – lawyer with Stewarts for 17 years until his death on 10 April 2017.  He was also paraplegic, having been injured in a car accident when he was very young;
Eliza Orme – first woman to earn a law degree in England, from University College London in 1888;
Mahatma Gandhi – Indian lawyer, campaigner for Indian independence from British rule through nonviolent resistance;
Mike Ross – fictional lawyer from the American television drama series;
René Cassin – French jurist co-authoring the Universal Declaration of Human Rights and recipient of the Nobel Peace Prize;
Ruth Bader Ginsburg – associate justice of the Supreme Court of the United States from 1993 until her death in September 2020
There are so many inspirational idols to mention – we look forward to receiving many more nominations in the coming days! 
Vash Arora heads our HR team at Bolt Burdon Kemp.  Feel free to contact Vash directly on +4420 7288 4879 or vasharora@boltburdonkemp.co.uk