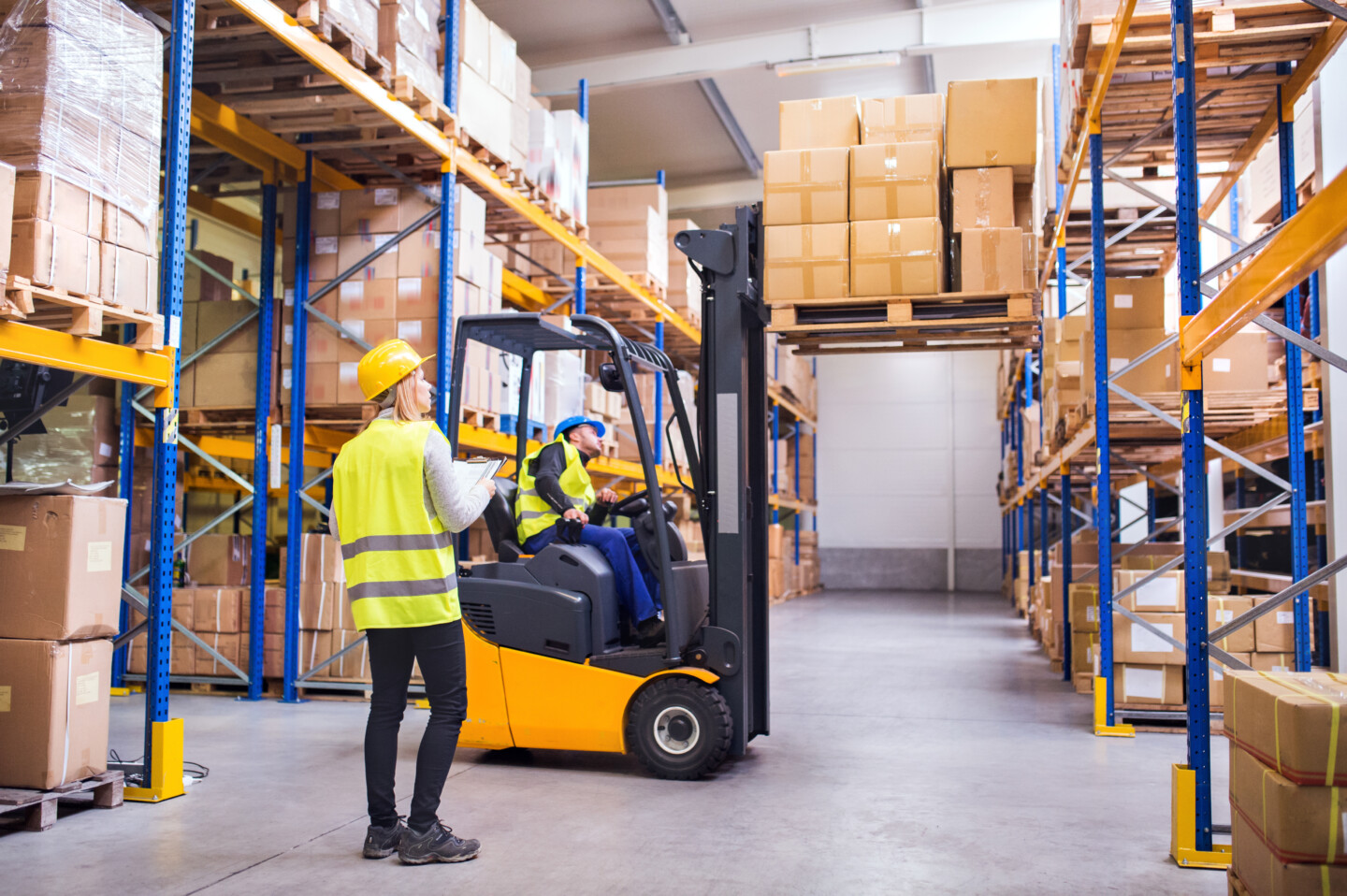 Accidents involving forklift trucks
Background
Forklift trucks (commonly referred to as "forklifts") are essential in modern warehousing. They are used to lift and move heavy pallets, crates, or objects which are either too dangerous or heavy to be lifted by people, or smaller mechanical tools. As with any heavy machinery in the workplace, forklifts should be operated with a high degree of care, as they can become dangerous if not operated properly.
There are risks in operating forklifts and forklift drivers must have been trained and passed the required certification before they're allowed to operate a forklift. Even with training, accidents can still happen to the driver, staff and other people in the surrounding operational area. Anyone working in this area should take extra care and be trained to avoid falling victim to potentially nasty accidents and serious injury.
Common forklift truck accidents and injuries
Some examples of how you could be injured in a forklift accident include:
Falling items – this could happen when an item of stock has not been properly secured and falls from the forklift onto someone.
Shelving failure – It's possible for racking to fail when items are placed on to it by a forklift truck. This could be caused by too heavy a load, poor driving or faulty racking.
Toppling forklifts – This can be caused by imbalanced loads. It could also be caused by uneven surfaces, spillages or collisions.
Collisions/dangerous driving – In cases where a driver fails to operate the forklift safely, collisions could happen with racking, pedestrians or other vehicles.
Slips and falls – a driver may fall or slip out of a forklift if the vehicle isn't properly maintained, or if the operator doesn't use the supporting handrails.
Defects – If a routine maintenance check hasn't been carried out on a forklift, a defect may not have been identified, resulting in it malfunctioning and causing a crash.
Insufficient training – employees need to be given full health and safety training before driving a forklift truck.
Injuries caused by forklifts are often very serious. Head and brain or spinal injuries can result where a person is dropped from height, or where a load falls onto them. Being run over by a forklift can cause devastating orthopaedic and degloving injuries, often leading to amputation.
Your rights
All employers have a duty of care for the safety of their employees, contractors, customers and visitors. This is the case whether forklift trucks are used or not. The Health and Safety at Work Act 1974 states that employers must maintain any equipment (such as forklift trucks), train staff in their use, and regularly assess the workplace for any hazards, removing them where possible. Therefore, if an accident is caused because the employer has breached their duty of care, then a claim might be possible.
With regards to forklift truck operators, an employer should ensure that the driver is fully trained in the use of a forklift and health and safety procedures, providing regular training refreshers for forklift truck drivers. The forklift should be well maintained, according to appropriate schedules and standards and safe to use. Safety equipment including personal protective equipment (PPE) should be provided. They should also ensure drivers are experienced in the task that they're being asked to carry out.
Employers must also make sure that they have proper systems for keeping forklifts away from pedestrian traffic. There will need to be designated traffic routes and pedestrian walkways, with floor markings, warning signs, notices and barriers. Speed limits must be imposed and observed. This all requires a thorough risk assessment, to arrange the workplace so that it is efficient and productive, but also as safe as possible.
To reduce the risks of accidents involving forklift trucks happening, surfaces should be well maintained, spillages cleared up and work areas de-cluttered, to reduce the risk of an accident occurring. A safe route for forklifts should be designated. Where possible, this would mean there are no blind corners or sharp bends. Routes for forklifts should also be clearly marked on the ground.
An employer should also have a comprehensive liability insurance policy to cover both the business and anyone suffering an accident on their premises.
The Health and Safety Executive
The Health and Safety Executive (HSE) is the national independent regulator for health and safety in the workplace. In cases of serious injury there is likely to be an investigation by the HSE or Local Authority, and where there is clear evidence of safety breaches, they will prosecute. This usually provides helpful evidence that can be used in a claim for personal injury.
HSE research showed that forklift trucks are involved in about a quarter of all workplace transport accidents which demonstrates just how dangerous they can be (Managing Lift trucks – Vehicles at work (hse.gov.uk)).
Making a personal injury claim
To succeed in a claim for personal injury following a forklift accident you need to be able to prove it happened due to the negligence of your employer or someone else who may have owed you a duty of care.
Unfortunately, sometimes employers breach their duty of care, which can lead to avoidable accidents causing personal injury. In these cases, the breach of relevant regulations can be used to help prove the negligence claim against the employer, or other person responsible.
Any personal injury claim requires evidence. You'll need to prove what happened, who could be to blame and what injuries you suffered. Therefore, if you're involved in a forklift truck accident, you could take the following steps which would assist your solicitor, when you come to instruct them:
Take photographs before the accident scene is cleared, if possible.
Report the accident and ask for a copy of the report. All businesses need to keep a record in an accident report book.
Ask witnesses for their details.
See if there was CCTV covering the area and ask for a copy.
Photograph any visible injuries.
What to do next
Whilst you may be hesitant or anxious to make a claim, be rest assured that you can speak to a specialist personal injury solicitor in confidence who deals with forklift accident claims, to see whether you have a personal injury claim. If you do have a claim and would like to pursue this, then they will be able to put your mind at rest in relation to the legal process and what will be expected of you as a Claimant. A successful legal claim could help you get your life back on track and may help prevent future forklift accidents from occurring.