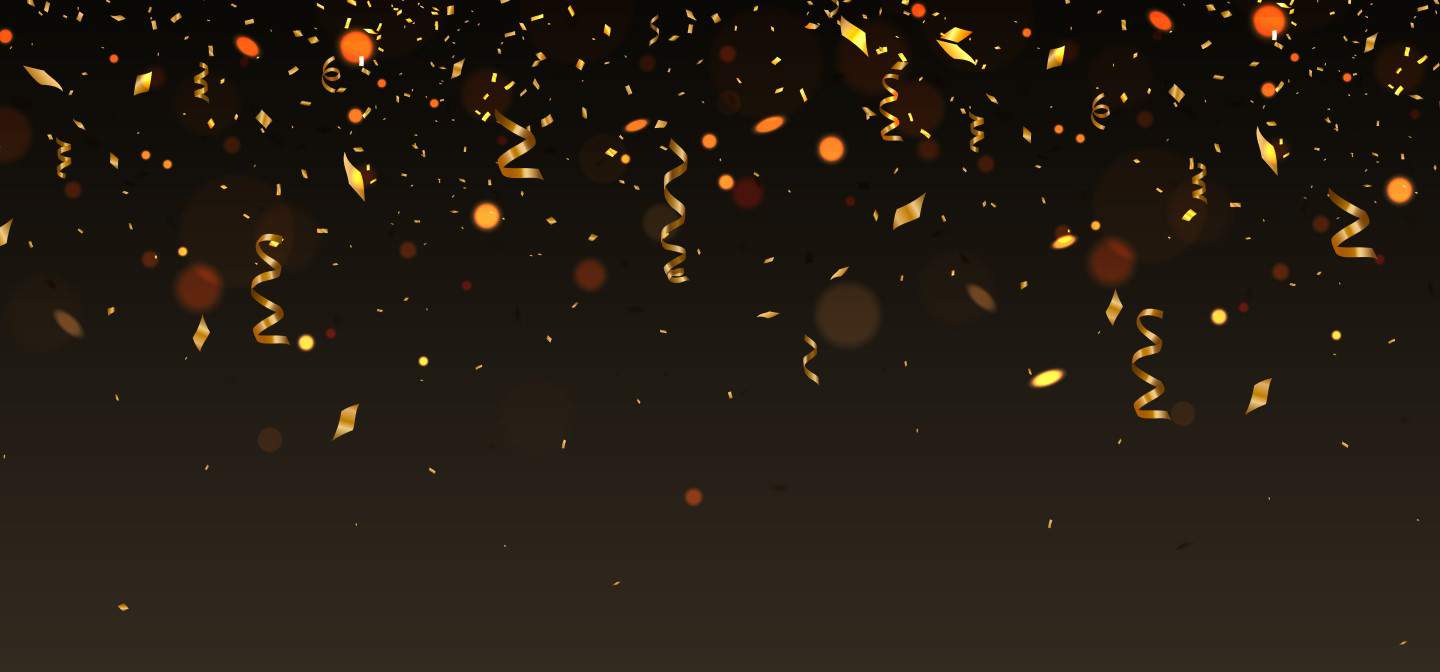 The Headway Annual Awards Lunch 2022 – a truly inspirational day
On 9th December, several members of the Adult Brain Injury Team and I had the honour of attending Headway's Annual Awards at the London Landmark Hotel on Marylebone Road.
Not only was this a lovely opportunity to attend one of London's premier hotel venues, but more importantly, it gave us all the chance to celebrate the achievements of brain injury survivors, volunteers, and campaigners. For me personally, this was a fabulous chance to learn more about the work of one of Bolt Burdon Kemp's key charity partners, Headway, in my first week as a paralegal in the Adult Brain Injury team.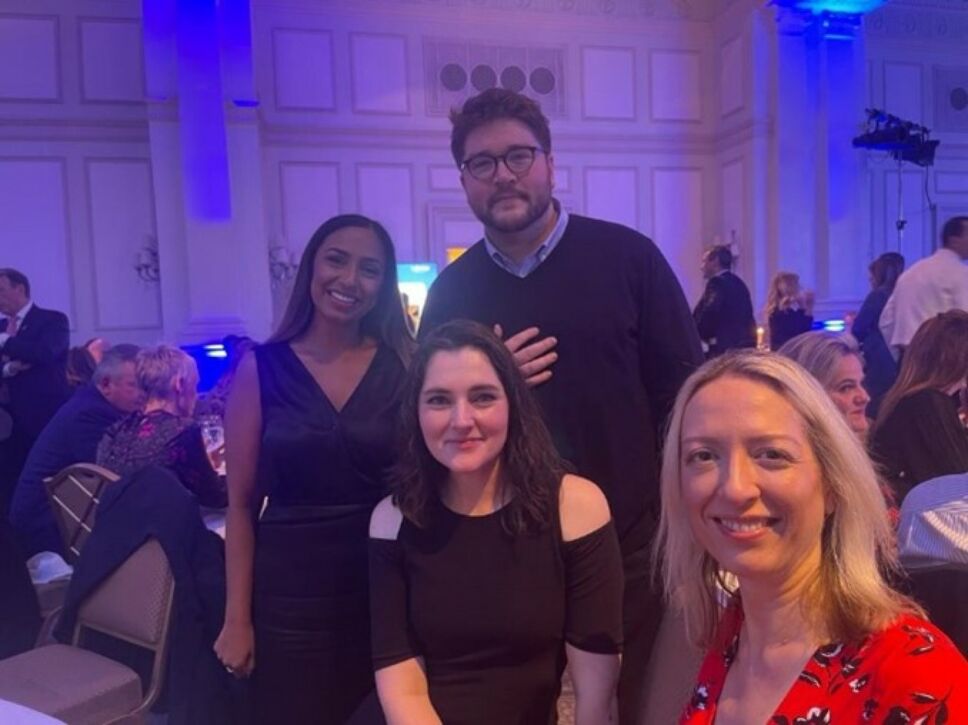 On arrival, we were generously greeted by a champagne reception and then were shown to our table, where we were joined by friends and partners from Headway East London, Headway Surrey, Headway Milton Keynes. It was fantastic to speak with colleagues about how they interact and work with Headway and the special relationships they have formed. Indeed, these conversations gave me an insight into the perspective of those who have their boots on the ground and work with brain injury survivors daily.
After this opportunity to speak with friends and colleagues, lo and behold – the Awards Ceremony began and we were made aware that James Cracknell, multiple Olympic Gold medallist rower and himself a brain injury survivor, was to present all the awards. As a sports fanatic, this particularly excited me.
The first award presented was the 'Alex Richardson Achiever of the Year' award. There were some great examples of how brain injuries do not have to limit what survivors can achieve. The eventual winner, Mark Kennedy has run over 100 half marathons and has delivered inspirational speeches across the UK – truly showing how there ought to be no limits for brain injury survivors.
The second award of the night was for the 'Volunteer of the Year' Award. We learned more about the incredible dedication of those who devote their time to volunteer for Headway. The winner of the award, Leicestershire native, Michael Condon, raised £5,000 for Headway Leicester and Rutland, which helped provide laptops, iPads and mobile phones for Headway staff and members. In doing so, Michael has played a key role in helping the Headway group having up-to-date IT systems and has even established the charity's digital day centres.
We were then served a three-course luncheon. Of course, I loved the opportunity to sample some smoked salmon and blinis, some roast chicken and an apple crumble. The interval also provided other opportunities to meet new people.
A personal highlight was meeting Dean Harding – a brain injury survivor and a real one-in-a-million personality who is beloved by everyone at Headway East London for his work at the branch. We had met before at Bolt Burdon Kemp's offices in Barbican. Of course, I remembered Dean, but I was taken aback by him remembering me. We had a hug and a handshake, and it was fantastic to see Dean in his element – speaking with new people and getting the recognition he deserves for the fantastic work he does.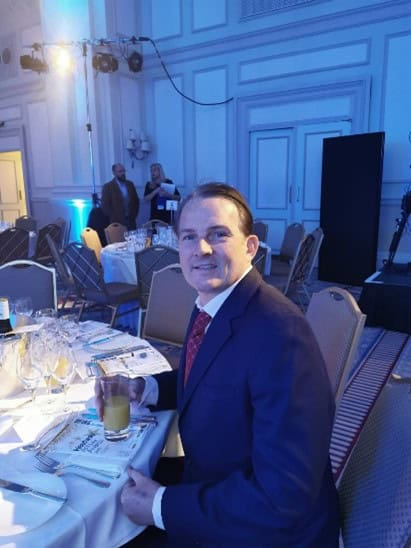 After lunch, we heard the inspirational story of David Thomas. An ex-semi professional Rugby Player and brain injury survivor.  David told the story of slowly rebuilding his life after a fierce tackle caused him to have his brain forced against his skull. In 2022, he decided to raise money for Headway by walking from Land's End to John O Groats with his young daughter, Willow. A fantastic achievement, which raised over £14,000 for the charity.
The awards then continued with the 'Carer of the Year' award being presented. Here, we heard about the fantastic work carers across the UK do to support brain injury survivors. We even heard the inspirational story of Nikki Strong, who cares for her husband, father, and son after they all sustained brain injuries.
The next award was the big one of the day and the entire BBK delegation had the pleasure of knowing one of the contenders … Dean Harding who was nominated for this one: the 'Stephen McAleese Outstanding Contribution to Headway' award. This award celebrates the outstanding contributions to the work of Headway made by survivors, carers, volunteers, and supporters over an extended period. Here, we celebrated the work of Chris Case, who has devoted his life to supporting brain injury survivors after his wife suffered a serious brain injury and Dee Blackwell, who has spent 20 years fighting for better support for brain injury survivors, including for her disabled son.
Dean had been nominated for his long history of working as a Headway volunteer and campaigner, as well as now being a paid Peer Support Worker. Dean is most proud of the fundamental role he played in setting up Headway East London's Better Together project, which provides free face-to-face advice and support to brain injury survivors and their families in the early stages of their recovery. The project has received outstanding feedback and other Headway branches are keen to provide similar offerings in other areas.
It was only fair that Dean won the award, and he accepted it with his trademark energy and enthusiasm – hands aloft encouraging everyone to cheer his achievements. And cheer we did!  It was a proud moment too for one of BBK's own, Laura Barlow, who has spent the last 6 months helping to mentor Dean. She is very modest about the role she plays in Dean's achievements – often referring to him as her mentor, but you can see how much her support means to him and the table's response to Dean's award shows how much his work means to the whole team at BBK.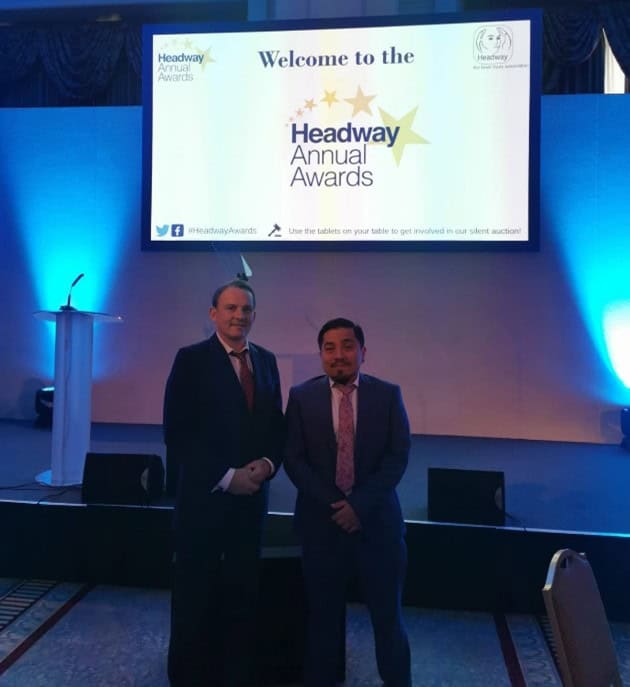 After the excitement of Dean's victory, the charity auction (sponsored by Bolt Burdon Kemp and auctioneered by Bargain Hunt favourite John Cameron) was held and it was fabulous to see more money raised through wonderful lots like a trip to Verona!
After the auction, it was time to say goodbye and reflect on what was a wonderful day. Opportunities to attend such events may be few and far between, but I cannot thank the team enough for inviting me along to this event. Not only did I learn so much more about the wonderful work Headway do, but all I could think about afterwards was how I can get more involved with Headway, like my colleagues do.