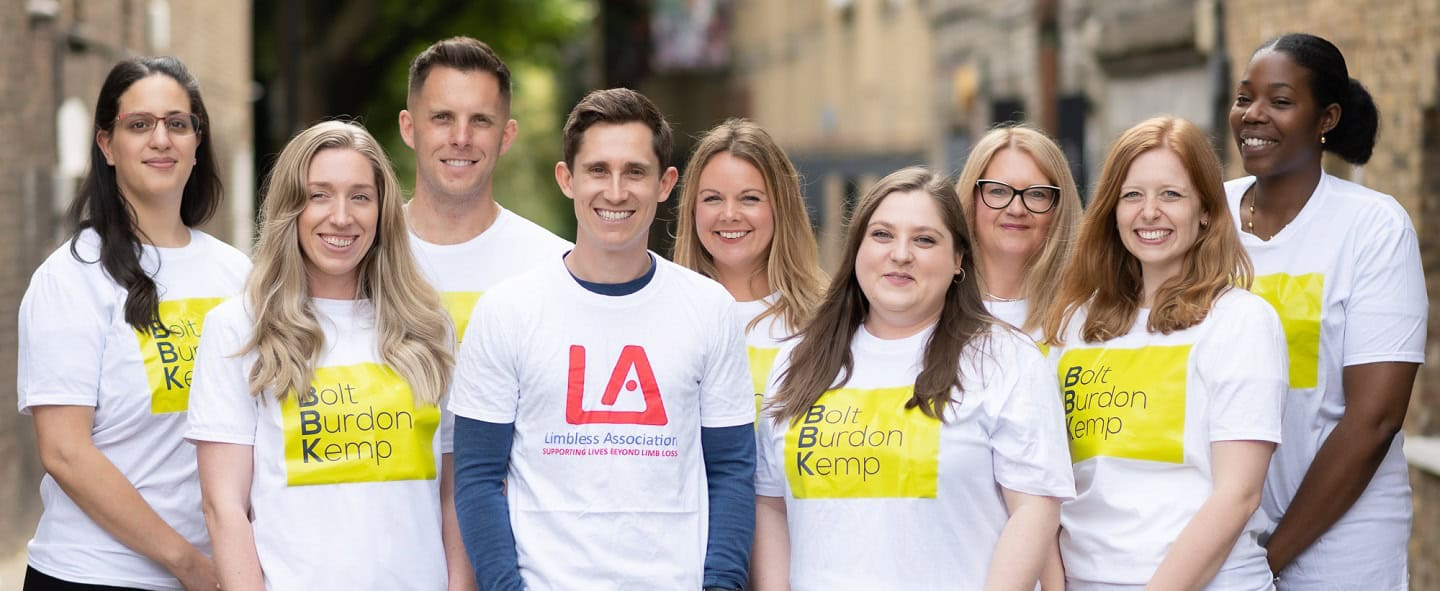 48 mile challenge in aid of the Limbless Association
We at Bolt Burdon Kemp are once again embarking upon another daring sponsored event in aid of one of our fantastic charity partners, the Limbless Association.
In the past our fundraising challenges have included assault courses, half marathons and hikes up mountains.  This time we will be upping the ante by taking on our longest distance challenge to date, covering 48 miles in just 48 hours.
The challenge
A group of 18 daring colleagues will be running or walking 4 miles, every 4 hours, day and night, for 48 hours.  That's 4 miles, 12 times totalling 48 miles or 77 kilometres, which is ultramarathon territory.  With only a short period of time between each stint, our participants will be physically drained and sleep deprived.  This event has become infamous and popularly known amongst the fitness elite as the 4x4x48 challenge.  It will be a real test of everyone's physical and mental endurance.
The challenge will take place from 12pm on Friday 15th October and continue until 8am on Sunday 17th October 2021.  The 4 mile stretches will be in Brentwood, Essex.  Our team will be staying at a local hotel, where we will be recuperating between circuits.
We also plan to venture out to meet with members of the Limbless Association near their new Billericay hub.  There we will meet with and complete some 4 mile routes during the day time alongside the charity.  No doubt walking and running alongside amputees will inspire us to keep going.
Furthermore, the Limbless Association are planning to coordinate a nationwide 4x4x48 challenge of their own to run alongside BBK's walking and running.  Whilst details are to be confirmed, it is hoped charity members and volunteers will design and participate in their own unique challenges that will be broadcast over the weekend to help raise even more awareness and giving.
The participants
Our participants are a great mix of lawyers, HR, marketing, compliance and support staff:
Amanda Garner, Amira Dabbous, Beci Start, Ben Pepper, Evie Ashby, Heather Petrie, Jack Ridgway, Jess Standley, Joe Carr, Josh Hughes, Karley Hewitt, Laura Robertson-Hayes, Mollie Benjamin, Mona Chogri, Rebecca Sheriff, Sam Hayman, Siobhan Rochford and Tommy Beale.
We will all be training very hard in the lead up to the challenge by building strength, running on tired legs, experimenting with food and completing long distance runs, such as half marathons.  The team have been encouraging each other individually via the Strava app and group training sessions are also underway in and around London.
The charity
This daunting challenge is to raise money for the Limbless Association.  They are a national charity who we have worked closely with in recent years.  They support and empower amputees enabling them to lead independent and fulfilled lives beyond limb loss.  Established in 1983, they offer practical and emotional guidance for individuals both before and after amputation.  They hold a firm belief that no amputee need cope alone.
The Limbless Association provides their services through a helpline, visitor peer mentoring, support hubs to connect fellow amputees, access to legal advice, resources packs and virtual contact.  All of these provisions have been vital in helping amputees regain their independence.
Bolt Burdon Kemp is part of the Limbless Association's legal panel supporting the Eastern and the South West regions of the UK.  We have been selected by the charity for our specialism in amputation claims enabling us to offer reliable legal advice to their members.  In return, the charity is a great source of support and information for our amputee clients and their families.
The fundraising
Our fundraising target is a hefty £8,000.  This would go a huge way to helping Limbless Association continue with the great work that they do.
A Just Giving fundraising page has been set up and the sponsorship has already started rolling in.  Thank you very much to all those who have made contributions so far.  Please keep them coming.  As with previous challenges, the equity partners at Bolt Burdon Kemp have generously agreed to match all employee donations.
There will also be separate fundraising events and activities in the lead up to the challenge to help us reach our target, so keep a look out for those.
In addition to sponsoring us, we would very much appreciate the sharing of our fundraising page on social media platforms with the hashtags #BBK4x4x48, #LifeBeyondLimbLoss and also tagging @BoltBurdonKemp and @limblessassoc.
Thanks very much for your support.