Before we talk about the best ways to deal with a cerebral palsy diagnosis, we should make it clear that cerebral palsy is an umbrella term for many different presentations of the condition.
This means that one child with cerebral palsy is unlikely to have the same issues and abilities as another. Each child is going to be different, so it's important to regard them as individuals.
Unfortunately, this means there aren't any one-size-fits-all answers to the questions you might have. But, through the information and guidance we provide below, we hope you're left with a useful starting point from which to take the next steps as you care for your child.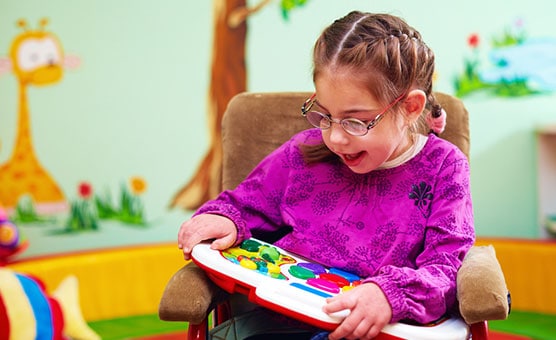 What to do when you first receive the diagnosis
It can be overwhelming when you first get the news that your child might have – or indeed certainly has – cerebral palsy. Many parents we speak to find it helpful to learn as much as possible about the condition itself, although it's perfectly natural if you'd prefer not to do so early on.
We often find that health professionals – such as your GP, paediatrician, heath visitor or neurologist – can present a rather bleak prospect of your child's future. Having independent information to hand can help you process their advice and ask the right questions at the right times.
From working closely with countless parents who have children with cerebral palsy, we've found that oftentimes the child does better than first expected. So, while it's important to be realistic about your child's future, it's also important to remain positive and optimistic.
Why caring for your child means taking care of yourself first
As a society, we're very child-focused when it comes to issues such as cerebral palsy. However, it's just as essential to acknowledge the impact on you as a parent. Many parents go through what is effectively a bereavement phase in the beginning, coupled with shock, stress and anxiety as they prepare to face the future.
When your child is diagnosed with a life-changing condition, it can be easy to spiral into a cycle of self-blame, and you may find yourself feeling hostility towards the medical system. These negative emotions – while perfectly natural – can become all-encompassing and can take away the pleasure of parenting.
If possible, try to carve out time and space for yourself now and then. This can be invaluable in helping you build that resilience and positive attitude that your child will come to depend on. Be sure to make full use of any support networks you have around. Call on family, friends, work colleagues, your child's school, independent parent support groups in your local area and even lawyers such as Bolt Burdon Kemp to be your sounding board or helping hand.
Being able to seek reassurance and help from a supportive, easily accessible network can make a big difference to your own wellbeing – and through that, the wellbeing of your child.
Contact, the charity for families with disabled children, can support families with the best possible guidance and information. They also help to bring families together to support each other.
How to make life easier for your child's siblings
If your child has brothers or sisters, you'll likely face a balancing act between caring for your child and spending time with your other children. Likewise, you'll want to mediate between asking your children to help with their sibling's care and letting them lead independent lives. Some approaches you can take to manage this include:
Being honest when they ask questions
We've found that children often don't notice any differences in their sibling until they get a bit older. When they do start to ask questions, we recommend being open and honest without any sense of shame or embarrassment. Simply present the facts from the get-go and point out the positives – highlighting what their sibling can do, rather than their limitations – without shying away from the fact that things are going to be different and it may be difficult for the family.
Give them the vocabulary they need
It can be helpful to give your children the correct vocabulary to counter the stereotypical (and often negative) words they might hear from friends or at school. As a brother or sister, being able to tell your friends the exact medical term for your sibling's condition, and some background as to why they have it, can be empowering and removes much of the emotion from the situation.
Get their schools involved
Of course, having to constantly answer questions can get exhausting. Make your children's school lives easier by ensuring their teachers are well informed and able to field queries on their behalf. For example, you might want to create a small pamphlet the teachers can use, and that your children can hand out at school whenever needed.
It's probably best to create the pamphlet yourself (just one sheet of A4 paper will do) so you can tailor the information to your child's specific circumstances. Include some basic information about the condition, how it manifests in your child, and perhaps some fun personal details that can be used as an easy talking point.
Why planning ahead is so important
There are a variety of complications unique to bringing up a child with cerebral palsy.
One of the biggest issues that we often hear from parents is time. Everything can take that little bit longer with a child who has cerebral palsy, so finding ways to afford yourselves more time – such as outsourcing the basic jobs around the home – can make a big difference.
As you look to support your child throughout their life, some of the things you might need to have in place include:
Getting special equipment or making alterations to the home
Having access to an adequate means of transport
Making sure your child is fully supported at school with one-to-one support and accessibility
Arranging appointments with health professionals
As part of this, you'll need to tap into various support agencies (such as social services, health authorities, children with disabilities teams and your child's school) to get the right level of assessment and recommendations for your child and your home.
It's so important to get these in place before any crises set in – being calmly and politely persistent whenever needed – so you're not left in a void where you're waiting for something to be actioned. Be organised, proactive and think ahead about what your child might need for each stage of life. As we'll explain in our second article, your support agencies can be invaluable to this process.
Nurturing a bright future for your child
As the parent of a child with cerebral palsy, you'll often find yourself having to navigate a delicate balance. You'll need to be organised, informed and ruthlessly realistic about your child's future, while also letting your child be a child and having fun with them.
Give your child the best possible childhood by looking after yourself, preparing them for the outside world and bringing the positivity and encouragement they need as you step into the future together.
By Lindsay Hardy, Director of Clinical Services at Pace & Amanda Richardson, current CEO of Action Cerebral Palsy, and former Chief Executive at Pace