Misconceptions and misinformation in reproductive health
Reproductive health is costing women almost £400 on average every year – but the cost to society could be even greater if we continue to devalue its importance.
According to the World Health Organisation (WHO) [1], more needs to be done (across Europe) to adequately support and cater for this issue. Crucially, they found that there is often "little or no systemic information available for several important aspects of sexual and reproductive health".
Yet, research we conducted with 2,000 Brits found that less than half (45%) of Britain consider themselves 'very knowledgeable' about this area of their health. So, where are we going wrong?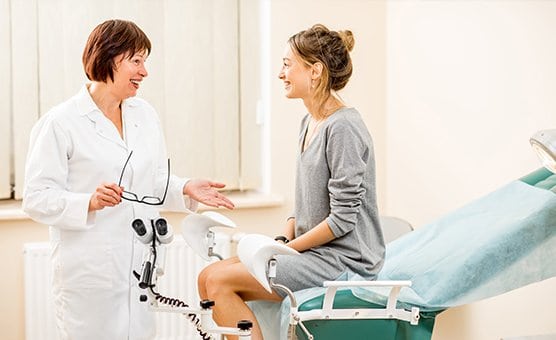 Are we lacking education about reproductive health?
Over half of Brits (55%)* say there needs to be more education about reproductive health from a younger age. This sentiment was common across generations, although people aged under 24 were the least likely to agree with the statement.
Alongside widespread demand for more information comes a lack of knowledge. And, as this lack of knowledge permeates throughout society, wide-scale misunderstanding and misconceptions are inevitable.
Unfortunately, says Dr Henderson, misconceptions about reproductive health can even extend to how doctors treat their patients, including medical misdiagnosis. "In women of reproductive age, one of the most commonly mismanaged conditions is endometriosis. For later on in life, the most commonly mismanaged condition is the menopause, and specifically the perimenopause."
The misdiagnosis of endometriosis
As Dr Henderson explains, endometriosis affects 1 in 5 women and there's often a genetic element to the condition (so family history is important). And yet, the average time from presentation to diagnosis is a shocking 7.5 years – and this hasn't improved over time.
"This is despite the fact that there's plenty of information in women's magazines about the condition," she says, "and despite the work of the Endometriosis Society to raise awareness, and despite the new Endometriosis Centres project with gynaecologists that are specially trained in complex cases."
"While the management of the condition has come along in leaps and bounds," she adds, "the diagnosis process has simply not followed."
The misdiagnosis of menopause
Our research found that spending on products for menopause is a significant expenditure for women over the age of 45. "Menopause care is a crisis," says Dr Henderson, noting that the perimenopause is one of the most grossly mismanaged conditions when it comes to reproductive health:
"GPs tend to overprescribe SSRI medication for anxiety and depression for peri-menopausal women, when, in fact, these women should be offered HRT (Hormone Replacement Therapy). It's much better at helping manage the menopause and relieve its symptoms."
Where do we find information about reproductive health?
"When it comes to the menopause," says Dr Henderson, "patients can keep themselves informed through reputable sites like Menopause Matters so they can be sure of the treatment they receive."
After GPs, the internet is Brits' top choice when it comes to finding information about reproductive health.* While 35% of them use the NHS website for information, 22% rely on a general Google search for the information they're hoping to find.* We found that women were more likely than men to rely on the internet for information. Our research also found that men and women were equally likely to post their issues on a web forum, hoping that fellow forum members might be able to help them with their issue.
Educational progress is being made in the workplace
"Education and awareness in the workplace is increasing," says Dr Henderson. "The nationwide police force is releasing the first national menopause guidelines that will be rolled out across the organisation. Aside from that, employers – particularly in the public sector – have done an enormous amount to support women and any health issues they may have."
With increased information comes increased awareness of the symptoms, issues, concerns and conditions when it comes to this important topic. And with increased awareness, the hope is that women can start to rely on more effective, accurate and reliable diagnoses and treatment that truly represents the gold standard in reproductive healthcare.
Read more about the costs of reproductive health for women in our article.
---
Methodology
The research was conducted by Censuswide between 22.05.2019 – 28.05.2019, with 2,008 general respondents aged 16+ in the UK. The survey was conducted from a nationally representative sample of UK adults. Quotas were applied to nationally representative proportions for age, gender and region. Censuswide abide by and employ members of the Market Research Society which is based on the ESOMAR principles. All statistics with an asterisk have been obtained through this research.
---
Expert bio
Dr Anne Henderson has been a Consultant Gynaecologist within the NHS and private sectors for 15 years. In this time, she has extolled the virtues of consultant-led care, offering patients complete continuity of care as well as the expertise and experience offered by the extensive training undergone by UK consultants. She is a strong advocate for multi-disciplinary care, including complementary therapies, herbal therapies and nutritional support through her private practice. She is the founder of Gynae-Expert, using her clinical expertise and extensive training to inform, guide and advice patients to help them lead healthy, happy, active lives.
---
[1] http://www.euro.who.int/__data/assets/pdf_file/0003/322275/Action-plan-sexual-reproductive-health.pdf?ua=1